There are many ways to find ideas on how to generate regular content but in this article I am going to spill my tactics.
It is natural and really helps those ideas flow, with no rocket science.
My 7 Tips
1. Read a Lot. Seriously
Go through your niche and subscribe to all the main blog updates, get a daily or weekly update of all their posts
Once you have these flowing make sure you scan them as they come in. Note down in a pad which things you have opinions on and note down the article page
Once a week collate these ideas and generate content from them with your opinions and link back to the first article you read
2. Make a Lot of Notes
As you work with clients and hit problems and solutions note them down in a pad
Once a week go through these ideas and generate an article about it, referencing the work it was connected to.
When you are having chats around the office, take notes and generate articles.
This may seem like I am clutching at straws but trust me, those office chats are much more readable than made up waffle about how to optimize an article. It will have humor and reality mixed into it.
3. Follow Social Media
Use some software to easily follow social media feeds. Set it up to your niche topics and scan them daily.
Note down things that inspire you and you have opinion on. Then generate articles from them
4. Attend Web Chats and Take Notes
Attend Twitter chats and use these notes to generate articles and link back to the web chat
5. Publicize Your Case Studies
Start to write up those case studies, most people try to avoid these but they are great content and easy content to generate.
6. Use Text Optimizer
This tool works. No kidding. Once you try it, there is no going back.
Text Optimizer is the semantic analysis tool helping you create more diverse and in-depth content. It identifies underlying concepts behind any search query driving both content ideation and creation.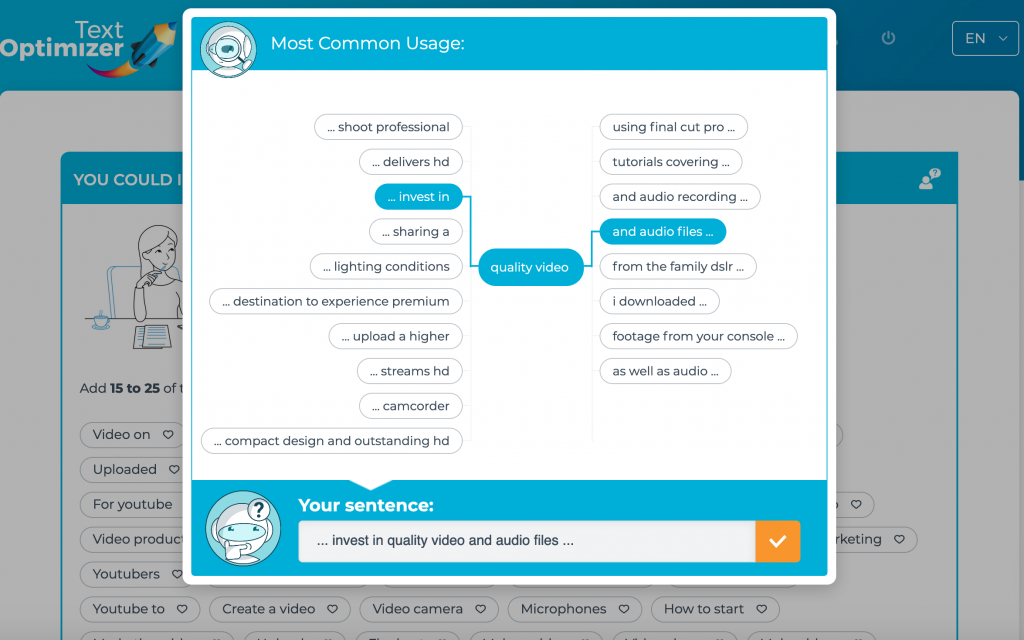 7. Get a cat involved!
If you look at how much cat material goes viral, especially on YouTube, you will see what I mean. The point goes further than just cat's though. If you get something of interest into your content it not only helps you make the content flow but it also helps you relate the reader to it.
The purpose of the methods I use is to get things that are trending and with the times. It makes things relevant and about topics that are active in your industry at the moment. It's all just pro active research really. Do not be shy to link and voice your opinion.
Do Not Forget Strategy
The next stage is the strategy and this article is good to help you get going. You have to think about this stuff otherwise you will be busy generating content with no impact.
Remember when you are generating content that you need to change it for different platforms. What is good for your blog will not be an exact fit for Facebook or Twitter. It all needs altering. Check this page out where the content writer has split it all down into sections.
My Closing Thoughts
If you are going to put many hours at content for your website then take the time upfront to get your processes and strategy correct. Half a day upfront will save wasted effort down the line. Content will be king for many years, even Google test the results without links so they must want to do it someday, meaning that one day 80% of everything will be on that content.
Content is key, who do you generate yours?

Latest posts by Jonathan Harrison
(see all)