Every business needs to be concerned about their online reputation. Even more so if you run a small business that doesn't have the brand marketing and customer confidence that large brands have.  In a recent study it has been concluded that 90 percent of customers that come across your business online will research our company before deciding to do business with you.
These potential customers will look for both good and bad reviews about your company.  Customers want to read specific reviews so they can get an idea about the kind of company you are.  If you ship products they will look for feedback on timely shipping, or specifics that products were received in a reasonable time frame.  If you are in the service business people want to see specific feedback on your service, good or bad.
Domain Extensions
Most businesses buy several domain names (ie. .org, .tech, etc.) to help protect their company name then redirect them to their dot com.  Instead of redirecting all these domains why not take your .org and create a philanthropic website about your company.  List how and where your business makes donations and what volunteer work your employees do. Or take your available branded domain and create a separate website hosting your brand assets, i.e. lead magnets (e.g. your company's knowledge base). Or set up a separate entity to host your community (or any other secondary product you are using for your upselling strategy)
Not only will your company be viewed in a better light but it can be very easy to optimize a .org or a .net for your business name. Just make sure there's some value involved; Google will interpret the addition of several new domains as a clear attempt at controlling the SERPs. They've also decreased the value of exact match domains in recent algorithm updates.
Monitor What's Being Said
This first thing a small business should do is monitor what's being said.  You need to monitor everywhere customers may be talking about you.  This includes review websites, social media and bloggers.  There are several good reputation management tools you can choose from to help with monitoring your brand.  One of the better tools to help with monitoring is Cyfe. It integrates with multiple social listening API to build one dashboard monitoring it all.
You need to identify review websites that list your business for review by customers. If your business is a hotel or restaurant, likely sources are Online Travel Agencies like Trip Advisor. For service businesses, you may find your company listed on Angie's List. Local businesses should get themselves listed on Dir Journal.
Pretty much all businesses are listed on Yelp!, and Google Local is becoming one of the most important web properties for small businesses to maintain a presence on. You should dedicate a small amount of time each day to responding to customers through these online channels, and attempting to mitigate customer complaints before it's too late. Customers that are given consideration and acknowledgement will often change their tune after a negative comment.
How to Respond to Bad Reviews 
Generally there are three types of companies when it comes to customer complaints.  1) Businesses that ignore and/or don't realize they are getting negative reviews.  2) Businesses that know they are getting bad reviews but lack the resources or leadership to respond or turn things around. 3) Then there are businesses that are proactive and respond and engage the poor experience.
Not all bad reviews are bad.  Every single company makes mistakes from time-to-time.  What separates the good companies from the bad is how they deal with the bad reviews. Here are three tips on how to handle bad reviews:
Respond to bad reviews in a timely manner.  Do not ignore bad reviews.  That is the single largest mistake a business can make when it comes to reputation management.  By not responding it shows to anyone reading it only one side of the story. Lack of a timely response often comes across that business either didn't care or they are admitting the mistake. Be professional, and don't call yourself a space ninja.
Personalize the response.  Do not use a canned pre-written response.  Read what is written about your company and put yourself in the reviewer's shoes.  Start your response off by addressing the person that wrote the review with their first name.
Don't argue and don't put too much out there.  Often, the first action is to react to what the reviewer said and dispute the negative claims.  Remember perception is reality, so even if you feel like the reviewer is wrong, saying so in a response will only exacerbate their claims.  Acknowledge the issue and show concern, and then offer a way for the reviewer to contact you to discuss the situation further.  Let them know that's not normal business practice and you want to look into the situation further.
Control the SERPS
So what happens when you actually receive a bad review or something is said about your business that you just want to go away?  You need to control the SERP (search engine results page) for search terms people may use to find and research your brand.  Often this can be:
Business Name
Business Name + Review
Business Name + Sucks
Business Name + City
Business Name + Complainants
Business Name + Fraud
How do you control the search results?
Social Media Profiles
First if you haven't done so you need to claim as many of the major social media profiles for your business.  At the very minimum you should claim your profile on Facebook, Twitter, Yelp and YouTube.  Not only is it important for branding but these website are authority websites and generally rank much higher in Google when searching for a business name.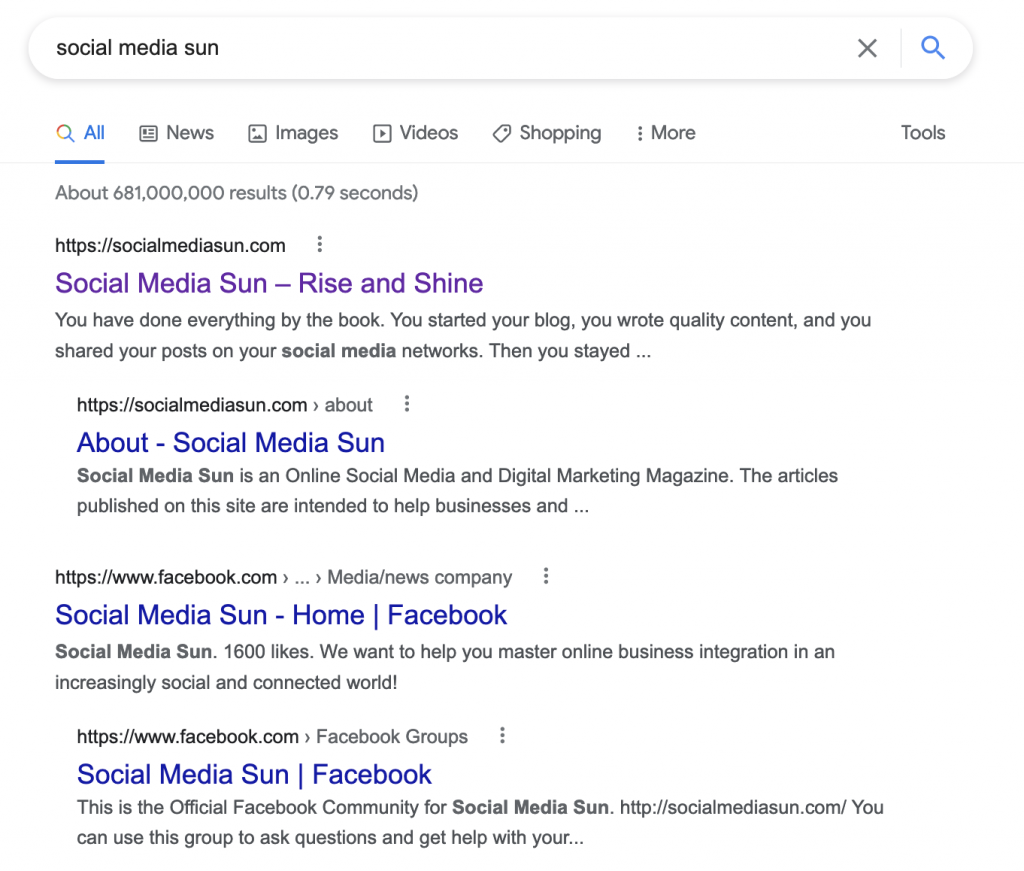 Get productive with managing your social media presence.
Identify the Positive and Neutral
After you have claimed your social media profiles it's time to identify at least a dozen webpages that have positive or neutral mentions about your business.  This could be a combination of positive reviews and/or your social media profiles.  These dozen webpages are the websites you'll want your potential customers to see when they are searching for your company.
Tip: Only identify one to two pages per website.  Google has a results cluster algorithm that keeps the number of results from a website to a minimum in the search results.
Link Building
One of the best ways to increase the rankings of a webpage is to build links to the specific page using the anchor text as the search terms.  There are several ways you can go about building links but two of the best methods are guest blogging and interviews.
Guest Blogging
There are many blogs on the Internet that are looking for quality content.  These blog owners love anyone that can write a good article that will be helpful to their readers, and being an expert in their given field is a huge bonus.  Most blog owners will have some kind of linking policy.  Many will allow at least one link in the "author bio" section. Some will allow links within the body of the post as long as they are relevant to the article.
Interviews
This can be very powerful way to build links.  Bloggers love to post and interview people relevant to their readers.  Ask bloggers if they'd be interested in interviewing you. Some might find this awkward, but it works well.  Interviews are great for blog owners as they require minimal work on their end.  Be sure to tell them your background and why you are interview worthy.
Tip: Since the interview is about you it's usually acceptable to link to several of your business profiles and you can generally obtain 2-3 links within the post of the interview.
Pro Tips to Exercise Negative Results
Below are some of the tips we use to help move negative mentions down faster.
YouTube
One of the easiest websites to rank is YouTube.  Google loves YouTube not just because they own them but it helps provide a good diversity in the search results by adding videos.  It is possible to have over half the search results return YouTube videos. Generally we optimize a few videos per search term. If the business doesn't have any videos they should focus on creating a few.
Optimizing videos in the search results comes down to a few factors including; title, links, social shares and embedding.  Getting a few bloggers to embed the video can have a big impact on increasing the rankings.
It can take time to get control over the most prevalent information regarding your business online. It's much easier to capture listings and create a presence across the relevant platforms now than it is in the middle of a PR crisis. Treat reputation management as an ongoing cost of business, and not a reactive type of marketing that needs negative press to respond to.
Latest posts by Stuart McHenry
(see all)