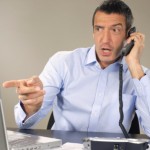 Before the popularity of the Internet, businesses never had to worry too much about reputation management since most of their branding and marketing efforts were controlled by them, and the only impact customers had was word of mouth to their small group of friends and family.
Today, businesses are not in control over their branding the way they used to be. The Internet has provided an easy way for customers to take control and share their opinions and reviews of these businesses through popular review sites like Angie's List and OpenTable, as well as through social media sites like Facebook and Twitter.
If a customer has something good or bad to say about a business, they can make it public within seconds. If a company makes a mistake, the information can easily go viral and be shared with the world within minutes. Take the United Breaks Guitars fiasco, in which a frustrated United Airlines customer whose guitar was broken on a flight was tired of not getting a response from the airline, so he created a song and a video and posted it to YouTube for all to see.
Today, the information that is shared about a company is no longer at the company's discretion—it's in the hands of the consumer. This is exactly why businesses today need an online reputation management company.
These companies are designed to help businesses better monitor what is being said about them online and help the company control any potentially damaging information from going viral. Different online reputation management companies offer different benefits and amenities to their customers, so it's important to take your time and research all of your options before deciding which company to use. The following tips will help you make your selection.
1. Services
As previously mentioned, different reputation management companies offer different services, so it's important to find out which services each company offers and if it aligns with your specific needs. For example, do you simply want a company to monitor what is being said about your business, or do you want one that will step in an alleviate the situation if something were to arise? Do you want your business to be monitored 24/7/365, or do you only want it to be monitored during regular business hours? Do you want to invest in a standard package, or are you more interested in a company that can offer you a customized plan?
By looking into multiple companies, you'll be able to compare their service offerings to determine which ones best suit your needs.
2. Reputation
It is always a smart decision to choose a company who has a great reputation for being successful at what they do. These companies will have a great portfolio of satisfied customers, and the company will have a solid background in online management. Don't be afraid to ask them for customer testimonials or a list of current or previous customers. Then do your research.
Check trusted review sites such as the Better Business Bureau or Angie's List to get a background on the company's performances. You can also check social media sites to see what people are saying about the company as well as see how the company presents itself on these sites. A good and trustworthy online reputation management company will practice what they preach and ensure that their online presence is also successful.
3. Price
Price affects everything, and this may be the deciding factor in determining which company you choose. Tiered pricing structures tend to be the best option for your first attempt at a reputation management company. This will allow you to choose the lower priced package first to get your feet wet and see if the services provided are enough for your needs. If you find that you need more management, you can always opt to use a higher priced package.
4. Team
When you hire a reputation management company, you want to know that you have a dedicated team working for you that is easy to reach when you have questions. A good management company will be able to tell you who exactly is working on your company's monitoring, provide you with a solid team, and give you one specific contact person to reach out to when you have issues or questions.
By using these tips, you'll be able to make a smarter choice when it comes down to hiring a reputation management company.
Charlie Adams is a tech guru and marketing professional who loves to write in his spare time. He offers content on a variety of topics from social networking application to review monitoring tactics.
Latest posts by Kamagra UK
(see all)