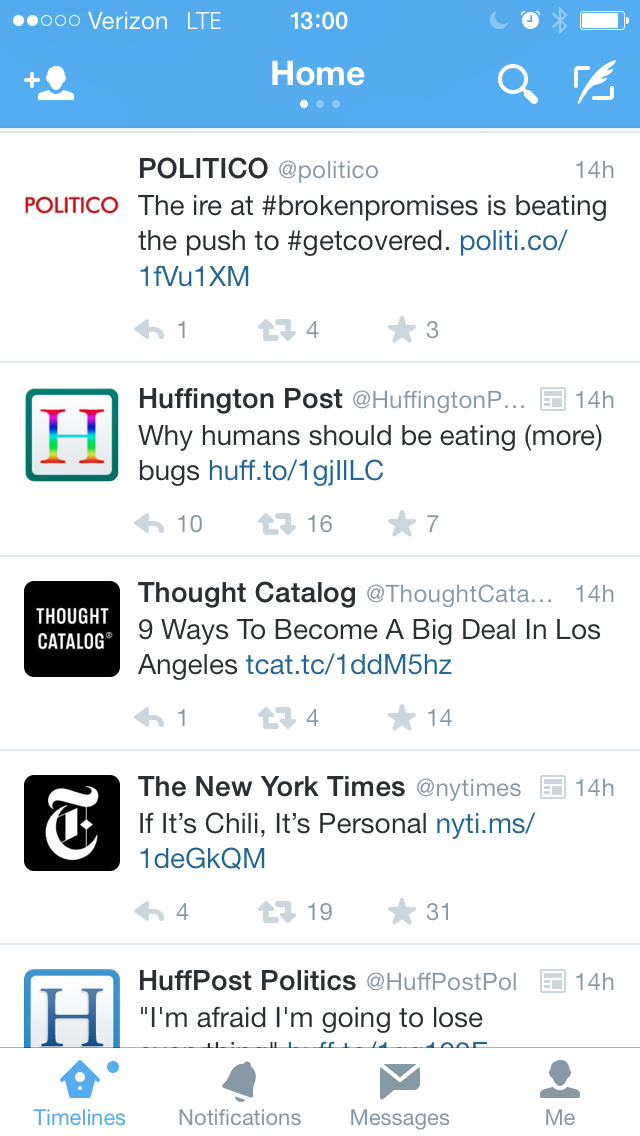 Twitter gets a bad rap. Considering the congestion of negative comments and meltdowns that garner so much news attention — it's not completely unfair — but don't write it off as a celebrity gossip column just yet.
Twitter can be extremely efficacious when it comes to the fast-consumption of news updates, topic circulation, and media trends.
Here are the top five ways to use Twitter as a learning tool:
1) Follow News Sources
Twitter isn't just about following Britney Spears. Sure, it's a convenient way to hear about her newest haircut, but leading news sources post their updates on Twitter. They will classify them by title and topic and whether they are breaking news or not.
Scrolling a Twitter feed of news sources is similar to reading the front-page headlines. The advantage is your Twitter feed combines your preferred news headlines in one location.
2) Find Twitter handles that post content on topics you are interested in
If you work in marketing, consider following popular names like @MarketingLand and @AbsoluteMG. These feeds will post content and updates that are relevant to your interests or career. If you're not sure how to find these top names, you can try searching the keyword, like marketing, in Twitter or searching the hashtag, such as #marketing or #socialmediamarketing.
3) Use the hashtag to your advantage
The hashtag can benefit Twitter users in a couple of ways. When you're writing a tweet, add hashtags so people can find your messages when they are searching for specific information. Similarly, you can search hashtags to find messages that are interesting to you. Searching #marketing, will bring up the articles, anecdotes, and facts users have posted about marketing and direct you to the thought leaders that posted them. You can also search recent events for the most up-to-date comments and coverage.
4) Make connections
On the surface, Twitter is a rather impersonal interface. It's meant to provide a comfortable way to follow people you don't know like celebrities, thought leaders, journalists, etc. This presents a unique opportunity to follow these people and direct message them when appropriate. By beginning a message with a specific user's handle, like marketing professional Neville Hobson's, @jangles, you can contact him directly with questions or comments. The beauty of this medium is that it isn't invasive, as long as it's not abused.
5) Watch others' activity to grow your own channel
If you are interested in growing your own Twitter channel or a brand channel for work, check out some successful brands like @SouthwestAir or @Starbucks. Twitter is a great way to highlight a personality; a feed can find a balance between industry-relevant posts to fun jokes, anecdotes, and comments. Once you gain a following, you can use Twitter to circulate your industry updates, new content, and gain traction on upcoming events by a giveaway or contest.
Twitter is fast and easily digestible. Users are scrolling in the waiting room, on the train, on their lunch break, etc. It's the front page of news consumers ages 18-29, so if you're looking to make a lasting impact, this is your market. Keep up with trending topics and industry standards by using your Twitter feed and the Internet as your guide.

Latest posts by Amy Thomson
(see all)