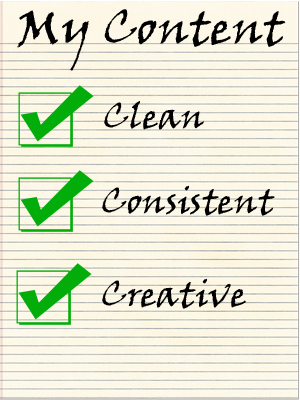 Content creation takes place everywhere these days. There are more blogs, content sites, online magazines, and so much more that no one could ever count.
The number would be astronomical! With creating content comes some basics that I see overlooked day in and day out.
These are really simple things too! If you are publishing articles and posts online on a regular basis, take some time to read through the following tips to be sure your content is clean, consistent, and creative.

1. Clean It Up
 Spelling and grammar. This is so obvious, but many people do not take the time to do it. Most word processing software such as Microsoft Word has a built-in spelling and grammar check. There are even some online programs like Grammarly that can perform this as well. However, you also have to proofread yourself. Not every piece of software or program can catch everything especially when it comes to context. Take the extra time to proofread what you write.
 First, second, third person. Regardless of which point of view you choose, remember to keep it the same throughout your article or post. For example, do not start with "Step 1: You must login" and move onto "Step 2: Once they are logged in users should click Tools". These steps just moved from second to third person. In my opinion, this displays unprofessional writing.
 Verb tense. This can be difficult for some and since we are not all English Professors it can really trip us up at times. But, this is where the proofreading comes in. For example, "I went to the football game and think it is too cold outside" is obviously incorrect as it mixes past and present tense. There are cases where mixing tense is fine; however, so just be careful. For example, "I ate some apples and will eat some bananas next" works. Read your piece out loud and be sure you have not mixed verb tense incorrectly within your article or especially within the same sentence.
 Images with accurate details. If you choose to identify your images with captions, be sure that the details you include are accurate and spelled correctly. The same goes for alt tags. Try to keep these short and to the point. If you include a URL with your image, be sure to test that it works and points to the right website.
2. Consistency in Writing and Displaying
Same 'like' terms throughout. Try not to switch too much between using different terms for the same thing, especially if you are describing an item, writing a review, or explaining a process. For example, if you start with "users should be aware they must click the Start button," move onto "players should use caution in level 9," and finish with "gamers should collect coins carefully by wall" it will confuse the reader. Keep terms like this the same if they really are referring to the same thing, especially if writing a how-to article or post.
Same basic formatting throughout. This should also be pretty obvious, but seeing mixed numbering is why I bring this up here. Starting off your numbered list using conventional numbers of 1, 2, 3 and switching over to Roman numerals of I, II, III in the same article or post is inconsistent and gives an unprofessional look. Additionally, if you are using font formatting a certain way in the beginning then keep it that way until the end. For example, if you start with the first word or sentence in a list as bold, keep formatting the list that way until the end of it. It is acceptable to use a different font or font formatting to make certain text stand out, but remember that the body of the content should be the same.
Image captions and names. If you are using more than one image in your article or post, be sure to remain consistent with how the captions or the names of the images are displayed. For example, if you are attributing the images to a third party and using a name and URL, then do that for each image within the same piece, in the same format. According to Digital Eagles Marketing, images are one of the most important aspects of content optimization.
3. Creativity is Easier Than You Think
Personal experience. One of the best tools for content creation is you. Your personal experiences can be similar to another person's, but they will never be exactly the same. Making the article or post more personal by describing your own experience or feelings with the situation, tool, product, location, song, movie, or whatever is the best way to make your content stand out.
Make it yours. This is not the same as using personal experience. Making it your own comes in when you have read a great piece and would like to change it or make it better…make it your own. Plagiarizing someone else's work goes without saying as being an actionable offense. But, that does not mean you cannot use the idea or concept as a base for your own piece using your own thoughts, opinions, or views. Think about how many articles you have read with tips, how-to's, or advice on SEO, social media, or even writing. They are all using different people's opinions. Always make sure that you make whatever you write yours and let your voice shine through when you write it.
Ideas are worth a draft. You came up with an idea one night over a few glasses of wine or in a dream that seemed really great at the time. But, the next day all you could think was "what was I thinking?" Do not discount that idea just yet! Draft it before you give up on it. Get it on virtual paper, give it a few reads, ask someone else to read it, and then read it again. History has shown that some of the craziest ideas (um, airplanes anyone?) have turned out to be quite successful!
Well, there you have it – my 3 C's of content creation. Do you have some tips that could fit into one of these categories that you would like to share? Or, maybe you have a 4th "C" that you would like to add? Feel free to leave a comment below!
Related Content
Latest posts by Sandy Stachowiak
(see all)