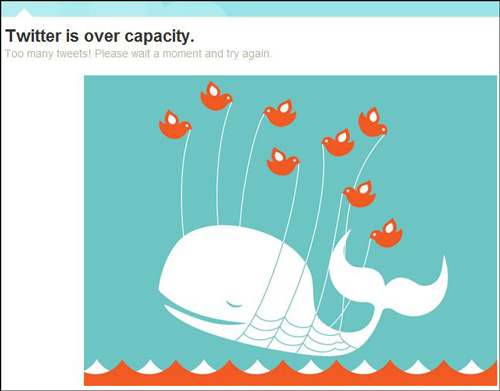 In 2005 no one saw the demise of MySpace coming. Rupert Murdoch's News Corporation had just spent $580 million buying the property, which at the time looked like the hottest thing since Microsoft. A year after News Corp took over MySpace became the most visited website on the Internet, and that was around the time that they jumped the shark.
The technology sector is notoriously hard to predict. That hasn't stopped bloggers and pundits from putting a timeframe on the demise of the Internet's current social leaders, Facebook and Twitter. Facebook is entrenched in the daily lives of nearly a billion users, so most people agree that it's a little harder to usurp. Twitter on the other hand hasn't enjoyed the same level of confidence.
I had read a few posts that would have already had Twitter losing steam as early as 2011. Many more figure that the micro-blogging site will run its course around 2013. I believe that Twitter has the components in place to last over five more years, and will go as far to say that it will be a social leader into the next decade. I predict that either Google or Facebook will develop their own Twitter spin-off, and unless they can replace Twitter with a sleeker version, the bird is going to be nesting for quite some time – here is why.
Television
Internet users have started the practice of tweeting during television broadcasts. Tweets will cross the feed seconds after the end of a sporting event, when something exciting happens on Jersey Shore, and in response to Bill O'reily's latest rant. When I want to know what shows are popular on a given night, a quick tweet will solicit several recommendations. There are several applications in development that plan to form Twitter communities around television programs, and even the TVs themselves are becoming smarter, integrating social networking directly into the hardware. Twitter's 140 character real time chat is the perfect infrastructure for communication when your attention is divided, and hash tags that show up in the marquee of your favorite TV shows is a testament to that.
Twitter API
One of the most progressive moves that any social network has made is the adoption of the Open API. Both Facebook and Twitter's longevity will benefit from users' dependence on their accounts to access a vast network of applications and websites that are integrated through the API of one or both of the networks. It is much simpler to login to or sign up for a web based service when all it takes is the click of a button. The applications have become dependent on social integration as well, a trend that wasn't fully apparent during the downfall of MySpace.
Confidence is inspired by Statistics
Social networks are measured in users, hours, tweets and likes. It's easier to gain a foothold on Twitter than any other social network, and marketers know that. Most savvy users know that a lot of Twitter accounts are automated or inflated, but the average person doesn't realize that. It makes the viability of the network look a lot more real than it actually is, with users, advertisers, and the bloggers who are dying to report at Twitter's funeral.
Made for Mobile
The whole premise of news in 140 characters plays to the strengths of mobile technology, and the weaknesses of the connected citizen. Our short attention spans and shrinking displays both play right into Twitter's hands. The ability to consume posts at a glance works as well with photos, a theory that Pinterest proved earlier this year. As long as mobile access to the World Wide Web increases, Twitter's active user base will increase as well.
America's Celebrity Infatuation
There have been plenty of groups adopt Twitter, but the most active and prevalent are the pop music fans. I predict that sports involvement with Twitter will continue to grow, and before long major league teams will add mandatory Twitter use to the contracts of most players. Regular people are drawn to celebrities, and even though 99 out of every 100 celebrity mentions will go unnoticed, that 1 percent is more than enough to keep super fans tweeting in the hopes of getting followed or mentioned by their idols.
Fox's Losing Gamble on MySpace
By 2008 Facebook had gained enough ground to become the most popular social networking site worldwide. Nothing that MySpace tried could reverse their fortunes, and in June 2011 News Corp sold out for a puny $35 million, for a net loss of $545 million; Another bad investment that was intended to move some of their holdings out of traditional media into digital properties. At the end of 2011 MySpace was ranked 138th by Alexa for total web traffic, a monumental fall from grace.
Whether you want to be the first to hear breaking news (Twitter often breaks news several minutes before mainstream news channels) or you want to know what your favorite quarterback is doing this weekend (bookies would love to know that Tim Tebow is going skydiving) the Twitter platform offers unique insights and content you can't get elsewhere. You don't have to put much time into it, and it doesn't change as often as Facebook. We think we'll be sending tweets for a long time to come, what do you think?
Latest posts by Adam Justice
(see all)