When I finally decided to succumb to the title of Freelance Writer a couple of years ago, I opened the door to a whole new world for myself – marketing. Content marketing and social media marketing were not things that I was familiar with up until that point. Most of my writing was done for me – poems, memoirs, fiction – until I decided to give Web content writing a try. I started off slow writing only for one website, but then everything moved quickly and before I knew it I found myself writing for several websites and maintaining a few blogs of my own.
With any content writing and especially with your own blog(s) comes the marketing aspect. It is an inevitable piece of the puzzle that must be in place in order to draw people into your content. Whether you are working for a website that pays per view or for your own blog using ads to generate income or make a name for yourself, marketing is a huge piece with which you must participate.
Below are five mistakes that I made when I first started marketing my content. My hope is that you as a beginning content marketer will learn from the mistakes that I have made and find what works best for you along the way.
Mistake #1: Becoming overwhelmed and burning out
Along with content and social media marketing comes networking. You cannot just market your own content without making connections to those who will (hopefully) share your content. Once I began writing and maintaining my content on several different websites I was marketing and networking on all major social media sites including Facebook, Twitter, Google+, and Pinterest.
I continued to find new marketing avenues by discovering StumbleUpon, Tumblr, and Flickr, among others. Before I knew it I was completely overwhelmed posting, connecting, and keeping up with all of the sites. Aside from posting, there were comments I would reply to from others and comments I would make on others' posts. Retweets, Likes, Shares, and the like were revving up and I suddenly had trouble keeping up. I was totally overwhelmed and ended up burning myself out. It was to a point where I had to take a break from all of the marketing and networking and ended up losing momentum…not good.
A better strategy is to have a strategy – a marketing plan. Try to plan which sites you want to market on and when. A marketing calendar using certain days of the week and/or times of the day to market and network on each particular site is helpful if you stick to it.
Further reading: Is Your Digital Marketing Tactical or Strategic?
Mistake #2: Spending more time marketing and networking than writing
Along with Mistake #1, Mistake #2 was born. I was spending so much time trying to keep up with all of the marketing and networking that I overlooked the reason behind them both! I was marketing more and writing less while barely keeping up with my blogs. One thing is for certain, if you do not have content then you have nothing to market. Sure, you can still network and market your brand, but if you are not producing content then content marketing is pretty much a null point.
Try keeping an editorial calendar instead and working this in with your marketing calendar. You might tell yourself not to do any marketing on that day or at that time of day until you have finished producing a new piece of content. If you have a writing plan in place it will keep you on track and focused.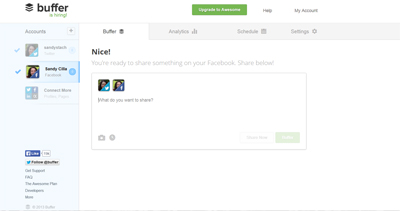 Scheduling tools / Social editorial calendar tools: Buffer, Tweetdeck, ViralContentBuzz
Mistake #3: Not utilizing efficient tools or applications
Writing for several websites and marketing for each one can be cumbersome. In the beginning I was posting to each social network, one at a time. It took me a while to realize that there are tools to make this all so much easier. Applications like HootSuite and Buffer allow you to post to more than one of those accounts at a time. You can create one post and have it go to Facebook, Twitter, Google+, and more. This can significantly reduce the time it takes for you to create messages and go to each site to post them. Many applications are not only available via the Web, but also on tablets and smartphones which can make things even easier since you do not always need access your computer.
If you find a tool that has a scheduling feature, consider using this for your older pieces to keep them in the loop.  Taking some time to schedule several posts for different social media sites in one sitting can increase your productivity as well. Then you can concentrate on writing and marketing new pieces while the old ones are still out there for your audience to see.
Mistake #4: Not doing the research to learn from the experts
I had no idea how many content and social media marketing blogs and websites were out there in the beginning!  But, once I discovered that there were sites and people dedicated to that topic I learned a lot. They all offer different advice so reading and researching can lead you to ideas and new things to try or consider. They can provide information on where and when to post, how to word your posts, how to use keywords, and who the experts are in the field. You may find yourself trying different strategies because not everything works the same for everyone. But, there is nothing wrong with trial and error to find what works best for you.
Check the social media sites for the experts and follow them and their pages to gain more knowledge and possibly make even more connections. Join communities and groups in the online space to cross-promote and get advice from experienced writers and marketers as well.
Mistake #5: Not checking for results or adjusting marketing strategies
I did not pay attention to the results of my marketing efforts in the beginning. I just continued to post anywhere and everywhere and hoped for the best. But, tools like HootSuite with URL shorteners or sites like Bitly offer reporting tools to see how many views your links have received. Even using Google Analytics can help show you what links have been viewed and from where. It is important to check your marketing effort results and adjust those efforts accordingly. If you see that your links are being viewed more from Facebook than from Twitter, make a change.
Try something new to get more views from Twitter – change the days of the week or times of the day that you are posting there or check your keywords. At the same time be sure to continue your posts on Facebook since this is where the majority of your views are originating.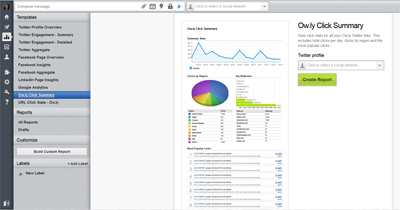 Further reading: 6 Premium Social Media Tracking & Analytics Tools
If you can avoid the mistakes that I made in the beginning of my marketing efforts and try some of these tips, you can start off of the right foot. Good luck!
Do you have any other tips for marketing newbies or mistakes that you would like to share? We would love to hear from experienced marketers as well as new ones!
Latest posts by Sandy Stachowiak
(see all)