Keeping up with social media can be time-consuming as well as tedious if you do not have the right tools. Applications such as HootSuite and Buffer allow you to post to more than one social media network at one time, saving you time and reducing the effort involved. Some tools also allow you to keep up with notifications, tweets, comments, and the rest all in one spot.
What many people do not realize is that there are plenty of efficiencies that can be gained from browser add-ons and extensions. Keeping up with your network notifications as well as posting to them can be a simple two-click process if you use Chrome as your browser. Chrome offers many extensions for social media in their Chrome Web Store; so many, in fact, that it can be hard to choose which ones provide what you need and which ones actually work best.
With all of this in mind, I took some time to check out the best social media extensions for Chrome that I could find. No extension is perfect; however, most of these come pretty close! I use these regularly and find that they help minimize the time I spend either posting to my social media networks or checking in for notifications when I am on my laptop using Chrome.
HootSuite Hootlet

The HootSuite Hootlet extension is a great posting extension if you are already a HootSuite user. Created by Hootlet.com, this extension makes posting a breeze. Once you are on a page you would like to share, simply click the HootSuite Hootlet icon in your extension toolbar. You then receive a pop-up window that displays the name of the page and an ow.ly shortened link to that page within the tweet window. You then simply choose which HootSuite account(s) to post from and then optionally choose to auto schedule, schedule the message for another time, or send now. There is also a button to add a new profile if you have another one that was not configured for HootSuite already.
Buffer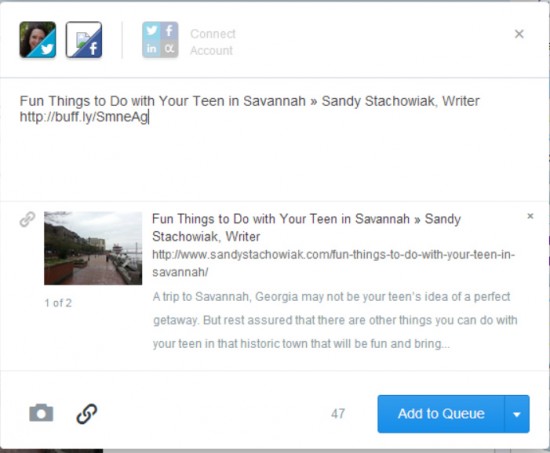 The Buffer extension from Bufferapp.com is another convenient extension for sharing to multiple social media accounts. Once on a page you would like to share, simply click the Buffer icon in the extension toolbar.
The pop-up window displays the post with the name of the page, website, and shortened buff.ly link. You can then choose the account(s) to post from, add a new profile, schedule the post, or share now. Additionally, there are options to upload a picture or photo or even turn off the automatic link shortening.
Silver Bird Plus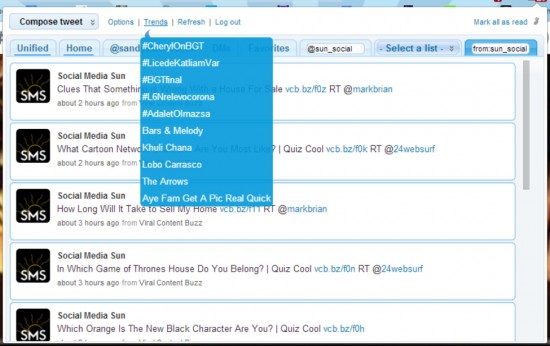 The Silver Bird Plus extension, created by itworks, is perfect for checking your Twitter accounts for new tweets, mentions, direct messages, and favorites. There is a drop-down of lists that you have created on Twitter as well as a search box.
You can compose and send a tweet and check out the trending topics. You can also mark a favorite tweet, reply to a tweet, retweet, and share via "old school" tweet. The bird icon in your extension toolbar shows a count of unread notifications. There is also an option to customize how Silver Bird Plus works for you including message color options, timelines to display, notifications to display, icon color, and much more.
Facebook for Chrome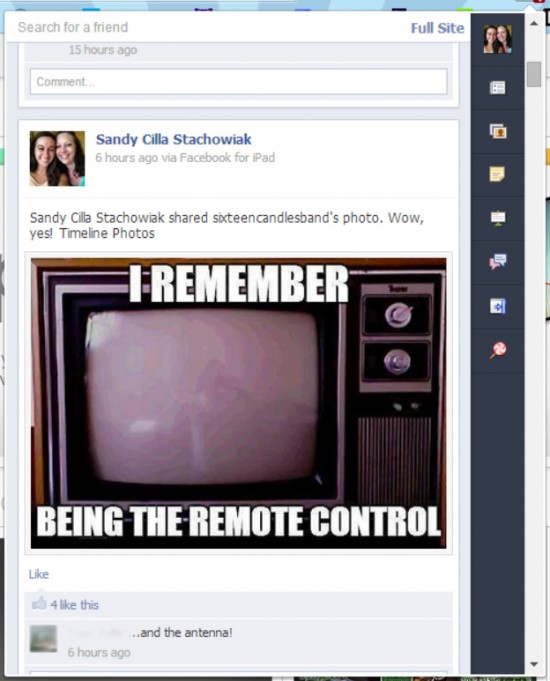 A nice extension for Facebook created by 64px.com is called Facebook for Chrome. This extension displays a small pop-up window showing your notifications along with an unread count on the extension icon. Within the pop-up window you can not only see your notifications but your Newsfeed, Photos, and Inbox. You can also visit your own profile and post an update.
You can Like, Share, and Comment on posts, pop-out to a larger window, view the full site, and even search for a friend. The only feature that I did not see was the ability to reply to or like a comment (only a post). However, I found this to be a small, nice-to-have, in-the-future feature for me personally which did not detract from the other convenient features and basic use of the extension.
Pin It Button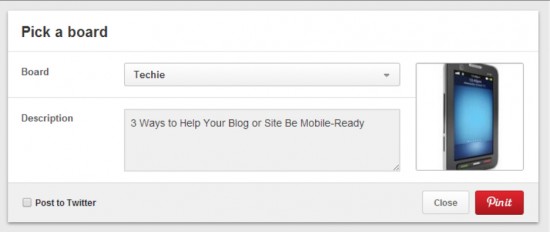 From Pinterest.com comes the Pinterest Pin It Button. This extension makes pinning to Pinterest extremely simple. Once you are viewing an item you would like to pin to your Pinterest board(s), simply click the icon in the extension toolbar and the display shows the available items to pin on the page. Select the one you want to pin, choose your board, edit the description if desired, and click the Pin It button.
If you have a Twitter account connected you can mark the checkbox to Post to Twitter as well. An added feature of this extension is that it will display hovering Pin It buttons on images for pages you are viewing. This makes it even easier to pin an item to Pinterest (this feature can also be turned off in the extension Options).
Google+ Notifications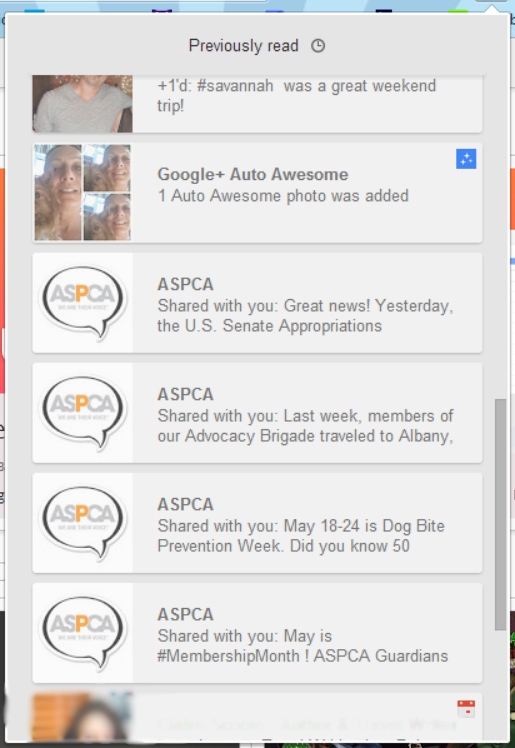 The Google+ Notifications extension from Google.com is perfect for a count of your unread Google+ account notifications. It is a very basic extension if you are interested in seeing at a quick glance the number of notifications you have waiting. Upon clicking one of the notifications in the pop-up window, you can view the post. From there interaction will redirect you to your Google+ page. The pop-up window also allows you to mark all notifications as read or view previous notifications. Again, this is really a simple notification count shown in your extension toolbar, but can come in very handy!
Keep in mind that each extension displays a small menu upon right-clicking its icon in the extension toolbar. You can remove the extension, hide it, manage it, and view available customization options.
I have had minimal to no issues with these extensions which is a great sign! Extensions are supposed to be helpful and handy, not burdensome and aggravating. Give them a try and let us know what you think of them. Also, if you have some suggestions for different or additional social media extensions for Chrome that you would like to share, we would love to hear about them!
Related Content
7 Ways To Improve Your Brand's Social Media Engagement  
How to Build Your Subscriber List Using Social Media  
Mindboggling Social Media Trends And Two That Give Us Hope
Latest posts by Sandy Stachowiak
(see all)