Backlinks are one of the most important and powerful asset for propelling your site to the top. In our case, we are more interested in organic links. The very definition of the organic backlinks still remain vague, but they do provide the biggest value for the users, look natural in the context and have an anchor text that is integrated in a meaningful way.
Let's review some ways on how to acquire such links and squeeze the most of juice out of them.
1. Be Involved in Link Roundups
Bloggers love publishing posts with links to the recent articles. These are fairly simple to create and share around. And it's pretty easy to be listed in one of those as well. Being involved in this content is cool because you can get a lot of quality links fast which is really useful for SEO.
If you have an exceptional piece of content that you've made recently, you can create one of such great link roundup posts. In this case, I really love the citation from Jeff Jarvis: "If you can't imagine anyone linking to what you're about to write, don't write it".
To find such articles in a certain blog, you can use the SE Ranking backlink checker and make a good list for your blog post.
As soon as you publish the article, let people know about it and suggest them to mention your content. Send them a personal email and mention this blogger in your content.
I can say that this is an excellent way to help bloggers by including their posts on your site. They will definitively notice it and will come check your out. And this is the first step to build relationships with them.
2. Offer Your Product for Blogger Reviews
I would like to assure you that there are a lot of bloggers in every money-generating industry who can write a review about your product. As you know, a product review is a good way to let people know about it in details and it usually contains a link leading to your website.
That is not so difficult as might appear at first sight. Just carefully think over your offer, find bloggers in your niche, reach them out by offering something valuable in exchange and wait for their responses.
It is worth noting that asking bloggers for a review or a link via email is not ethical and violates Google policies. Don't be direct about it. Be more creative!
3. Run Contests
Contests are great ways to attract relevant audience and engage them with your brand. A lot of companies are using this method and I strongly encourage you to do the same.
The purpose of this method is not to earn money, but give people something fun to do and get user-generated content around your brand.
Notice that contests have a high risk: it if the contest is lame or not well run it can actually damage your reputation.
4. Work With Influencers
Based on NeoReach, an influencer is "an individual with an online presence who has the potential to influence the opinions and behaviors of your target audience." Because these bloggers have such a good follower base by making quality and interesting content, people start trusting them and respect their opinions.
Once you make a list of influential people in your niche, you can start working with them while creating a great content. A lot of companies in your niche have a special press section where they cover news somebody else has written about them. Take a look at these pages for important updates, and you can create your own story on your blog.
If you engage with influencers just for marketing, you can miss the chance to be customer-centric. Focusing on your customers and your business will be more profitable. The best way to do that is to encourage a community and engage bloggers in a two-way conversation. Let influencers know how their opinion shaped your business decisions.
5. Help People and Ask for Links in Exchange
It might sound weird, but the quality links are born from naturally built relationships between websites. Cooperation, support, friendship, partnership – everything makes sense. Here I am not talking about link exchange; it is an illegal way to build links that can get your website penalized.
There are a lot of other things you can do to improve your your website. For example:
Translate a piece of content into a different language;
Contribute a good content to a third-party blog;
Make a banner or an infographic for another site;
Fix some bugs or errors on a website;
Debug a piece of programming code for someone's project;
Just extend a helping hand and do the work that serves their interests.
Tip: Take full advantage of your network.
6. Use Q&A Websites
Asking and answering questions are considered to be one of the most effective ways to do better SEO and build quality links. Year after year Q&A websites go on gaining the popularity and become useful at helping people build a good link building strategy.
If you have something interesting and extraordinary, search for the burning issues and deliver the info. Quora and Reddit are one of the most popular websites that can include a number of such unanswered questions.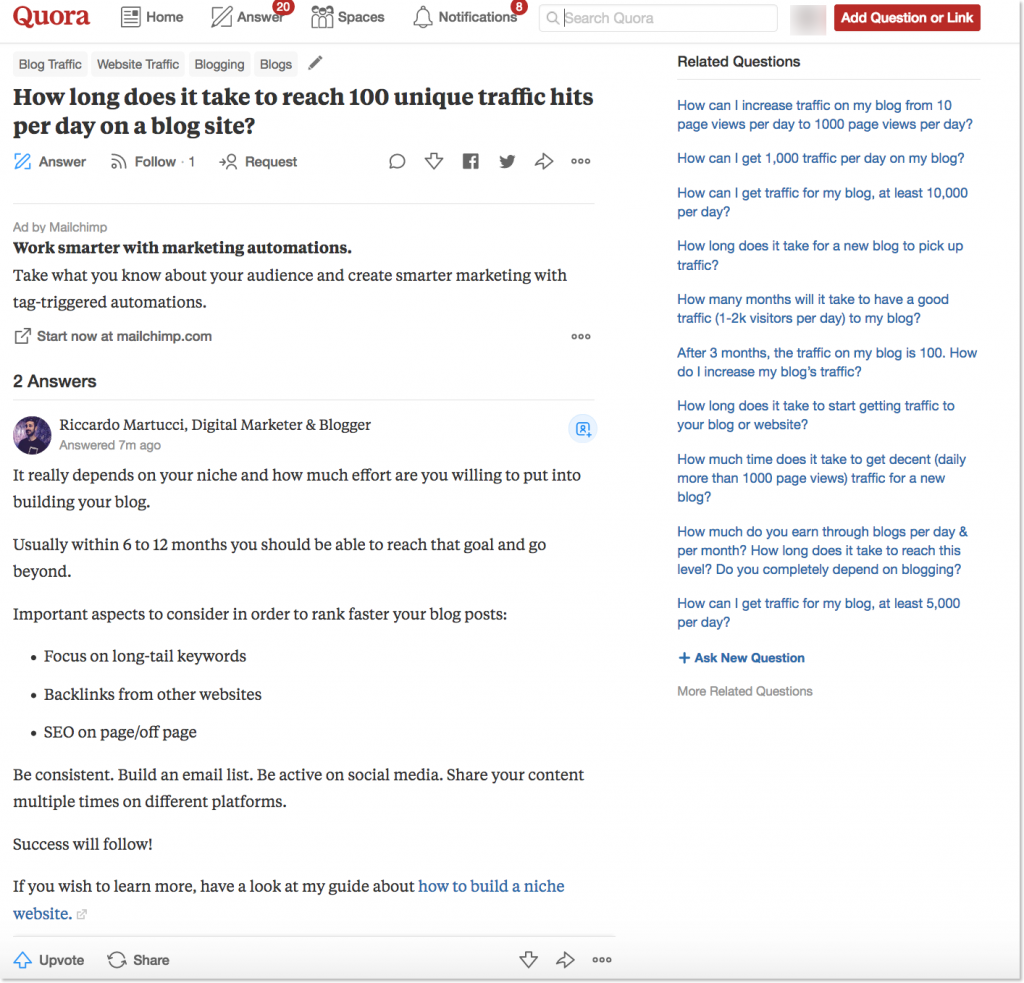 Why I like these websites is that you can find there some influencers and start building relationships with them. Moreover, you can learn more about your industry and find the right solution to your problem. Deeply held answers will increase your chances to link your content to other pages.
7. Use Tools to Boost your Efforts
Participating in link round ups, contests and influencer are great organic activities that you can engage with to acquire links naturally. On top of that, companies should also use tools to bolster their link acqusition efforts as well as tools to monitor the competition is the field.
One tool to note is Neil Patel's Backlinks, a free backlink analyzer to check the links your competitors have and analyze your own link portfolio. This tool in conjunction with Ahrefs, Semrush and others should provide good insight to what works in the niche and what type of links you need to strive for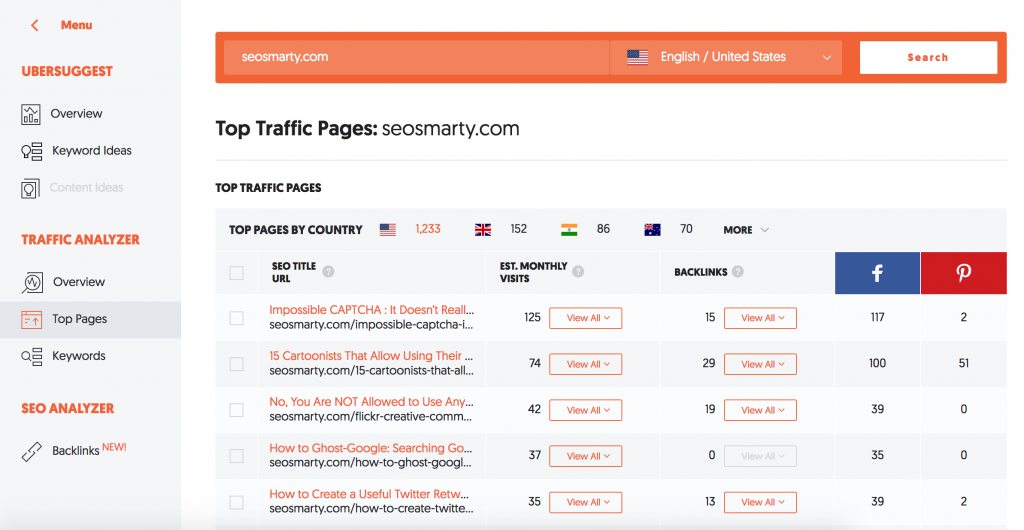 Conclusion
There are a lot of great ways to get links to your website, and I've included only those that work well for me. I hope you will find something useful out there and will begin to create a successful link building campaigns. Cheers!
Latest posts by Contributor
(see all)