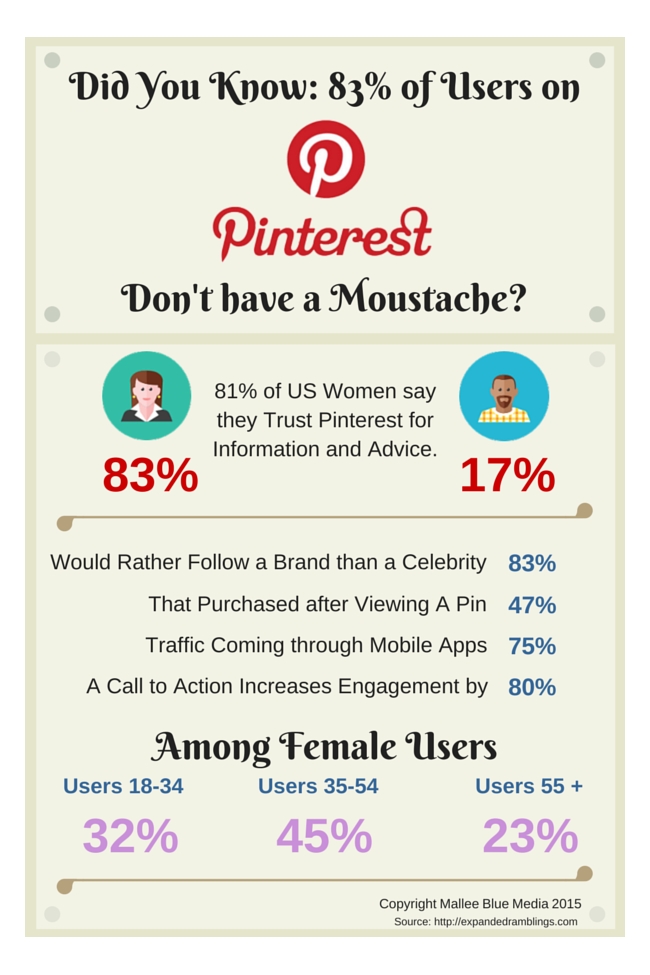 Pinterest. It's become a Social Media Hero and is driving traffic to thousands of websites daily. It's simple to use, and has great advantages in driving traffic to your business over other social media.
Pinterest pins are accompanied by a lot of metadata. That's not only important for Search Engines, it matters to users who are searching on Pinterest.
Pinterest is all about the images. Sure, it might seem a bit counter-intuitive to offer pictures when you want your visitors to read. But great images are the way to persuade visitors to click through to your blog post. And click through means traffic in Pinterest, and on that often leads to sales for you.
Pinterest is the Glosy Cleo of the World Wide Web. It's saturated with eye candy. To capture the attention of a reader in an effort to boost your traffic your Pins need the visual appeal to stand out, and invoke otehrs to click on through to yourarticle, product or service.
But my target audience isn't women. Isn't Pinterest all about women's interests? Fair call, buit not so fast. OK, so your target audience isn't women and you aren't selling skirts, but there are clear benefits  in using the Social Media gaint for men also.
While men are the smaller demographic, the niches which attract them (Sports, power tools, Fitness) tend to convert bettter than other social media and are growing every day.
But that's not the only reason to use Pinterest as part of your marketing and Search Engine Strategy.. There are other more generic benefits in using Pinterest to drive traffic
The Content Lives (almost) for ever and rather than become less significant over time tends to become more significant. In fact, more than half the visits to a pin happen after three months.
People Tend to Trust Brand on Pinterest more than other Platforms. That's vital information for brands like Sephora, who say that its Pinterest followers spend 15 times more than its Facebook fans.
Pinterst has street cred. People believe what they see and trust the visual more than they trust the written word these days.
Tutorials, Guides and & DIY Pins see a 42% higher click through rate.
Finally, Customers spend more money when they convert from a Pinterest referral than any other social referral. Average order value for a Pinterest conversion is $80.54. Facebook, in second-place, is $71.26. (Kevan Lee on the Buffer blog)
Latest posts by Contributor
(see all)