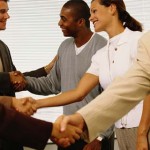 Social media is becoming increasingly important for job networking. The last couple of years have been hard on the economy, and if you've been forced to hunt for a job during that time you know this all too well. On the bright side 63 percent of recruiters say that their organizations are exhibiting signs of recovery from economic difficulties, but job networking with social media is here to stay.
The last time I was unemployed I still looked for work through traditional channels. I visited the state office of employment and training regularly, I filled out dozens of applications and I let my friends and family know I was looking for work. That has always been the key to finding a career that you can live with, networking with acquaintances and finding someone who knows the right person.
Entrepreneurs realized the troubles that regular people have with finding employment and have moved to innovate job searching in the online space. Monster.com has been an alternative to classified employment ads in newspapers for a while, but the latest trend has been to digitize the best way to find good employment opportunities: networking. Here are some of the best tools available for you to network your way into the career of your dreams.
LinkedIn
Everyone knows that employers will often check out their social media profiles before hiring potential applicants. It's a good idea to delete the photos of spring break in Cancun, and make sure you're not giving recruiters the wrong idea with the information you share. Social media is also a primary tool for recruiters to find capable applicants. 12.5 percent of employees are hired directly through social networking, and another 15.8 percent are hired through referrals from existing employees. It's not just a good idea to follow a potential employer's HR division on Twitter, but also existing employees.
Out of all the popular social networks, recruiters hired applicants through LinkedIn 40 percent of the time; the second favorite haunt of the recruiting department is Facebook, which is used 30 percent of the time. It seems so obvious that LinkedIn would be one of the primary tools for job hunters, but most networkers overlook the primary reason that they started business networking in the first place: to improve their income situation. Since LinkedIn is the most likely network to improve your employment outlook, it is a requisite social media investment for any professional networking you do. If you're looking for work, now is the time to clean up your LinkedIn profile so it's easier to navigate and find relevant information. Join some groups in your industry and reach out to those 3rd tier connections; a friend of your friends could be the "right person to know". Only 5.7 percent of recruiters are not active on social networking sites.
Tweet my Jobs
One of the newest entries in the online job sourcing industry is California based Tweet my Jobs. Job seekers can sign up with the site to receive highly targeted job opportunities through updates on their social networks. The application integrates seamlessly with your Facebook and Twitter profiles so you won't have to go out of your way to deal with your job search. Since it's connected to your social media accounts you can use tweet my jobs to leverage your social influence to get connected directly with recruiters and hiring managers.
CSX, Starbucks, Citibank, UPS, Penske, Discover, Sears, Northrop Grumman, Tiffany and co., Lexmark, Verizon, Allstate; the list of employers who are already signed up with Tweet my Jobs goes on and on. One of the most promising aspects of the platform is their involvement with government agencies. The cities of Newark New Jersey and Atlanta, Georgia both post their municipal job openings through Tweet my Jobs, and the company is in talks with several more city governments to sign long term contracts. Whether you are out of work looking for an opportunity or gainfully employed but wish to find something better, a quick signup at Tweet my Jobs is a must.
Resume Bear
Even with all the direct social networking going on in the recruiting world the number one source for online hiring is still job boards. 17 percent of applicants end their job hunts successfully on a job board, and the most complete employment website with an active board is ResumeBear.com. With Resume Bear's job board you can browse jobs, and also post your resume for potential employers to find for free. The system allows you to set up real-time alerts so you'll know every time your resume gets opened, forwarded or printed. With Resume Bear's resume builder you can use resume and cover letter templates or their on-site resume wizard to make your resume stand out. Use statistical analysis tools to choose the best version of your resume, cover letter and just about anything related to your job-seeking campaign. There are no e-mails to send, and no attachments. Resume Bear hosts your resume on their dedicated servers and when you're ready, will send it directly to HR's inbox, bypassing any spam filters. Make sure to stop by the blog, Resume Bear has some of the best advice anywhere for finding a job in the digital world.
Possibly my favorite part of Resume Bear's website is their upgraded job board that is coming on April 1. It will still be free for you as a job hunter, but employers will be charged a small fee for use of the application. Half of all the proceeds will be donated to hirepatriots.com and Shriner's Children's Hospital. During the update, Resume Bear also plans to add more social network integration into your platform to allow users who have particularly valuable networks to leverage them that much more in their job hunt. There are lots of job boards on the Internet, but the innovation, dedication to improvement and charity work is why I'm partial to Resume Bear. I've also had more hits on my Resume Bear resume than I have my LinkedIn page in the last month. It's definitely a place you want to be if you're looking for work.
Here is an Infographic that displays several of the statistics quoted in this article. You can get a better idea of how each network or channel stacks up with the competition.

How have you used social media and the Internet to improve your employment situation? Is a computer the first place you'd go if you found yourself out of work tomorrow?
Latest posts by Adam Justice
(see all)