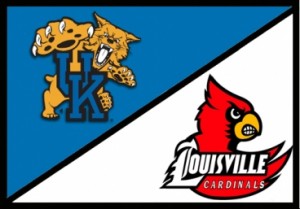 Living in Kentucky, I grew up watching college basketball. The citizens here take it very seriously, and the loyalty to the University of Kentucky Wildcats extends far outside the city of Lexington, all the way to the fringe edges of the state. When you live in Kentucky you either bleed blue, or you live in Louisville.
Knowing how seriously that the students, fans and faculty take collegiate sports in Kentucky, it didn't surprise me at all to hear that both the University of Kentucky and the University of Louisville have started monitoring the social media activities of their student athletes.
The Louisville Courier-Journal reported last week that the majority of the student athletes at the University of Louisville and all student athletes at the University of Kentucky submit to social media monitoring by their coaching staff. The only two sports that are not subjected to this policy at the U of L are Men's Football and Men's Basketball.
What is It?
The University of Louisville uses software provided by a company called UDilligence which costs $6,450 annually, and the University of Kentucky is in its second year of using Centrix Social, which costs $6,000. According to the UDilligence website, some of their other clients include LSU, Ole Miss, Texas Tech, Utah State, Texas A&M, Texas, Baylor, University of Florida, New Mexico and Missouri. Centrix Social clients include SEC teams Auburn, Mississippi State and South Carolina.
In Division I collegiate sports, players are practically celebrities and in some cases are subjected to the same heightened scrutiny that musicians or actors are as it relates to their public online posts. In Kentucky the basketball teams at both colleges are often more popular and well liked than the majority of national celebrities. So far the students surveyed have not voiced any concerns with the policy. That isn't the case with everyone though.
Not Everyone Agrees
Bradley Shear, a Washington D.C. Lawyer and digital media expert claims that the practice is an unconstitutional violation of the First Amendment. The Kentucky ACLU has publicly condemned the practice. Staff attorney William Sharp said "When students are forced, as a condition of receiving a scholarship, to grant government officials access to all of their social networking accounts and then are subject to punishment for engaging in lawful speech that the university simply doesn't like, we believe public universities cross the line,".
Kentucky isn't the only state where the monitoring of college students' social media activity is in the spotlight. The California Legislature is currently considering a bill that would make requiring any student to grant access to private social media information illegal.  
How Does This Work?
The UDilligence software uses a standard app to monitor updates on Facebook, Twitter, Youtube, and MySpace for any careless posts or comments. By installing the app on their social profiles, the students are in effect agreeing to the UDilligence terms of service, which complies with the terms of service for third party applications on each social network. The software also monitors picture captions to try and figure out if an image violates the institutions social media policy.
When triggered, the software sends an e-mail to coaches immediately informing them that a student has possibly violated the school's social media policy. Often the status update will be innocent, but when schools are forced to deal with compliance officials and PR fiascos, it's probably better to be safe than sorry. Each school puts together their own blacklist with words they believe signify a violation.
Here are some of the keywords on the University of Kentucky blacklist:
Act the fool
Advisor
Agent
Alchohol
Bamboozle
Blow
Blunt
Benjamins
Cocaine
Comp
Contract
Cowboys
Crip
Crunk
Dime bag
Dime bet
Dimeline
Déjà vu
Doobie
Drakes
Extra benefit
Fight
Glock
Gun
Harvey's
Hugo's
Hydro
Joint
K2
Marijuana
Meth
Ming
Murder
Pony
Ricks
Roach
Robbery
Shoot
Spearmint Rhino
Spice
Strapped
Strip Club
Strippers
Suicide
Tin Roof
Threat
Trust
Here are some blacklisted words from the University of Louisville's List:
Alcohol Related
Ale
Amstel Light
Bartles and James
Becks
Beer
Beer bong
Blatz
Blitzed
Body shot(s)
Buzzed
Captain Morgan
Chivas
Cocktail
Colt 45
Coors
Coors Light
Corona
Cristal
Schooner
Scotch
Screwdriver
Sierra Nevada
Slimming
Tap
Tecate
Tequilla
The Beast
Vodka
Weed n water
Whiskey
Wine
Wine cooler
Drug Related
8 ball
Amphetamine
Blunt
Blunts
Bong
Bump
Bumped
C-game
Chronic
Cocaine
Ganja
Hash
Herb
Heroin
Hypodermic
Ice
Inject
Joint
Juiced
Juicing
Kronic
Lines
Ludes
Marijuana
Meth
Mr. Brownstone
Stoner
Take a hit
Toke
Trees
Upper
Weed
White lines
Whippets
Whippits
X
Sex Related
Breasts
Gazongas
Panties
Queen
Queer
Rape
Raping
Santorum
Screw
Whore
The University of Kentucky has 370 names on their blacklist; mostly sports agents, team owners, and recruiters associated with pro sports teams. They also had the terms "arab" and "muslim" listed, but agreed to remove them after reporters confronted them.
Is Online Privacy Ever Expected by Collegiate Athletes?
Not only does UDilligence notify the coaches through e-mail, it also allows them to browse through the player's photos and videos to check for violations. One of UDilligence's marketing tactics is to gather examples of offensive photos from schools that are not yet clients. Here are the 8 most outrageous photos that they've captured as proof of why their application is a must have. Warning: They're a little explicit.
[meteor_slideshow]
A Subtle Dilemma
The part of me that consults businesses and organizations on how to best integrate social media and other aspects of the Internet with their current marketing strategy and business goals loves this program. I've found through experience that you'll usually find the best advocates within a company, if it's large enough and if the organization is liked by employees. The part of me who is a user of social media hates this. I'm a big advocate of privacy and free speech.
I realize that collegiate athletes are not necessarily the most mature people in the world, but it shouldn't be out of the question to let them control their own social media. If something they post publicly gets picked up by the media, then hold them accountable. If an athlete only has a small circle of trusted friends with access to their posts, it shouldn't be anyone's business. Everybody uses social media in different ways, and not every college athlete will want to be a public evangelist for their sports program.
What do you think? Are colleges crossing the line, or is this a necessary step for institutions to take in managing their public image?
Latest posts by Adam Justice
(see all)