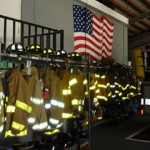 Earlier this week I came home to find smoke seeping through the cracks around my back door. I went around to the front door and my fears were realized when I found that the house was full of rancid smoke. I called 911, and the paced around in the yard like a lost idiot for about 20 minutes waiting on the fire department to arrive.
Soon several fire trucks were parked on the street in front of my house and the firefighters were suiting up to go in and tackle the blaze. It turned out to be a small fire contained in a closet, although the smoke that was made up of plastic particulate was so thick that all of my belongings are ruined.
After the fire was drowned and the smoke evacuated, I was told that the fire was now under investigation. The circumstances were terribly suspicious, but being a renter and having no form on insurance, I'm pretty sure it's obvious that I had no motive to ruin everything I own. Still yet, the fire fighters taped off the house and explained to me that it was a federal offense to cross the fire line without a witness. They would need to take pictures of everything that I took from the premises, and that they could not help me carry anything out because of policy.
I didn't consider this a slight. After all, these guys just went into a burning building and did the best job possible of saving my stuff (which has never felt as irrelevant). This was on September 12th, the day after the anniversary of the biggest firefighting disaster in American history – I didn't care that they didn't fancy themselves as furniture movers.
Let Me Establish a Connection
Then, my dad arrived on the scene to help me move. It turns out that one of the firefighters was also a chapter officer in the motorcycle club my father belongs to. As soon as a relationship was established, the mood and tune of the firefighters changed. They started helping me pack out the boxes that I had stored when I moved in a few months ago, and became more like a group of drinking buddies than public officers. Before long they had helped me pack out everything that wasn't bolted down and left me to myself at what was now apparently a crime scene.
I wasn't thinking clearly at the time, and didn't notice the shift in attitude until after the fact. I remembered that when my brother arrived a couple firefighters approached him and asked "Do I know you? You look kind of familiar". They wanted to form a connection with us. "Where do you work? Oh yeah? My cousin works there, do you know him?"
Did I just experience the power of networking while my house was burning down? Even though the volunteer firefighters are charitable by nature and would have helped anyone, I was afforded special treatment because of my father's close ties with a veteran member of the department. Not everyone is prone to this type of preference, but you'll often find that establishing a prior connection with a stranger can inspire a favorable response. It works best when the connection is deeper than sharing a birthday in June. You'll also find that the people who are most predisposed to receive you favorably are often members of several public organizations also.
Networking is as Important as Qualification
The entire world runs on who you know. A recent study by Jobvite showed that even though employee referrals only account for 6.9 percent of applications, they were the number one source of new hires with 39.9 percent of successful candidates stemming from an employee referral. The same study indicated that those hired through employee referrals were hired approximately two weeks quicker than other applicants. I've also noticed that one of the common denominators of landing the most desirable positions is nepotism. Three of the four regional clients I service are directed by the son-in-laws of each respective founder.
It doesn't end with career opportunities. I know dozens of small business owners that built their initial customer base from nothing more than people they met before starting the business. Afterward, every person they met was a potential lead. A plumber I once consulted decided to take business classes to improve his managerial skills. He never finished his degree, but landed over 20 new clients through connections he made with the faculty of the university.
No matter what you choose as a profession you will benefit substantially through building a network. I suggest starting with your own community; fraternal organizations, professional organizations, and membership to public clubs are all great ways to increase the number of connections you have. Various benefits will spill over into other facets of your life. Sometimes the most important connection isn't always apparent. Connecting with the right people is a hidden advantage that successful people often downplay.
Social Networking Supplemental
If your goal is to do business, making friends at the chamber of commerce and the rotary club is just as important as making friends on Facebook. Networking is far more powerful in person, and social networking works best when you have established a relationship with that person prior to sending a friend request.
Those firefighters helped me do things that a lot of people I know wouldn't have helped with. Based on our third level connection, they were what Facebook would call "People You Might Know". I like all of my online friends, and they were also extremely supportive and caring when they heard my house burned. In fact I would wager that the majority of them would have showed up and helped right along with the firefighters, but they do not have the capacity to help in that way.
Take every opportunity to expand your reach in the real world. You're much more likely to make a good impression in person than you are online. You never know when the old man on the park bench is the father of the Vice President at the company you're seeking employment at. You won't always realize it when you meet the person that will lead to your most profitable client. Making a new direct connection today may generate the connection that puts out a fire for you tomorrow. Increase your odds and put yourself out there.
Latest posts by Adam Justice
(see all)