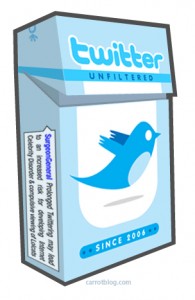 Twitter announced last week that they planned to tighten restrictions on spamming and automation. Normally this is publicly considered good news by everyone affected, but there have been several bloggers and pundits denounce the move. Instead of increasing penalties or targeting the actual spammers, Twitter has filed lawsuits against five 3rd party developers who were involved in the creation of automated spamming tools. The most well-known of which is Tweet Adder.
It all comes down to ethics. At the heart of the bloggers' argument is that a small group of spammers are misusing the tools that help "marketers" plan and execute their social media campaigns. This is a completely backward view that social networkers and every kind of online community has had since public Internet access became available: that when developers launched an application, ethical use only included use that originated from the application's own proprietary interface.
Using a program that gave you an undue advantage was even worse. Before there was TweetAdder there was adding trains, Friend Blaster, macros and a whole other assortment of automation tools to use on everything from MySpace to Yahoo! chat rooms. They were universally known to be unethical, and many of the advantages are the same you'll get from a program like Hoot Suite and Tweet Deck.
Automation Makes a Re-Tweet SPAM
The fact is that the ethics involved with automation and bot use have been skewed for the past couple years. Social Media platforms can place blame on whoever they want, but there is one culprit who deserves much more blame – a social network named Twitter.
As recently as three years ago, practically all Internet users agreed on the ethical problems with bot use. Those that didn't understand the ethical implications entirely, but still knew that there was something inherently wrong with using a different interface to access applications and games that gave the user a decided advantage over their counterparts. Most importantly, the people who did use bots didn't admit it. Rather than face public criticism they kept it to themselves and forced the platforms to bust them, and then take the necessary disciplinary actions. Denial confirmed the notion that it was unethical, and that the user knew it.
Twitter Made its Bed, Go to Sleep Little Birdie
It was around this time that Twitter started to get bigger. With the integration of mobile and the unique aspects of the 140 character micro blog, Twitter allowed 3rd party developers to openly distribute applications that had the ability to totally replace the Twitter interface.
Up until that point the only accepted programs were aggregators that could combine several platforms into a single interface. Some Twitter users had several thousand followers, and were following several thousand accounts themselves. It made sense to allow programs to optimize the experience any way they could. The bots became "tools" to users, scheduling became a popular practice, and automation started to become accepted. At least at first users remembered that there was something inherently wrong with having an advantage over other users.
When Does a Tool Become Black Hat?
Social Media, and especially Facebook and Twitter, were becoming more popular by the day. The regular black hats had their bots and macros, but as the lines blurred between the capabilities of a tool like Tweet Deck and a bot like Tweet adder, regular users began taking advantage of programs that were explicitly allowed, although limited, in Twitter's end user license agreement. After all, why wouldn't they? It is playing by Twitter's own rules, and there you can do a lot of cool things with the right program.
Social media marketing experts who were looking for an edge stumbled upon the more powerful tools, and it wasn't long before they were recommending them in their books and even selling them as an affiliate on their websites. Twitter condoned it all for the most part; they just asked that users keep automation to a reasonable amount.
Naive Newbies See it as the Gold Standard
As users who weren't familiar with the wars that prior social networks and other platforms had fought against bots and macros in the past started taking to Twitter en mass. The lure of social proof and potential profits from garnering a massive following was more than enough lead them on a search for the tools that could replicate the success that others were having.
Since Tweet Adder allowed users to make a sizeable commission from each sale, the active networkers weren't even trying to keep it a secret. What's more striking is the fact that it was no longer taboo; people were recommending it publicly and hardly anyone denounced it. Twitter was still growing at a spectacular pace, so why police something that helps inflate your user numbers so much?
Being an Expert Means Exploiting Advantages?
The current crop of bots and Twitter apps are popular because they can automate actions on social networks that lead to growth. The growth can be transformed into added engagement, and the engagement can lead to profit. Is all fair in love and money? Greed has allowed the use of automated Twitter accounts to blossom among users just the same as it allowed Twitter itself to turn a blind eye to their users who were both padding the numbers and flooding the network simultaneously.
You can't argue that the whole idea of supplementary Twitter applications is to give you distinct advantages over the official interface. You can reach followers on the other side of the planet who would normally be asleep during your active hours, you can multiply the number of actions you're capable of completing on any given day, you can live a normal life and still portray yourself as a Twitter super user, and you can use advanced filters to make it all more efficient. The question isn't whether or not it works, it's whether having access to the social networking equivalent of steroids is ethical; and since it isn't ethical, how could all of the professionals, and Twitter themselves, turn a blind eye for so long?
Twitter Sold it's Horse for a Faster Cart
Growth has slowed for Twitter, and it's obvious that they have a spam and bot problem. When five percent of users are responsible for 75 percent of all tweets, you know there is a little too much automation going on. So Now that they've plateaued, they need to curb the use of such programs before they can reach a larger audience. Even though marketers who frequent the same "Warrior Forum" that hackers and bot enthusiasts frequented five years ago have accepted wide scale use of automation, the general public still gets an icky feeling when they find out that they are the only ones present at a party that is seemingly jumping. People don't like to be fed by robots, and Twitter knows it.
Applications like Twitter are best if ALL users are limited to the same User Interface that was developed as part of the application. The user experience is better, it puts users on equal footing and removes automated spam altogether. Twitter's acceptance of all these programs that can post to their platform is an Internet first. They relinquished that control, and that's why I don't see them winning a lawsuit for that very reason. They didn't create this monster, but they invited to stay in their home and fed it high protein gruel. Now that it's as big as it has ever been, it's going to be nearly impossible to eradicate. When a user sees other people exploiting "tools" at every available opportunity, they aren't going to stand idle while others are passing them by.
Tweeters are Addicted to Convenience
Even if Twitter wins all five lawsuits, users are so used to using automation and bots that they'll search fervently for a replacement and a programmer will reach out to meet that demand in spite of prior lawsuits. Some users will try and compromise and justify it; Even though your average marketing disciple is plenty smart, the prevailing culture has warped their sense of ethics.
I'll be honest here: even though I recognize the ethical conundrum we face when using a superior interface, I've always felt like ethics are better saved for serious matters. I don't care if you sent your tweet from Buffer App, Tweet Deck, the official Twitter app or from your iPad in the bathroom. I accept the current culture of tweet-botting and scheduling, and as long as average users don't form a mob, I won't try and hide my use of programs like the Buffer App, Triberr and Ifttt.
Do you use automation in your social media strategy? Have you ever had a strategy that didn't involve some level of automation or scheduling? No matter what anyone says, it is historically unethical. The question is why do we let convenience dictate when the platforms write the rules? Are online ethics so flimsy that a single company's culture can alter them? And how important is it to maintain ethics when the crime is spam; non-violent, and some would say victimless. If you were the judge, do you rule in favor of Twitter, who has obviously had a change of heart due to their bottom line – or do you rule in favor of the third party apps that spent time developing programs that were accepted by everyone at the time, even though they wouldn't have been a few years prior?
Latest posts by Adam Justice
(see all)