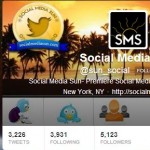 Last Week Twitter introduced an updated profile design based on a prominent header image. The change was designed to enhance the enhanced profile pages that Twitter launched for advertisers, which also allowed businesses to pin tweets. The new design overlays your avatar, bio, link, name and location over the header, which is roughly displayed as 520×260.
It's really a toss up over whether the enhanced profile with a header or the traditional profile is more aesthetically appealing. Since there is a lot of text and your avatar displayed over the image, it is very easy for beginners to make their Twitter profile look worse. At the moment the new header is optional, and your profile will keep its traditional layout unless you upload a header image. Here are some things you need to know in regards to this latest Twitter change, which is drastic in terms of Twitter upgrades.
Keep Your Background in Mind
Before you open up Photoshop (or Paint, which appears to be popular among Twitter users wanting to try out the new header feature) upload a basic image and give your overall design some thought. If you've invested heavily in a background image, or especially like your current design, adding the header may not be the best move. You'll want to make sure that your overall design expresses some form of brand continuity, and integrating a header may require a new background to keep your design from feeling redundant, crowded, cheap or unusual.
The Header Can't Be Smoothly Designed Into Twitter
It is the equivalent of what an average person would add behind their title text on WordPress. My first thoughts was to include a black/white gradient that faded into my tweet stream below, making it look like the header blended right in to the functional areas of my page. It turns out that Twitter already overlays a gradient that is the exact opposite of what I wanted to make sure your bio text is visible and that there is a clear separation between where your header ends and where Twitter starts. It makes solid colors look like they get darker towards the bottom, and it made my white look gray.
You Have No Control Over the Text
Your avatar, bio, name and location are displayed in white over your header image. Unless you want to delete everything, you cannot change text colors or alter the placement in any way. The gradient overlay makes it hard to have a conflicting background, but all design needs to pay particularly close attention to the area where the text and avatar will appear. The best design integrations will have the avatar placement pinned down perfectly, and use the relationship between the avatar and header to make their designs innovative. On the Social Media Sun Twitter design, I added icons over Tweets, Following, Followers, and the Follow Me button; again the gradient overlay lessens the effect by making that area dull.
Header Dimensions
Even though the actual display measures approximately 520×260 on my display set to 1366×768, Twitter recommends using a graphic that is 1200×600 as optimum. After uploading Twitter gives you the option of scaling your header. I suggest using the recommended size because there is some deformation on odd sized images, and the fit will suffer. The maximum file size of a header is listed as 5mb, but I have had trouble uploading background images that were just slightly smaller than the recommended size in the past, and expect that you'll need a smaller file size in this case as well.
You Can Always Remove It
Take some time and try out a few images that you have rights to. The header is more like a second background than it is a logo. If you cannot find a match that suits your needs and is an overall improvement on your page design, go back to your design settings page, click on change header, and select the remove option. Your profile will revert back to the traditional layout, and there is no harm done.
Your Twitter Profile Isn't that Important
This is ultimately an attempt from Twitter to make a play on larger mobile device screens, and to enhance their package for advertisers by adding more branding opportunities. The truth is, most Twitter users will never even see your page design. Almost all of the content on Twitter is consumed from the feed or connect tab. Out of those users that will take a look at your Twitter profile, computer users are more likely to take a look than users of mobile devices, and those views will almost always come immediately after following you. With mobile usage still rising, your profile page will become less and less relevant. Of course, bigger brands and celebrities will always have visitors to their profile page.
Don't Compromise Overall Design Just for a Header
The details will make or break your profile design. Familiarize yourself with all the design elements that you do have control over, such as the link color, the transparent overlay, your avatar, background, and even the inclusion of bio text. If you're Coca Cola, do you really need to tell everyone that you're a soft drink? You will either need to consider the placement of that text, and weigh your needs to decide if it is worth removing. Link color is almost as important as the graphic elements on your page. Complimentary or monochrome colors are safe bets.
We still don't know if Twitter will move all users over to the enhanced profile designs. Even though it isn't mandatory, integrating a stunning header into your profile design is another reason for followers to visit your feed. Why not strike while the iron is hot? The simple fact is that with all the design variables dependent on each other, a header will work well in some designs, and will be harder to work into others.
Have you switched to an enhanced profile yet? Which layout do you like better? If you've installed a header, we'd love to hear about it in the comments.
Latest posts by Adam Justice
(see all)