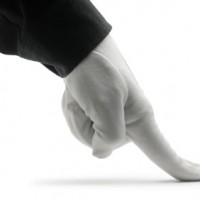 A recurring stereotype regarding wireless provider customer support is that your calls will be directed to a representative in India. For the most part you'd be correct.
Tracfone's  stable of wireless providers all outsource customer care  to India, and T-Mobile's recent decision to ship jobs overseas means that millions of Americans will reach a foreign representative if they call support. Still, companies such as Sprint and Verizon have made it a point to keep their call centers based in the U.S.
Even though costs are higher, we're in a time when superior customer support is an extended perk that many customers expect, and some demand. I am very familiar with both Sprint's and Verizon's stance on outsourcing customer service for American customers because I worked in their customer service department for some time myself. It was a valuable experience; I learned many of the same tactics we use in PR and Social Media during that time, and I learned a lot about how mobile support, and the devices themselves work.
Some People Get Special Treatment? Really?
One facet of customer service that I was unaware of until working for Sprint was the existence of "White Glove" accounts. "White Glove" is an industry term that basically means they're worth more to please. Everyone who called in to Sprint thought that they were the most important customer, but the truth is that none of them were white glove.
"I have six lines on my unlimited family plan, have been with Sprint for seven years and we all have the latest upgraded device. You need to take care of me!" Actually, that's the average account and it doesn't matter how many personal lines you have, you're on the same level as anyone with a monthly bill that's over $100.
White glove account status is reserved for corporate accounts that spend tens of thousands of dollars each month on wireless service, and you'd know it if you were included in that club; we'd probably call you before you even knew you had a problem.
It's a Matter of Cost
If it was economically feasible, Sprint would give every customer the same privilege. The problem is that no one in America knows how to decipher a pro-rated wireless bill, and no one ever resets their device before calling in for support (these two problems alone probably account for 60 percent of all inbound CSR calls).
A White Glove account holder doesn't dial the regular customer service number when they need help. Instead, they have their own assigned account representative that has an independent line. Those reps are in-house, and likely have advanced training to give the highest quality of service possible.
There are a lot of perks that come with white glove account status.
Assigned representative
Ability to negotiate pricing
Extended protection on warranties and insurance
Direct notification of network events that could affect your service
 Special Considerations in almost every area of service
Perks for the point person at the client company
Ability to escalate to a level past customer service
The Only Advantage That Matters
Regardless of all of these perks, there is one advantage of being a white glove account that trumps them all, and is possibly the most important aspect of customer service for any industry; the person that fields your calls and handles your inquiries has the authority, knowledge, and motivation to solve your problems.
The higher level account representatives can use whatever means they feel is necessary to make the client happy. Unreasonable requests still won't be met, but most of the things a client wants from customer service are well within the definition of reasonable. White glove service should be the standard because the perks it has come to define are standard customer service offerings that have been whittled away by cost cutting measures.
Authority
An average customer service representative has a 25$ limit that they can use for refunds for an individual account, and they're monitored closely, so repeatedly offering a 25$ discount will spur an investigation. They do not have the authority to effectively address most problems. They can escalate problems to their manager, but the manager has a $150 limit and will only justify a refund if the complaint is clearly in violation of the contract terms. Most of the time representatives feel less like customer support and more like loss mitigation specialists.
Very few calls will ever make it past the first level of lower management and call centers are set up so no one with any real authority has to worry about your problems.
Ability
When you contact tech support for most wireless providers, you will immediately be instructed to reset your device. In most cases this will clear up your problem, at least temporarily. When a customer's problems are more serious, there is a good chance that the representative will not know how to help you.
Every employee that is part of your support staff should know how to address all the common problems, and know which employees or divisions can adequately solve the problems that they aren't capable of fixing.
Motivation
Find ways to align the needs of the customers with the interests of your employees. White glove account managers are paid based upon their success with retaining those large accounts. Customer representatives should do exactly what their title implies: represent the interests of the customer. They should see their job as fighting for the welfare of each customer, and the customer needs to feel that too.
When a support representative has the power and skills to fix problems, customers feel like they're actually being taken care of. Your manager needs to have the power to fire people for getting out of line, and your support staff need the power to address every conceivable problem in an adequate and timely manner.
Make Your Social Media The Service they Wish They Had
Businesses should treat social media like the white glove service line. Every follower and customer needs to feel like they're someone special and that their needs are just as important as the needs of everyone else. Some people may try to take advantage of especially generous support staff, but I think you'll find these cases diminish as your customer base feels more taken care of.
Digital support offers the opportunity to close the gap on white glove status. Companies should invest heavily in comprehensive and simple video, text, and graphic tutorials for their most common support queries. Answering through e-mail or Twitter means that representatives can copy and paste a link to a thorough tutorial in most cases, which will adequately solve the problem. Since you can cut 20 minute phone calls down to 2 minute text messages, it is a great way to take care of the majority of queries, while saving the phone lines for customers that need extra attention.
Always remind the customer that if the literature doesn't satisfy their problems or concerns that they can contact you again. Escalate repeat inquiries quickly and address them completely. When customers are unreasonable try to keep their replies and correspondence on a public platform so other customers can see the extreme lengths you go to to please customers with unreasonable expectations.
Real-Time Support
If your budget allows for it, you should monitor your social media channels for support inquiries during work hours. There are several widgets and applications that will allow you to add real-time communication to both your website and Facebook Fan Page . One of my favorites is SnapEngage, a live chat widget that can be added to your Facebook fan page. Another handy application is Speak Pipe, which gives Facebook users the option of leaving a voicemail detailing their request instead of calling.
The faster you can solve a problem, the better your customers will feel about your support efforts.
Communication Lets Everyone Know the Score
Finally, focus on communication. If you are having problems resolving a support ticket, remind the customer that you're working on a resolution to their problem and that their problem is currently your biggest problem.
You don't have to let all your customers know that everyone is treated equally when you have superior customer service. Let them think that they're part of a special club that other customers aren't privy to. If your business size and industry allows it, make every account a white glove account. A lot of the prominent social media, branding, reputation management, and business problems will start to work themselves out because of it.
Upgraded support is the new extended warranty. The little old lady's 99$ per month contract may not seem like a big deal to Sprint, but it is to her because she's spending 1/10 of her income on the service. Meanwhile the white glove business account worth 20,000$ per month doesn't care because it's not their money. Look at it from the customer's prospective and give them the white glove experience.
Latest posts by Adam Justice
(see all)