SERPS (Search Engine Results Page) analysis is the process of analyzing and determining the ranking Web Pages for a specific topic or a keyword in search engines.
For the ranking or getting the first position in Google Search almost all SEOs and marketing professionals use this information to determine the difficulty, volume, CPC and other factors.
Why SERPs tracking are important for SEO?
Most people click on the first results of the SERPs primary page and rarely visit page two. That's why everybody wants to be ranked on Google's first list. If you're on page two or past, to say the truth, you're invisible. However, positioning on the main page does not necessarily compare to a lot of traffic for some reason. Most of the organic clicks go to the first few places.
In the SERP, paid results also push the natural rankings down. Once in a while, Google displays SERP features in the search results that answer the query.
Not only this, SERP analysis also uncover many factors and allow us to see how a competitor ranked in Top search results. This will help your marketing agency, SEO team, or even individuals with valuable insight, making them able to push your online business up to the ranking.
As every site owner dreams is to appear on their website, one of the search results where they use search for relevant information. Whenever you type something into Google, you might be feel sad or become disappointed because your webpage is not on the first
Page of search result. Not yet, at least. Don't worry at all. In this blog post, we will discuss a unique and AI-powered SERP checker with up-to-date information about keywords, difficulty, SERP features and ranking. 
Also, we are going to discuss how you can get ranked on top search pages by analyzing competitors.
Let's get started, and hopefully you can start improving your search rankings and traffic earlier than later!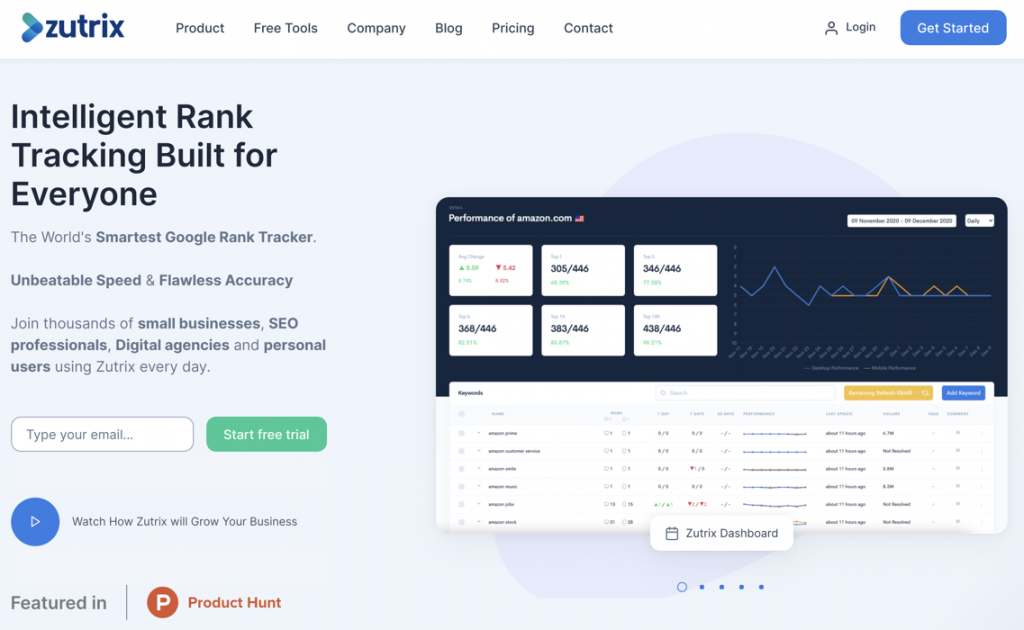 What is Zutrix SERP Checker?
The Zutrix SERP tool is one of the best search engine position analysis tools that will help you in tracking your website's SEO position for specific keywords and topics. Also, it will allow you to compare keywords position with competitors.
Zutrix SERP check is the most user-friendly online AI-Based that is easy to track of keywords and their rankings. In SERP checker, the Google SERP rank of each keyword is checked instantly and kept up-to-date every day. It lets you see real-time search results from diverse locations without location specific IP addresses.
You can also add up to 10 URLs or Keywords in our Zutrix SERP checker and evaluate keywords as well as your competitors search engine performance.
Using SERP checker you can analyze Keyword rank, Life, Performance, visibility percentage, average position, traffic, SERP features, and changes in position including daily, week and monthly update.
Our free-to-use SERP Checker allows you to check a particular site, city or country for Google rankings and SERP results. Data is accessible on request, including search engine results from Google in a second, with up to ten free checks a day.
The tool also provides Google rankings for either desktop or mobile, and SERP data. Only enter the keyword, country and location and press the 'Check NOW' button. Our app will show you the Google SERP results for your chosen location easily.
What your competitors do – and how they rate on Google – is an important factor to take into account when working with SEO.
With Zutrix, it's easy to see who you're up against in Google rankings. To compare ranks, competitors can be inserted manually. You can however discover what keywords your competitors use through Google AdWords to target search engine optimization. All in all, Tiny Rankers provides all the SEO metrics that the competitors need to stomp out.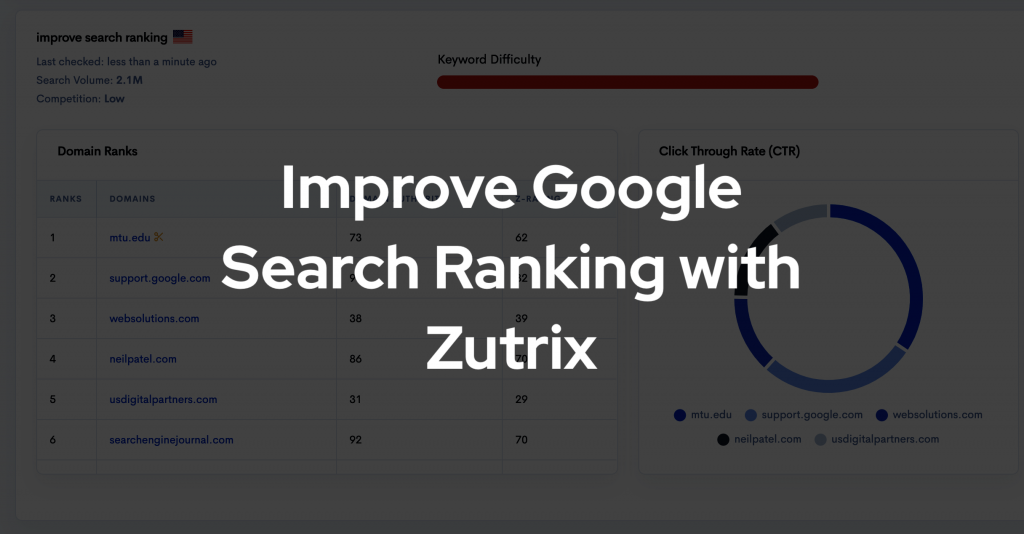 How Use Zutrix SERP checker to Analyze Your Competitor?
You can use the SE Ranking wizard to get started by entering the URL of your site, or adding keywords that you want to track, and specifying the search engine and country. You can also add up to 10 competitors and URL the tool to your accounts with Google Search Console.
You can use SE Ranking's dashboard to monitor rankings, display historical data, daily, weekly and monthly updated data, track competitors, and much more when you have added your website and keywords.
What you will get Using Free Zutrix Free SERP Checker?
Zutrix SERP Checker provides valuable information that will help you achieve first position in a search engine. These are as follows:
Search Results: SERP checker shows you ads, featured snippet, knowledge panel, site links and related questions
Instant Rank Check: You will get Google search results in seconds.
Ten Free Searches: By signing up, you will get up to ten searches per day 100% free!
Mobile/Desktop: Get real-time posting for both mobile and desktop devices.
Volume: Our SERP checkers provide your total search volume results in a second.
Ease of use and fantastic UI: In order to begin using our SERP checker, you don't have to be an expert. You'll instantly understand all the data and features.
Language Search: Users enter the same questions in different languages in multilingual countries, such as Canada, French. The search engine finds different, more important landing pages for various languages on the basis of its opinion. To see results for multilingual queries and change your SEO promotion accordingly, use the browser language and the content language while adding URL or keywords for analysis.
Free Tracking: Add up to ten websites for competitors and track their rankings for the target keywords and search engines and then let us discover and track your top 10 competitors automatically. Moreover, a full list of your SERP competitors can be viewed.
Data that helps you to prioritize your efforts: In addition to the rankings, Zutrix SERP Scan informs you about how often a keyword is searched for every month. This data pairing allows you to discover the low hanging fruit as well as keywords that will have the most effect on the bottom line of your users.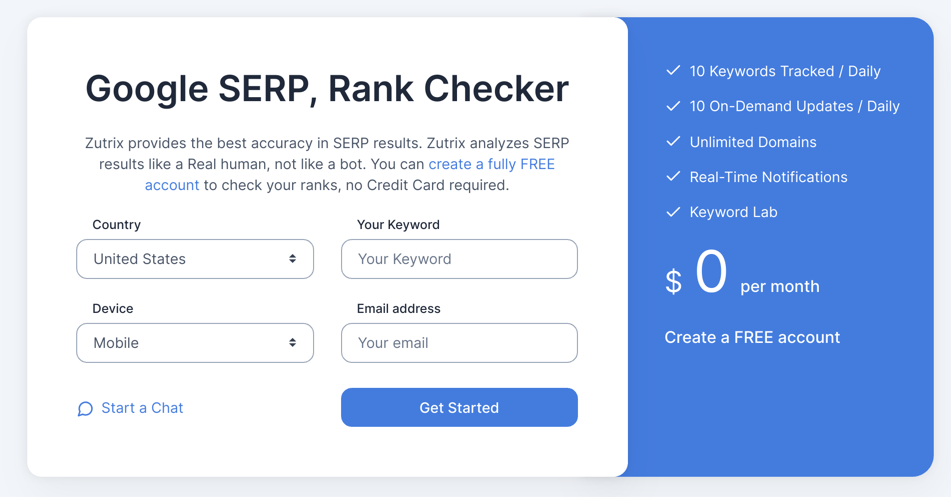 Why Zutrix SERP Checker?
The Zutrix SERP Checker provides more visual reports and an intuitive dashboard, compared to other tools. You get graphs and charts that give you a view of your reports from the bird's eye that you can drill down further.
In addition, you can see what SERP functions are shown in Google for this keyword. Are there placements in AdWords that you'll have to compete against for clicks effectively?
Is there a picture pack, a snippet from Twitter, a review, or a featured snippet? How about similar questions, site links, shopping links, local teaser map, or information panel? Both of these can be considered in your SEO
Keyword technique for that. Also, our tool helps you improve your keywords ranking and grow your business within a short period of time.
Final Thoughts: Is it the Best SERP Tool Out There?
Zutrix is a superb AI-Based accurate and one of the best free SERP checkers that will measure metrics for given URL, domain and as well as for keyword too. To see where you're ranking in their results. 
Our SERP checker measures your website's search engine page ranking and shows several metrics with dynamic frequent updates. So when you optimize your website for a search engine ranking, using Zutrix SERP checker will boost your SERP ranking. So if you're a beginner and want to rank your website on the first page of search results then we suggest your try Zutrix SERP checker tool which gives you up to 10 free searches for putting your efforts in. Also, we provide premium plans at reasonable prices with discounts.
Latest posts by Kristel Staci
(see all)