Your blog already has a good grip on it's target audience and is likely attracting new audiences all the time through social media and search. However, even with a nice blog design and the best plug-ins to enable you share content with others, the work isn't done yet. The next phase of the blog development process needs you to establish your site, blog or brand identity with a professional logo design.
A blog without a logo is like WordPress right out of the box, and looks just like the millions of other sites on the internet today that are quickly dying or just created and never touched again. Adding something as simple as a new and unique logo quickly makes your site easily recognisable, and will ensure you get the traffic you desire.
Take for example, take a moment to think about any of the most recognized names and logos of established sites and blogs on the internet today, such as DrudgeReport, TechCrunch or ESPN. All of them are memorable, and most of the time they don't even have the 'dot com' listed in their logo design.
Their sites are easy to distinguish right away, and they also have killer blog content that is attracting new audiences daily. With their professional logo designs in place, this all helps with the branding and repeat traffic/customer process.
When creating a logo, there are many points to consider. One of the most vital things to consider when creating a logo for your blog is the tool you should use.
We'll be taking a detailed look at the tools that can be used to create your desired logo:
Types of Logo Design Tools
In graphics design, there are two main types of logo design tools – custom or automation based. These design tools have their differences but produce quality logos for small and large business interests.
Let's describe them in detail:
Custom Logo Design:
A custom-made logo, as the name implies is design to be tailored to your business alone. With a custom-made logo, you have a unique design that can captivate your subscribers with relative ease. Custom-made logos are made by graphic designers to suit your business needs.

When it comes to creating a logo design on your own, there are plenty of obstacles that you will likely come across throughout the process — if you aren't already a graphic designer. Such annoyances include having to buy expensive design software, learning how to use it, and then spending time on a whole new project.
In most cases, it's a much better idea to hire a legitimate design agency when trying to do any type of custom design work. In the end, it will be worth the money, versus trying to spend endless hours on doing the work yourself.
Here are the steps you'll normally follow when creating a custom-made logo:
1 – Equip the graphic designer with info:
To get the ideal logo designed for your blog, you have to provide the graphic designer all required information about your blog, your niche and the target consumers. Some graphic designers will require you fill out certain information in a form to aid their design effort.
When the graphic designer has the right info, the process of designing a custom logo becomes easier. Your blog's logo needs to attract a lot of attention toward your site, and this step is vital in achieving your aim.
2 – Select from the options provided:
After providing the graphic designer with all things about your blog, the next step is to select from the choices your graphic designer provides. When you've made your selection from the preliminary designs, the designer sets off to complete the logo design.
3 – Make suggestions:
When the preliminary designs are brought to you for selection, you can select a desired logo and make further suggestions to make the design better.
4 – Get your desired logo:
When the design is finalized, what's left is how and when you intend to use the logo in your blog.
Automated Logo Design Tools:
Automation in graphic design is made for people who need a logo as quickly as possible with very little effort required. A perfect example of a tool and solution for creating a nice logo design without any graphic design skills is LogoMyWay. Through their automated logo maker, anyone can create a logo design within minutes, and then get it live on their site without the need to pay an expensive agency or wait weeks for the project to be completed.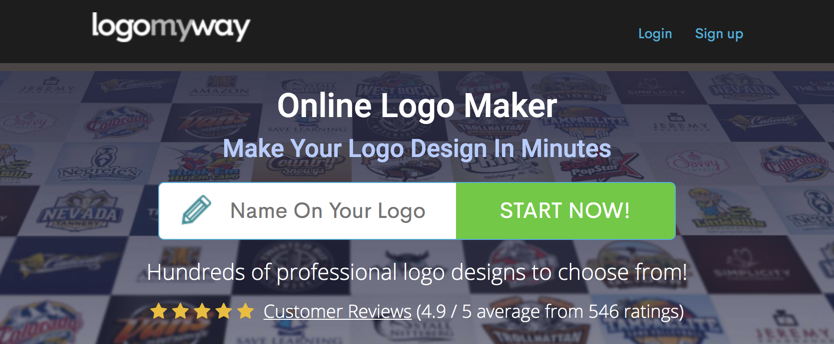 The steps applied in creating an automated logo are as follows:
Input your business name: Getting a good blog logo has a lot to do with what your blog is focused on. When you enter your business name and what your blog niche is, the design tool uses this information to determine the type of logo your blog needs.

Select your desired logo type: There are seven main logo types for you to choose from, but some automation design tools may have fewer options. Here are the logo types in graphic design:
Word mark: the word mark is mainly used where the entire logo is made up of texts. Brands such as Ferrari, Coca Cola, Google, Samsung and Huawei make use of logos designed with word mark logotype.
Symbols: symbols are used to give a brand identity with signs. Brands such as Starbucks and Apple make use of symbols in their logo design.
Abstract: abstract logotypes are ideal for popular brands. Brands such as Nike make good use of abstract symbols in their logo designs.
Mascots: mascots can also be used for a logo design. Your blog may be associated with an association that identifies with a bullhead as the image of their mascot. This mascot could serve as an ideal logo for your blog
Combinations: a combination logotype involves the use of texts and symbols to create a logo. Lacoste and Spotify make use of combinations in their logo design.
Emblem: emblem logo designs contain text and symbols but it is different from the combination mark. The logo has text embedded in the symbols to create a uniform shape.
Monogram: Monogram logo designs help in creating a simple and straightforward logo design with not more than three letters. An example of this logotype is the HP logo.
Your choice of a logo type will determine the design the automation tool produces.
Select Font: Font selection is required if your logo is to contain, or be entirely made up of letters. If you intend to make use of an abstract logo for your blog, then this isn't required. In this section of the design process you can select the type of font, the size and other text preferences. This helps the design tool determine the type of logo you need.
Select from auto-generated logos: The automation design tool you select will provide you with many templates to choose from. The font, colour and other parts of the logo can be adjusted to give you a desired result after you make a selection.
Save your selected logo: After getting your automated logo design, the next step is to save the file in your desired format. Afterwards, you can freely use your logo on all your blog posts and newsletters, giving your blog a unique look.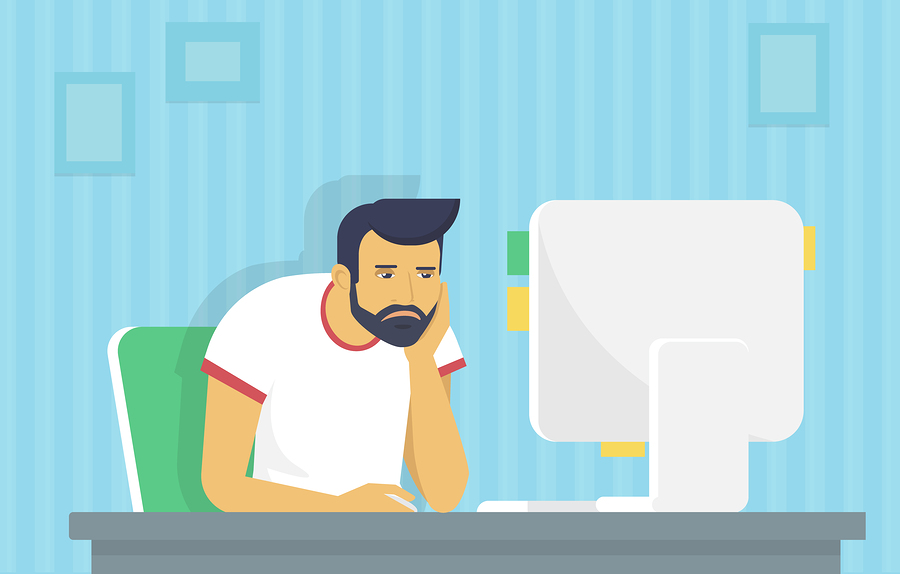 Find Your Logo When Looking for a Domain
Choosing a logo when starting a site is a smart idea because re-branding is never easy.
Namify lets you select your logo when choosing your domain name which is very handy. To give it a try, use Namify's blog name generator: Click any domain name from the list and the logo will be created for you for free: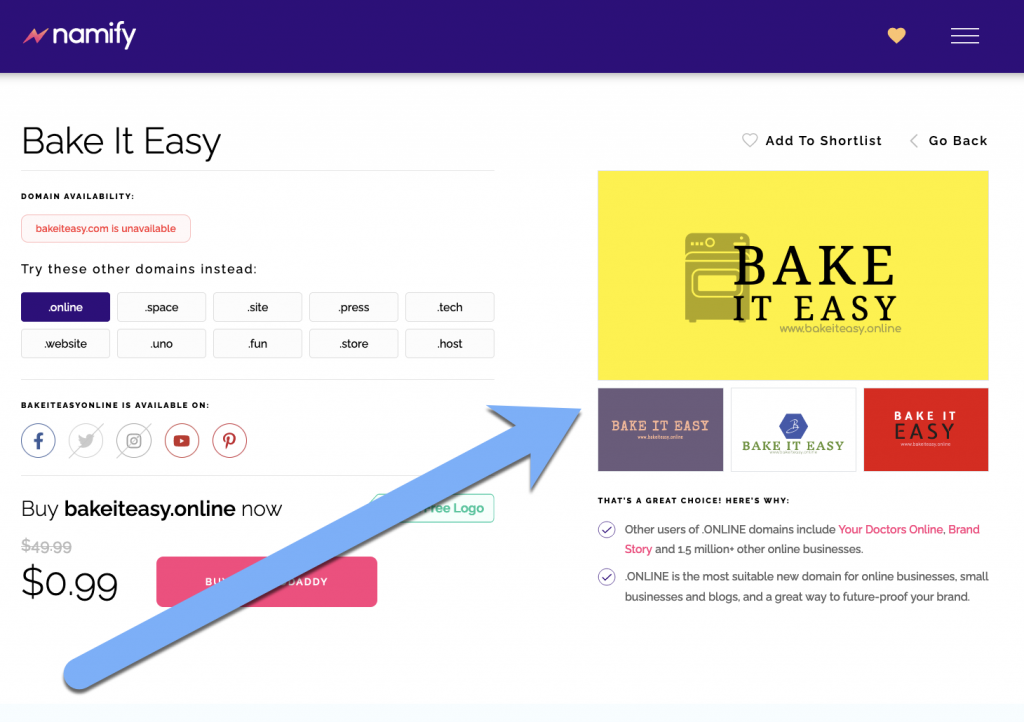 Custom-Made or Automated Designs, Which is Better for My Blog's Logo?
Using a custom or design automation logo maker produces good results, but there are situations where one may be preferred over another. Even Inc Magazine recommends that you try and not create a professional logo design and brand for your business. It's simply too importance of a process to mess up.
These are some things that determine the most ideal approach in designing a logo for your blog:
Cost of design: The budget for your blog largely determines whether a custom or automated design will be used. Getting a custom-made design is more expensive than getting an automated logo design. So, a small business with limited resources may opt for an automated logo design.
Time: This is an essential determinant of the design type needed to create a blog. It takes less time to design an automated logo. Custom-made designs may take a few days to be completed while an automated design can be completed in a few hours. So if you're on the clock, you know which to choose.
Customization: No matter how good computers are, they are still human inventions. This means that the human mind retains the highest imagination, while a computer system does what it's told to.
In short, when it comes to the creation and branding associated with your brand or company logo design, it's not something you want to play around with. Put in the time, money and effort to make sure it's done correctly the first time around.
Wrap-Up
We've seen the types of logo design approaches and how they can get you your desired brand image. What you need to consider before using any approach has been explained to help you make a choice. Ensure you make the best choice to keep your blog getting the visits and subscriptions you desire.
Latest posts by Kristel Staci
(see all)