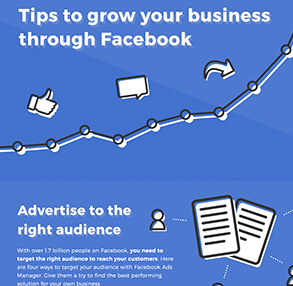 Facebook is one of the best place to start promoting your content, your brand, your product. If you are still hesitating, check out our infographic which gives you 5 great directions to get started + a bonus tool.
We decided to focus our tips on content creators who want to expand their reach organically or by paying Facebook.
We collected tips from our own experience and some industry leaders such as Mike Allton (the Social Media Hat).
The inforgraphic speaks for itself but to makes things more obvious, let's describe what's in there :
Facebook is a big ecosystem, when you advertise there, you need to define a specific audience
Facebook filters are extremely annoying, if you combine this with the time your audience is online, you will see that publishing there is a nightmare. We give few hints to pick great times to publish.
That's an obvious point isn't it? It's a social network, so you need to act social, and to interact.
As with blogging, you should be posting regularly on Facebook, to keep your followers interested.
Evergreen content never expire, so it's a gem for Facebook
Bonus Tool : you can use tools to publish your evergreen content.

Latest posts by Contributor
(see all)