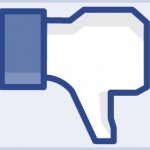 Ever wonder why Facebook doesn't have a dislike button? Judging by the people I follow and statements they have previously made, I don't believe the average user wants to spend their time online debating politics and ranting; they want an atmosphere that is a shade lighter than the real world. If you're an unpleasant friend on a social network, you're not doing yourself any favors.
Sometimes a like vote doesn't seem appropriate, even when you have positive feelings for a particular status update. For instance if I posted that I was just involved in a car wreck, you would have to be bitter towards me to like that situation. I always recommend phrasing status updates so that giving a like is an appropriate reaction. Instead of just letting you know I was involved in a car wreck, a better option would be saying that I was in a car wreck, but didn't suffer major injuries. Life is confusing enough without ambiguous moral math problems on Facebook so it's best to make it easy on everyone.
Our relationships are often built on common interests. Whether it is tastes in music, a favorite TV show, religious affiliation or a hobby, common interests have always been the cement that makes every type of relationship stronger. We may not have anything else in common except a love for Mexican food, but every time you go out for some pollo bandido you know exactly who to call. Social networking platforms have been largely based upon this principle since the beginning.
Youtubin' and Negative Reviewin'
The major exception to the lack of negative feedback input methods is the thumbs down button on YouTube. The ability to express dislike has made being hated big business for some. Rebecca Black's rendition of Friday and almost everything Justin Beiber puts out is flooded with disapproval on YouTube, but they have both managed to persevere through anonymous disapproval to make good in the music industry. Yahoo!'s Chris Chase has made a sports writing career out of being hated by the masses. People who disagree with you will still check in to show their disapproval, much like Howard Stern's early listeners who stayed glued to the radio just so they could call in and complain when Stern crossed the line.
You can learn a lot from videos that generate a high ratio of approval. They're usually smart and well produced. If the subject is too smart or too well produced however, it can swing the balloting in the other direction. When there is genuine talent and high quality, less than one percent of You Tubers click on the thumbs down. Anything that is polarizing or controversial will almost always end up with the majority of users disliking the video, even when the majority of people generally agree with the message. There are a number of ways to interpret those results, but it's really easy to understand how to make videos that will perform as expected after uploading.
It's an accepted rule that reviews and feedback will almost exclusively come from users who either display extremely positive or extremely negative sentiments. A neutral experience just isn't worth the effort it takes to review or comment on content or products. Users who have a negative experience are even more likely to vocalize their opinions than those who have a positive one. You're fighting a losing battle already when you aim to be liked, so why not take a page from Justin Beiber or Rebecca Black and find your way through dissonance?
Conquesting
One of the most successful social media campaigns I've witnessed was based on conquesting. Local Response responded to tweets that displayed a negative reaction to AT&T's wireless service with a coupon worth 100$ off the initiation of a contract with Verizon. The campaign generated a 140 percent click-thru rate and proved the effectiveness of responding to dissonance in social media.
The key factors were dissatisfaction, a popular alternative, a valuable incentive and the ability to target each customer at the exact moment that their hatred for the current service provider was at its peak. Anger and hate are unique in the fact that their amplitude peaks immediately and tapers off over time. Missing the peak by even an hour could have been the difference in being ignored and converting a user to their brand.
Uncharted Territory: The Enemy Graph
A new application developed by students at the University of Texas at Dallas allows Facebook users to list anything with a Facebook presence as an enemy. Enemy Graph has developed a small following of users with similar "hates". Rick Santorum is currently the enemy graph leader, followed by Westboro Baptist Church, Fox News, Internet Explorer and Justin Beiber to round out the top five.
Anyone with a robust online network can tell you that liberals are more vocal in their displeasure on Facebook than conservatives, but it is a little disturbing to see Rick Santorum and Fox News ranked among racism and the Westboro Baptist Church, which are both universally disliked. Hating Justin Beiber and Internet Explorer have become Internet memes, and are in line with the sentiments expressed on YouTube and popular image boards.
All of these topics have created bonds that represent the polar opposite of common interest relationships. People's hatred for certain things have the same ability to spark conversations, represent some kind of common ground and give the same amount of information about someone's personality that their interests do. Enemy Graph hopes to explore the hate relationship by helping people connect with others who have similar dislikes. Since Facebook doesn't even offer a dislike button, it's very likely that they will suspend the Enemy Graph application on the grounds of philosophical differences.
Don't Social Media Hate; Hate Social Media
Surprisingly the most prevalent topic that is hated through social media is social media itself. It's not uncommon to see a post from one of your friends complaining about a change to the Facebook layout on your Facebook feed. When major changes roll out you could see 20-50 such posts in a single day.
iContact once found that 25 percent of small business owners hate social media. They feel overwhelmed and dislike the possibility of facing a media disaster that is out of their control. Louis C.K., a comedian who is popular on Twitter has said that he "… kinda hates social media". Even though he has used Twitter to gain notoriety and stay in touch with his fans, he once admitted on the Conan O'Brien show that he just uses Twitter to sell his performances.
Even individual users express their ire in frequent "Things I Hate about Social Media" blog posts. Whether its Farmville requests or duck face pictures, everyone hates something. It's hard to ignore cynical status updates and Twitter hash tags in the vein of #WhyIHateFacebook. The most popular topics on social media blog posts include classics like "I Hate Klout and am opting out" and "Why I Hate Susan G. Komen Today". Hate pervades everything we do in social media, but the majority of people seem to ignore it or pay it less attention (unless Facebook's EdgeRank algorithm is hiding posts with negative verbs). Speaking of EdgeRank, with semantic indexing and advances in programming we may see a day soon when users have the option to filter out negativity in their online experience. Judging by the amount of car wrecks and homicides on the six o'clock news, I don't think it will be as popular as you'd expect. The dark is needed to make the light brighter, but reality is almost always offered up in shades of grey.
To Know Hate is to Better Understand Love
Even with all of this evidence that hate can build relationships and has been proven as a powerful marketing ally, I still find myself disgusted with negativity when it surfaces on social media. My number one hate is passive aggressiveness, and constantly expressing displeasure is a close second. I do however think that it's an important side of the human psyche to understand if you're going to deal with the public. When you understand what people hate, you have a much better shot of producing something that goes over well.
UPS recently produced a commercial depicting Christian Laettner's last second score in a game against the University of Kentucky in the early 90s. As a Kentucky resident, I was well aware that there is a large group of people who have an intense emotional response when that game is mentioned. Residents here can remember watching the game live, and the fury that they felt as UK was upset to finish off what was otherwise a Cinderella year returns when they show that clip in March. It's easy to misunderstand negative feelings when you do not share them, but at the very least research your topics and make yourself aware of lingering hatred.
Do you think hate has a place in social media? Should Facebook install a dislike button? Does having common dislikes make relationships based on positive interests stronger?
Latest posts by Adam Justice
(see all)