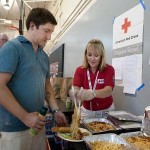 There is more to social media today than just chatting with friends. Marketing divisions for large organizations and tech savvy small business owners have been successfully advertising their products and services for some time now. However, there is a new trend in social media – one that works towards the greater good quite literally.
We are now seeing the power of social media work for organizations, non-profits and other causes with the goal of charity and philanthropy. Even our military is taking advantage of the power of social media. You will be hard-pressed today to find any organization that is not involved on at least some level with social networking or social media today.
IDGA Defense Summit 2012: The Institute for Defense and Government Advancement (IDGA) announces the Social Media for Defense Summit scheduled for May 21-23, 2012 in Washington, DC. Members from the DoD and private sector will meet at this event to discuss and evaluate the use of Social Media in the Military and how it is being used as a weapon in tomorrow's battlefields. When we look at how huge social media is today, it's really no surprise that our government would also be using it in a variety of ways, including for our military and for defense.
The Social Media for Defense Summit has two main conference days that cover topics such as: How the Army is using Social Media to inform, Educate and Connect, OPSEC: Vulnerabilities associated with social networking, US-CERT: Security Standards and Capabilities for Social Media Platforms and US Security Precautions for Social Networks.
CancerQ Cancer Social Network: CancerQ.org, the first Cancer Social Network to engage Patients with Oncologists and Cancer Supporters in their daily lives, recently announced the launch of its Cancer Social Network.  The stress that comes with cancer is something that my family understands very well- as do many other families. Nearly everyone has been touched by cancer in some way these days and many have lost friends and loved ones to the condition.
CancerQ offers patients the opportunity to reach out to those who understand what they are going through, to ask questions, share pictures, video and even to blog. CancerQ also gives patients the ability to schedule appointments for video consultations with Oncologists. The network is also set up to allow doctors and supporters to connect with patients through news and blogs and also by answering questions or connecting as "friends" with cancer patients. This can also be a great network for survivors to come together and support each other, as well as current cancer patients that are beginning their journey.
Red Cross Social Media Command Center: Information Week tells us "The American Red Cross believes that social media will play a growing role in disaster response, by providing real-time information and giving relief workers a direct line to affected individuals."
Here's a thought that many will not have unless they are put in the situation themselves. Have you ever had to relocate due to a natural disaster? Have fire or flood destroyed your home? Was your town in the wake of a deadly tornado or series of tornadoes? Most of us know the Red Cross as an organization that gives aid to people in need during emergencies like these, but most people don't realize how they use social media to help make it happen. Logistical problems can be addressed immediately and fundraising can be scaled to proportions that were previously not possible. The response time has been minimized because improvements in communication and response. Disaster relief has literally been crowd sourced.
As you can see, social media is not just for marketing. It is paving the way for many new ideas to come in the future. It is connecting people like never before and breaking through barriers that were once in place due to location, language and wealth. We can now connect faster, more directly and from practically anywhere in the world.
We cannot begin to predict all the possibilities because they are so vast, but everyone can play their own part. Which projects for social good are you involved in, and how do you see social media making the world a better place?
Latest posts by Lisa Clark
(see all)