Creating a successful blog is not as simple as generating repetitive content and purchasing an official domain name.
Learning how to best improve your blog's SEO, or search engine optimization, is fundamental for online success.
Most blogging platforms provide a solid SEO foundations in terms of site structure, URL slugs, internal links, etc. Using a few SEO tips, improve your website's ranking in today's top search engines while maximizing your online reach with your target audience.
The technology is evolving, so does the creative process.
Research and Track Relevant Keywords
Use tools such as Google Trends and Google Alerts to monitor and track trendy phrases and keywords that are most relevant to your blog's main focus.
Consider the type of content that is most popular among your users and why. Focus on how you can better sere and appeal to users who have a genuine interest in your blog and what it represents.
Use Text Optimizer to determine concepts and entities behind your target queries and create content that matches your target readers' expectations: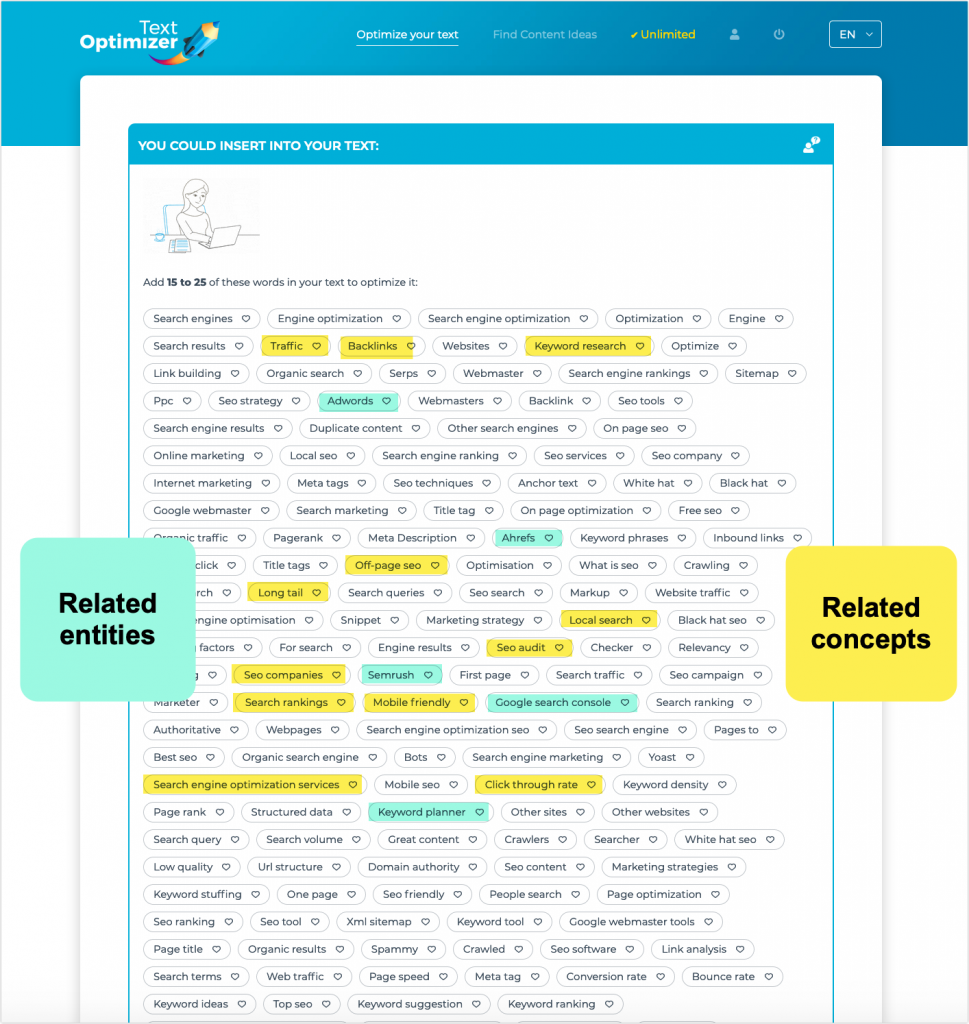 Avoid Over-stuffing Keywords in Blog Posts
Once you choose keywords and phrases you want to focus on, avoid overusing them. While it is recommended to utilize keywords in the title of blog posts, over-stuffing the actual content you produce can lead to being blacklisted by top search engines such as Google, Yahoo!, and Bing.
Use keywords and phrases naturally rather than sounding robotic or stuffy for best results when producing new blog content.
Create Unique and Informative Content
Authenticity is extremely important for blogs and brands online today. When users visit your website to see your blog is filled with repetitive articles that are filled with fluff and filler, they are less likely to return. Take the time to write in-depth informative pieces that are most relevant to your target audience.
Create content that truly resonates with the users you want to reach and content that is difficult to find easily elsewhere online. Visitors appreciate bloggers who take their time to create content that is extremely valuable, informative, and unique, which is why it is imperative to conduct adequate research reach time you generate a new post.
Use Social Media to Boost SEO
Using social media is not only a great way to maximize your online reach, but it also helps to motivate users to engage with your updates and share them.
The more likes and shares your social media posts receive, the more visible they become to users who are not currently following you. Include links to your official website or the blog post you are sharing using your social media platforms to help boost your website's overall SEO.
When users visit your website from social media platforms, it helps search engines to discover new content while improving your ranking in search engine results.
Encourage Engagement on Social Media Platforms
Social media is optimal for bloggers who want to build a sense of community with their blogs and official websites. Share photos, graphics, and video media with your followers on social media to drive traffic to your website while increasing online engagement.
More engagement on social media leads to increased web traffic and boosted SEO. When users are willing to participate in blog posts and updates you share, your page becomes more visible to a much wider audience. Use conversational forms to better engage your social media traffic on your own site.
Knowing how to improve your blog's SEO with content creation, social media, and consistency is essential for success in any market or industry. When you are dedicated to providing your audience with high-quality, unique, and engaging content, motivate readers and loyal followers to come back for more.