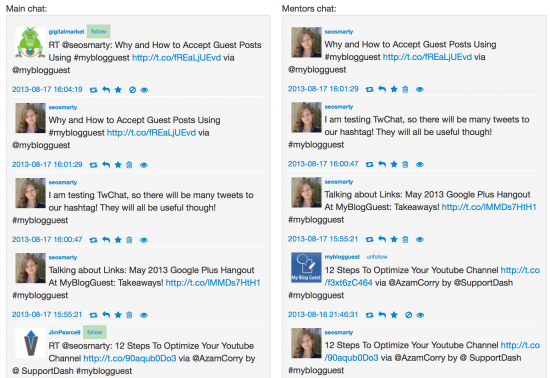 Social media is one of the hottest topics in marketing these days. With the wide reaching applications of sites like Twitter, Facebook, LinkedIn, Reddit, Pinterest, StumbleUpon, Google+ and others, you can't be surprised by its incredible popularity within the industry. Whole conferences are now dedicated to social media in action.
How to follow and participate in any event using Twitter:
If you are an event host, you can us TwChat to create an online room for your event and even add moderators / speakers as mentors for them to be featured in the separate column
Here are some tips on following and summarizing hashtags
While you could find a dozen events in the next twelve months on the subject, there are five that are really building some hype. These are the hottest upcoming social media events, and their hashtags. Because what is a social media summit that can't be followed on Twitter?

Perhaps the most exciting aspect of social media in the business world is the accessibility of the customer. Business to Consumer (B2C) marketing has always been a driving force in sales, but the means of putting it into practice have never been so straight forward. The Incite Marketing Summit is an event all about that direct engagement. It is meant to show you how to focus on the customer, attract them on multiple channels, approach them in a unique way, convert that engagement into profit and more. The number of brands participating in this event is insane, from Sony to Arby's. You really couldn't ask for a more comprehensive conference.
Where and When: The Incite Marketing Summit will be held from September 18, 2013 – September 19, 2013 in New York City.

Every year the marketing geniuses for major brands get together to talk about the last twelve months, their progress, their projects and the latest trends in the industry. Hundreds of executives are in attendance at each one, and the sheer amount of information shared between these experts is impressive. Speakers this time around include Jeff Jarvis. Rebecca Harris and Tony Haile.
Where and When: This year it will be held from October 15, 2013 – October 16, 2013 in New York.

Everyone has probably heard of the SMX series by now. Every year they have a handful of events in major cities around the world, including this one in New York. Standing for Social Marketing Expo, you can imagine how popular this gathering of thousands is in every area it ends up. Not only do they have a conference, but also workshops before it starts. These will include Social Content Distribution For SEO, Advanced AdWords Training, International Search Summit and more. Then you have five different tracks to choose from in different areas like SEO and Mobile.
Where and When: Workshops are held on September 30, but the conference is October 1, 2013 – October 3, 2013, in New York. Two days of that will contain the actual expo. You can book a hotel via Cheaprooms.co.uk.

One of the oldest conferences out there, Pubcon has become incredibly popular over the last couple of years, and with good reason. Containing some amazing speakers every time, it is being held in the exciting city of Las Vegas. It will kick off with a full day of in depth Masters Training with Jeffrey and Bryan Eisenberg, and Greg Boser on October 21, 2013. Expect plenty of keynotes, speakers, exhibits, chances for networking and a real focus on both social media and optimization.
Where and When: The actual conference in planned in Las Vegas for October 22, 2013 – October 24, 2013.

Paid, Owned and Earned Media….this conference is all about bringing them together/ The SES series is another that has a great reputation with a number of events hosted every year around the world, from Hong Kong to Jakarta. This one will be held in Chicago, and is already bringing some serious talent to the plate. This year topics will include mobile marketing, social media measurement, location based marketing, link building, paid search, SEO and a lot more. They are keeping the details of the conference and tracks themselves under wraps, but information will be released soon so stay tuned.
Where and When: The event will be held in Chicago, November 4, 2013 – November 7, 2013.
Conclusion
You can use any of the hashtags to promote, keep up on or just mention the events before they begin. But you can also use them to connect with others while at the conference, or to let people not there experience it with you. It is a great way to network, and I would suggest tweeting about whichever you choose now to find out who will be there and set dinner meetings early. Or use it to see who is going to what and so make your final choice about where you will be attending.
Conferences are a fantastic way of keeping up on industry changes, building lasting professional relationships, and can also be a lot of fun. Don't miss out on these five, which are sure to be some of the most talked about all year.