My marketing strategy is about a 50/50 split between content and email at this point. But where my content marketing has been going gangbusters for the past several months, my email has been stalling a bit. I have implemented a couple of tips to boost it (like using exclusive content for subscriptions), but the boost in numbers are only temporary. Before long it all goes back to the slow dribble of email subscribers.
Someone recommended GetResponse, and I was hesitant to try it. I have never had any luck with programs in the past, and figured it would just be another app I would waste time with. But I am happy to report that things went better than expected.
Here is my review.
What Is GetResponse?
GetResponse is an online marketing software that promises to make that form of promotion a great deal easier. I have seen it compared to MailChimp, but I wouldn't say the two are really that similar. Certainly the features are simpler to use, and there is more automation and user friendly customization than the more thorough and manual based MailChimp.
There are four primary features:
Email Creator – Make attractive, customized email newsletters for any purpose, using responsive templates.
Marketing Automation – Come up with an idea, put it in motion, watch it grow in scale with your business.
Landing Pages – Create attractive landing pages that generate leads and convert, using template designs.
Webinars – Use web tutorials and lectures to secure more conversions across the board, and integrate it with your email marketing strategy.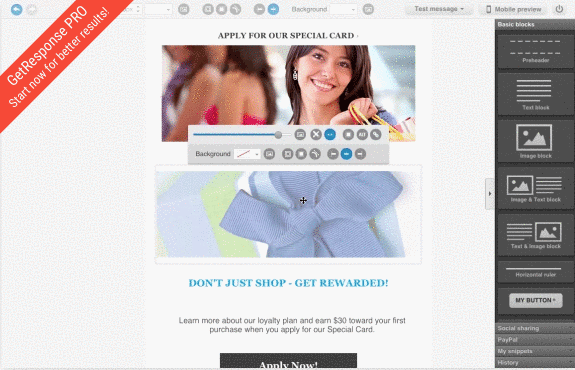 How Much Does GetResponse Cost?
When it comes to email marketing, GetResponse is pretty cheap in comparison to other providers.. You can start off with 1,000 subscribers on your list for $15 per month. But for those who have already grown (or expect to grow fast), the next step is 5,000 subs for $49 a month. If you are using this as your primary form of promotion, it isn't a bad price.
At first I was still reluctant to pay that much, as I needed more than the 1,000 list. I ended up realizing it was worth it when I calculated the potential benefit. If you look at this case study done by Smart Insights and MailChimp, you can see that email marketing is still a really safe bet. I am now putting more investment into my email marketing than my social marketing, and it is really paying off.
When it comes to marketing automation solutions like Marketo and InfusionSoft, GetResponse is a lot cheaper and has a great value for buck especially for SMB's that don't need complex platforms. Another benefit is that their support allow campaign onboarding and hand holding for newbies.
What Does GetResponse Offer Users?
Mostly what you would expect, plus a little extra. Features include:
Unlimited Email
Responsive Templates
Drag and Drop Customization
Drip Emails
Customized Forms
Landing Pages
Surveys
Scheduling
A/B Testing for emails
Email Analytics
Auto Response
Import Email
Webinars
Website Traffic Checking
Shopping Cart Abandonment Tracking and Recovery
…many more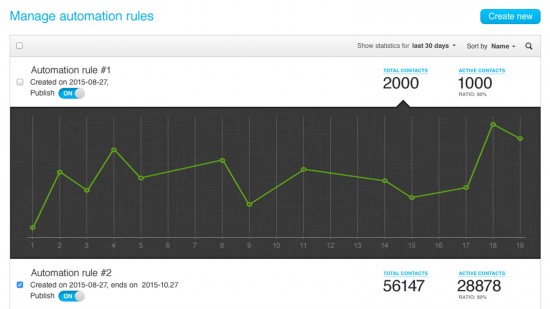 What I think impressed me most was the landing page creation. I use landing pages all the time to build up subscribers, but I have used other services that are an addition cost to my email marketing software. Having it right here makes it easier, cheaper, and more integrated and compatible than using two.
Avoiding MailChimp Nightmares
I have used MailChimp and never had trouble, but I also never enjoyed the interface. Everything was too hard, half the time things didn't work properly, and then there were the horror stories. People who had been booted from the service over simple misunderstandings.
While I had never experienced the last one first hand, I was always nervous that I would. After all, I am no expert in software, and if I screwed up somehow using the platform I could end up losing access.
Being able to more easily use GetResponse, plus the elimination of that threat, has been a revelation for me.
My Final Rating On GetResponse
I like it. GetResponse is a great all-under one roof online marketing platform which is super easy for an email marketing campaign. It has a lot of extra features that make it a great option for landing page lovers, and the newsletters are really beautiful. You have to be ready to spend a bit of cash, but it isn't an outrageous cost.
Five stars, definitely.
Summary
Reviewer
Review Date
Reviewed Item
Author Rating