Did you know 31% of people waste 30 minutes a day at work? Another 31% waste about an hour a day. If you want to boost productivity and increase operations efficiency, these tools can help address some of the most common pain points.
Namify
Namify is an ultimate branding tool that helps you find a domain name, a logo and even social media handles.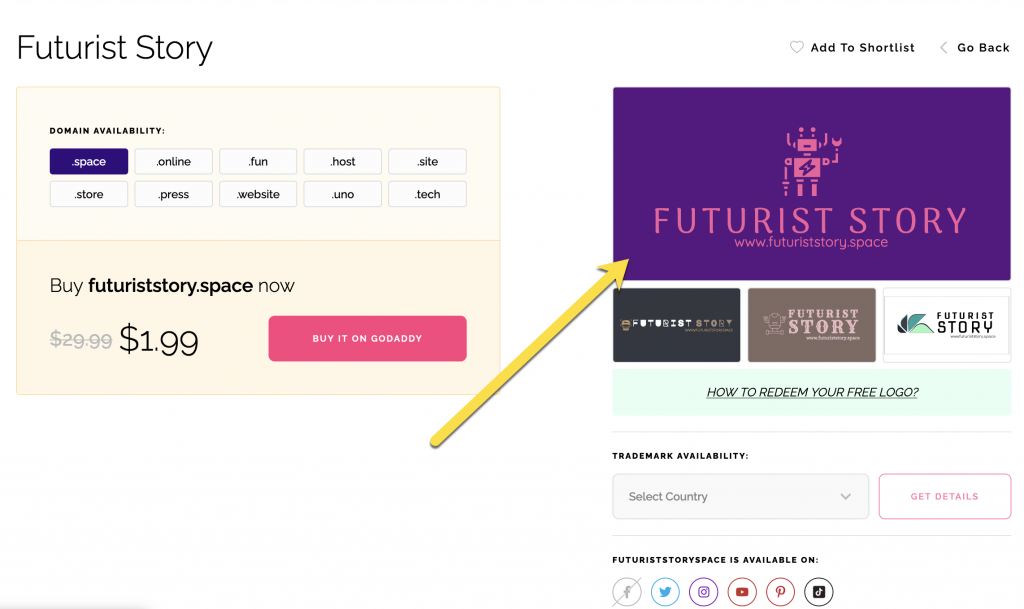 On top of that, the tool is absolutely free!
Cyfe
Data is critical to marketing success, but tracking data in 15 different dashboards is cumbersome and time consuming. Cyfe goes beyond offering a social media dashboard that covers multiple networks to address: web analytics, finances, clients, marketing, and more. The free plan is limited to five widgets.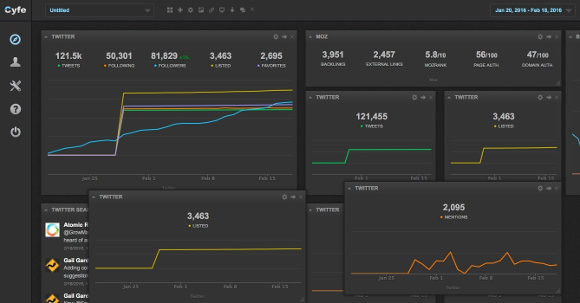 Cyfe Premium is available for $14/month when paid annually, and $19/month otherwise. It includes unlimited dashboards and widgets, along with historical data, user accounts, and the ability to host on a custom domain.
Buffer
A social media presence is important to any business, since the majority of consumers believe you should at least have a Facebook page. Taking the time to manage social can be a productivity killer if you do everything manually.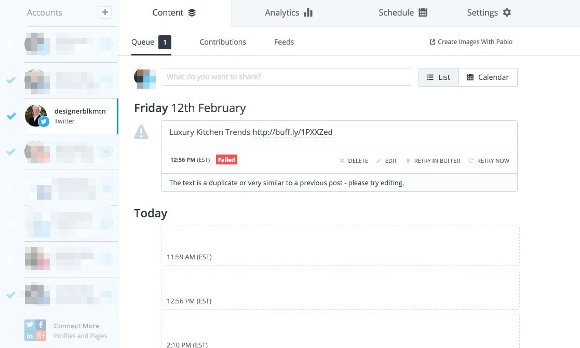 Buffer is a social media management platform built to help you handle Facebook, Twitter, Google+, and Pinterest. You can:
Schedule your content distribution in advance
Measure how well the content performed
Optimize your posting schedule for increased engagement
Work with multiple members of your organization
A limited free version is available. The Business plan costs $50/month. It allows for up to 25 connected accounts and up to five team members. Each profile can have up to 2,000 scheduled posts.
If you're in the B2B market, Oktopost offers a similar tool, with a focus on B2B marketers.
Zapier
Use Zapier to automate repetitive and tedious tasks for you. Store email attachments in cloud storage, post status updates from one social network to another one, send thank you emails to buyers who've paid with PayPal, and more.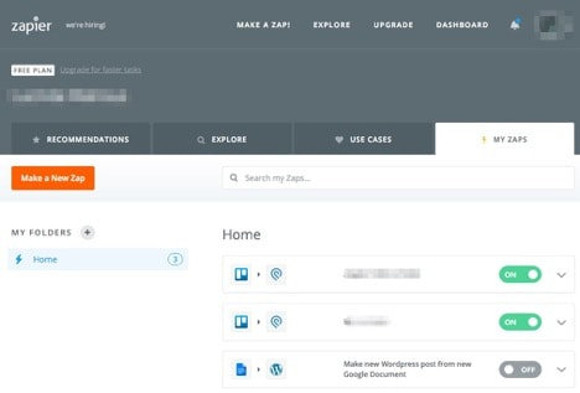 The free plan includes 5 zaps that will run 100 tasks a month, and check for new tasks every 15 minutes. Paid plans start at $20/month and include access to multi-step zaps, and premium app integrations.
SaneBox
If you're constantly swarmed with email and can't seem to get a handle on it, SaneBox will free up time for you. After analyzing your email to learn about who your important contacts are, SaneBox will filter the unimportant ones to a separate folder for later review, allowing you to focus on what matters right now.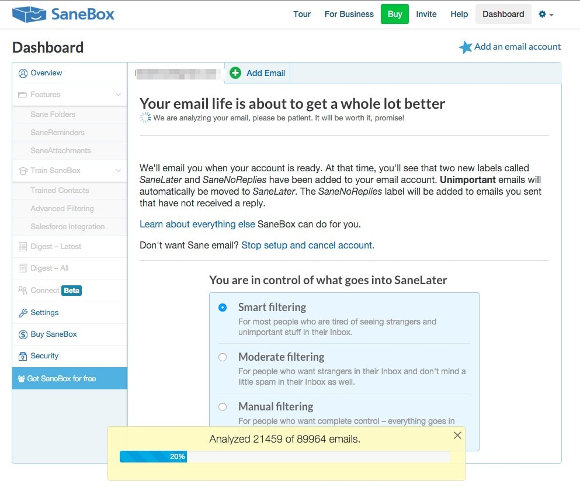 It will remind you of emails you haven't replied to, and makes unsubscribing to email lists easy. SaneConnect allows you to search any domain to find colleagues with relationships at the company, so you can request an introduction with a single click. Business plans are required to schedule a demo.
Carbonite
All hard drives will eventually fail. While online storage options like Dropbox and OneDrive can back up files and folders, Carbonite offers a solution that allows you to backup computers, external storage, and full servers.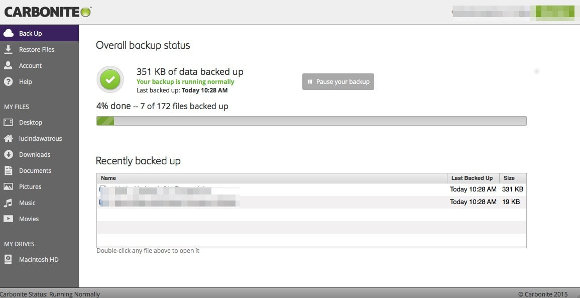 Backups can be scheduled so they run when you're not doing resource intensive tasks, and data can be accessed anywhere there's an Internet connection. They offer hybrid protection – your data is in the cloud, but also stored locally – so they can assist with disaster recovery. Pricing starts at $269.99/month, depending on options.
Quickbooks
Accounting is never fun, unless you're an accountant. Quickbooks offers cloud-based solutions for small business owners with plans starting at $12.95/month. Some plans also include TurboTax, which helps when it's time to file.
It can be customized to include payroll, checks, and a point of sale system. Access it from your web browser, Android device, or iPhone.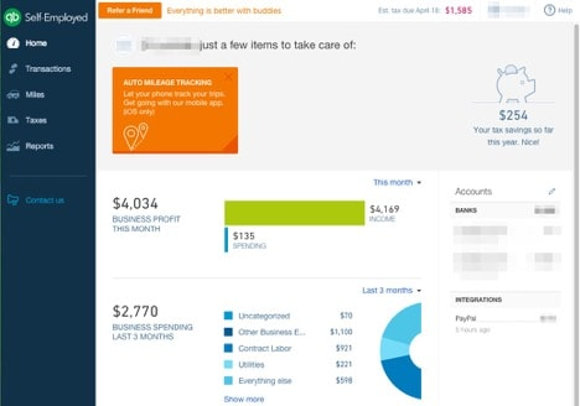 It integrates with SafetyNet, Receipt Bank, PayPal, and countless other apps, so you can customize the solution based on your industry and needs. For those who'd rather operate with standard software, there's a desktop version, too.
More useful resources:
Coinflare is a great platform helping you keep an eye on crypto market and blockchain marketing news. If you are not yet in these, there's no more waiting. Bookmark the site to get updated
Apptivo is unique because it lets you add on features to create your perfect overall management system. So for instance you might start out with a basic CRM platform and invoicing system. But as your company grows – and so your needs – you can start using their project management feature and team organization tool. It is pretty cool and gives you total power over how you use it. Best of all, it starts out free and their premium accounts are really affordable.
I will admit that ZOHO is a bit more complicated than some other tools, but it has been recommended by so many people I needed to put it on the list. It is mostly focused on catching customers at the right moment in order to make a sale and uses a very unique algorithm and system to do it. If conversions are more of a concern than relationship, this might be the one you go for. The pricing is really reasonable, too.
Tools Your Business Needs
Whether you choose to invest in one or all of these tools for your business, you'll be saving time in no time. They're all quick and easy to setup so you can see the impact of changing your workflow and processes almost immediately.
Want even more tools? Check out these social media measurement and management tools.
Latest posts by Gail Gardner
(see all)