Modern digital marketing has myriad intricate moving pieces.

Moving your marketing needle now requires a plethora of technological tools.

They interlock everything.
You cannot afford to drop the ball on any component otherwise you'll lose ground on your competitors. It all matters — from content management to email marketing, from lead management to web forms and surveys, from analytics and dashboards to A/B testing and CRM systems, from live chat to mobile apps, from homepages and landing pages to e-commerce and point-of-sale, from SEO to social media marketing.
That's not all.
New technologies emerge every day. Today there are 8,000+ recorded marketing technology tools. Keeping up and bringing it all together to accurately track your KPIs can be challenging.
How can you cope?
That's where all-in-one marketing software comes in to save the day.

In this article, I'll explain what, why, and how of all-in-one marketing platforms.
What Is An All-in-one Marketing Platform?

All-in-one marketing software combines a suite of online tools and functions into one complete package.

For instance, a tool can include many features like SEO, automation, content management, CRM, and landing pages to name but a few.

However, no tool can meet all the marketing needs of your company.

But you can find one that covers most.

Let's say you want to do a live webinar with your subscribers.

First, people have to join your list through a form on your site. Then you have to send them an email with a link to your landing page so they register for the webinar. Finally, you do the webinar itself.

You need several tools to get the job done, right?

Wrong.

It turns out Get Response allows you to do all this and more. Their online marketing suite includes:

List growth tools
CRM
Forms and surveys
Funnels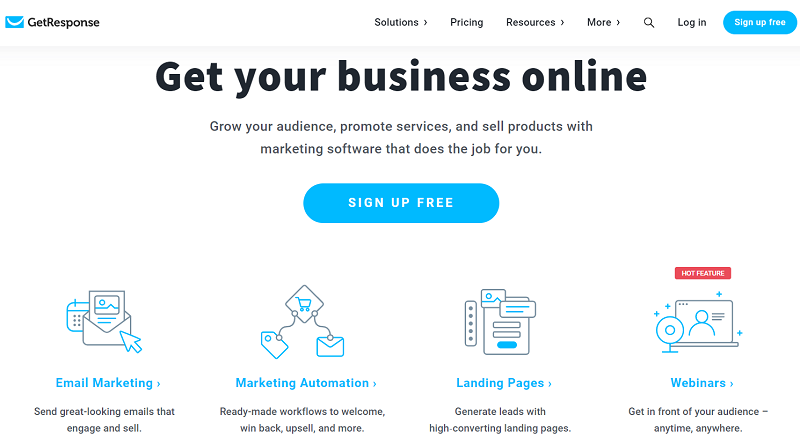 See the power of broad systems?

Companies are seeing the potential of all-in-one marketing and are joining hands to provide customers with better service. For example, CRM software brand Salesforce has partnered with Litmus, an email marketing firm so its customers can craft highly personalized email campaigns right within the platform they use every day.
What Are The Benefits Of Umbrella Systems?
Are wide-range technologies worth the investment?

You bet.

Here are some benefits:

Convenience– instead of jumping from one tool to the other to market your business, you get all selling functions under one roof. You track all KPIs from one dashboard.

Economic– marketing software can be costly. By getting a complete tool, you cut down costs since you won't buy a handful of marketing solutions to accomplish your goals.
Integration– in a world of an endless stream of fancy tech tools and toys, it's easy to be struck by the shiny object syndrome and stack up on your martech stack (pun intended). The result? A fragmented (and complicated) ineffective marketing process. A good all-inclusive selling platform knits everything together into one coherent whole.

Easy to use– modern marketing can make your head spin. Multiple integrations, dealing with third-party service providers, several logins, and switches from one system to another are part of the daily grind. But with a unified program, everything becomes a breeze.

Support– getting support from multi-software service providers can cause a marketing migraine. How many times have you pulled your hair because you were waiting on your vendor to fix a glitch in the system in the middle of a campaign? One end-to-end system saves your sanity. One vendor. One ticket. One fix. One bill. That's it.

Data-rich– comprehensive marketing software offers your brand in-depth data and reports so you make data-based insights and decisions.

I reached out to Aaron Orendorff Forbes Top 10 B2B Content Marketer and VP of Marketing at Common Thread Collective and asked him to weigh in on the gains of all-in-one marketing platforms. Naturally, his contribution focused on growth through content:

"From a growth-via-content perspective, the biggest benefits of all-in-one marketing platforms are alignment and access. Those might not sound like the sexiest advantages, but the death of good content intentions — truthfully, the death of all good marketing intentions — are unnecessary dependencies: chokepoints that keep teams from moving quickly. Tool sprawl only adds to that lag. By consolidating Marcom into a single platform and being liberal with permissions, organizations get true visibility to the status and results of their efforts. Naturally, this requires trust. But it also fosters trust as well as personal ownership. Speed to market is critical. Any features you give up in service to alignment and access are well worth the sacrifice."
But holistic platforms have their cons.

Multi-purpose tools are like a jack of all trades — barely competent in many things but never excel in any one of them. They cover basics, no intricacies. And, because they don't go deep enough you may not get the best results.

This is their biggest drawback.

To counter this, all-in-one tools are becoming specialized.

For instance, Finteza is a comprehensive leave-no-stone-unturned analytics software that helps you track, analyze, or keep tabs on the following:

User behavior
Funnel optimization
Traffic sources and UTM
Landing pages and ads
ROI analysis
Targeted campaigns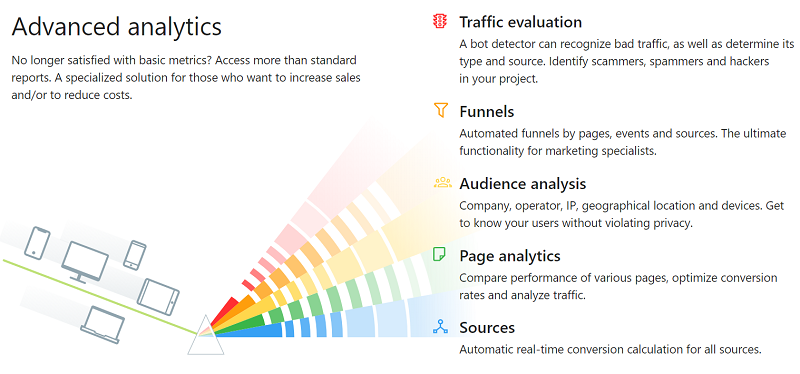 That's a lot of analytics and optimization ground covered by a single tool, right?
How To Determine Which Software Is Right For Your Business?
Here's how to ensure you get the right software:

1. Revisit your KPIs and long-term goals
Boil down your key performance metrics into a handful of critical ones. Focus only on platforms that support your brand's long-term goals.
2. Reflect on your ideal customer journey
Trace the decisive touchpoints your typical customer goes through as she moves from a tentative prospect to a delighted customer. Once you've drilled them down, assess technology options, and zoom in on programs that support that specific journey.
3. Search for hyper-targeted tools
Instead of looking for one magical tool look for one or two core tools that cover your major KPIs. Each one incorporates several closely related but highly-specialized functions.

A good example is Ahrefs, a powerful SEO platform that enables you to:

Research keywords and backlinks
Conduct competitive analysis
Discover popular content by backlinks, traffic, and shares.
Audit on-page SEO performance.
To achieve better results look for the best SEO tool, the ultimate social media management tool, the finest analytics system, etc. and combine them into a stack of a few specialized tools.
Who's Best Suited For All-in-one Platforms?
Multifunction systems are not for everyone.

Solopreneurs, startups and small businesses are more likely to benefit from all-inclusive software because:

1. They have a limited budget– if you are a solo entrepreneur or a start-up without the deep pockets of Fortune 500 brands, all-in-ones can save you money since you don't have to buy multiple software to keep your marketing engine running.
2. They have limited staff– when you are a one or two-person act, you can only juggle so many balls at a time. A holistic program can handle the rest for you.

3. Their needs aren't complicated– normally, small businesses have broad straightforward needs. All-in-one marketing systems handle basic needs very well.
But if you are a massive brand with a strong financial muscle, a large team, specialized focus, and complicated needs broad systems won't do.

You need dedicated software solutions.

Latch Onto All-in-one Marketing Software
Today's consumers are:

Choosy. Fussy. Sophisticated.

They demand a seamless and pleasant experience across channels — always. To satisfy them and achieve growth, you have to embrace advanced technologies nimble enough to meet their varied needs.

The adoption of all-in-one marketing software is on the rise.

If you are concerned about high costs, inefficiency, data fragmentation, or a complex stack, all-in-one marketing platforms are the answer.

Latest posts by Qhubekani Nyathi
(see all)