Video ads on Facebook are on a surge. Most of the marketers are leveraging the power of video content to attract potential customers and provide a resonant brand experience.
According to Hootsuite, a Facebook video lifts brand awareness to 67% as compared to a 40% lift by TV video ads. Another post by Inc. shows that people are 85% more likely to buy a product after viewing a product video.
Companies understand the power of digital marketing. Around 39% of companies hired a new digital marketer to promote their services as cited by Maryville University.
Running a video ad campaign on Facebook is not only a great way to increase brand awareness but they are also great for connecting with your target audience and keeping their attention. But, before you create and run a video ad campaign on Facebook, you need to choose the right audience for your Facebook video ads.
Choosing The Right Audience For Your Video Ad Campaign On Facebook
The biggest advantage of narrowing down the audience list who gets to see your video ad campaign is they display it only to people who are interested in your business/product/service. It will also help you create tailored content for a specific audience segment.
Building A Custom Audience
You can either create the custom audience list manually or through an API. The API updates your audience list automatically based on criteria such as their past engagement or movement through your funnel.
You can tailor your audience list based on their geographical location (great for small businesses based on a specific location), demographic information (gender, age, education, and relationship status), Facebook likes & interests, and online behavior (purchase history, device usage, and overall browsing activity on Facebook).
To create a custom audience list, log in to your Business Manager account and click on the "Business Manager" menu on the top left-hand corner and then click on "Audiences" from the "Assets" section.

Select "Create Audience" option and choose "Custom Audience" from the dropdown menu.

You will then be presented with various options for the audience source such as your website traffic, a customer file, app activity, video, or a lead form.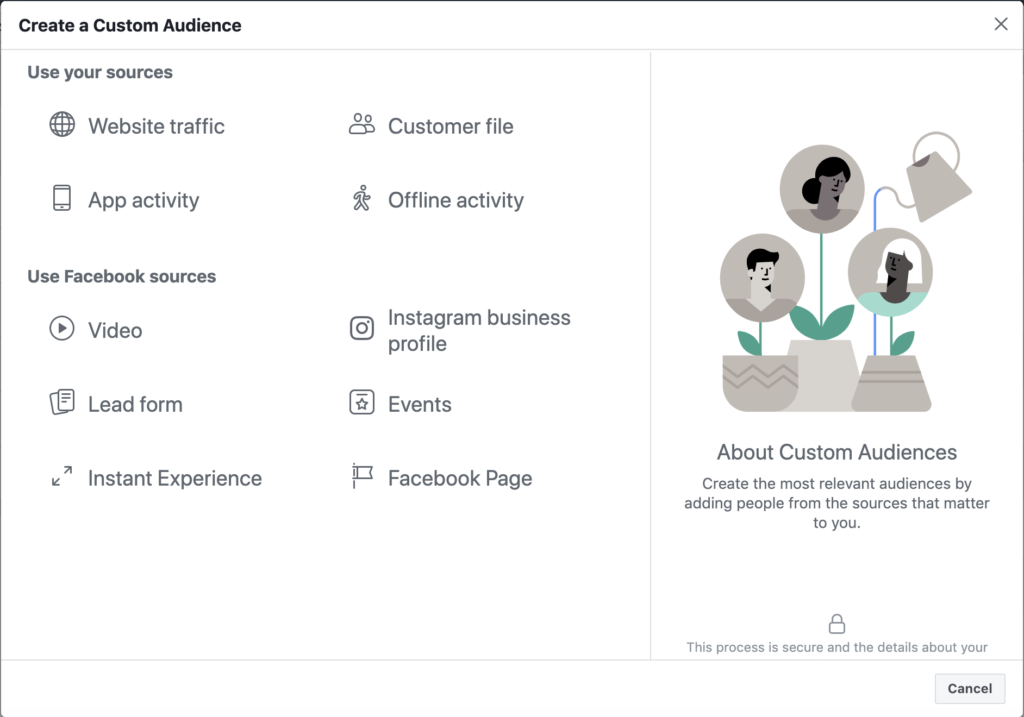 Retarget Viewers Who Have Watched Your Videos
Facebook auto-plays videos when a user watches it for over 3 seconds and hence it is considered "viewed" and when someone watches your video (whether half or the entire thing), they're probably interested in your product.
This is where custom audience retargeting feature comes into the picture. This will help you reduce advertising costs as you'll now be retargeting people who are more likely to purchase your products.
Creating a Successful Video Ad Campaign
1 – Create Tailored Content To Meet Specific Customer Needs
With the overflowing amount of content available on Facebook, it is more important than ever to create tailored content and an emotionally powerful video that grabs users' attention in the first few seconds.
Also, not everyone is at the same stage of the sales and marketing funnel. You need to understand how people move through your funnel and the way each ad progresses sequentially to build your brand image.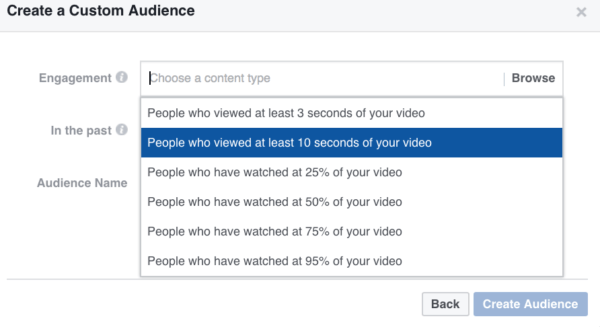 Create tailored content for the custom audience based on previous video engagement.
2 – Include Subtitles On Your Video Ads
Facebook videos play automatically without the sound when a user scrolls past them. In fact, 85% of Facebook videos are watched without the sound as per a report published in DigiDay UK.
Therefore, if you want to increase the viewership of your video ad on Facebook, you must include subtitles/closed captioning on each of your videos.
3 – Include a Text Tagline
The primary aim of a video ad campaign is to convert the viewers. Hence, it is important to include a strong text tagline such as "Purchase now", or "Limited period offer", or "Visit our website to know more".
Text taglines guide viewers to the next step of the campaign, be it a lead generation or making a purchase, a strong text tagline can make a big difference in the total number of viewers who convert.
How To Set Up Facebook Ads
Now that you've created different videos for users who haven't watched your video and for the ones who have watched a part of your video it's time to set up Facebook Video Ads.
Step 1: Navigate to the top of your profile page and click on "Advertising on Facebook".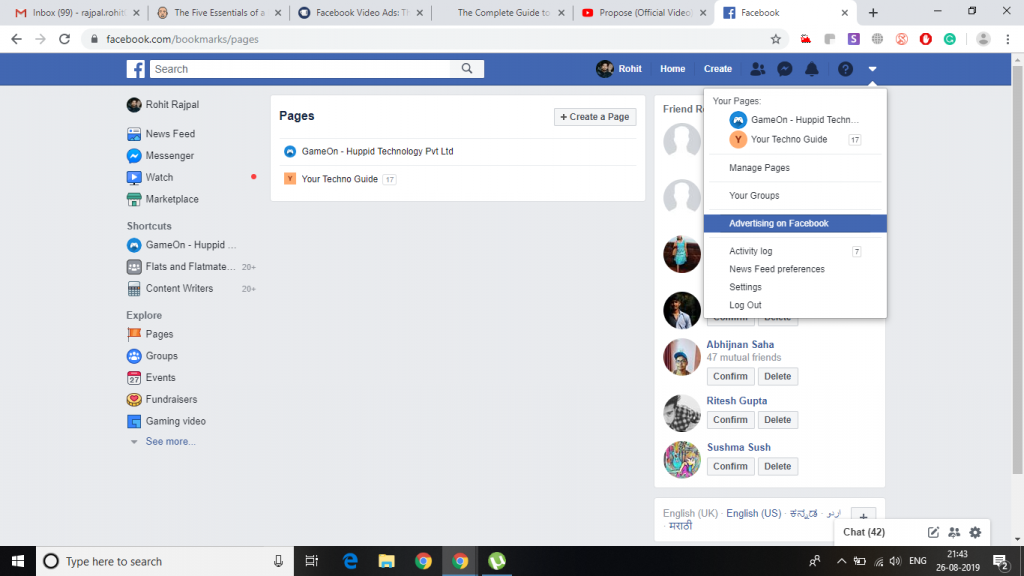 Step 2: Click on "Create an Ad" on the top right corner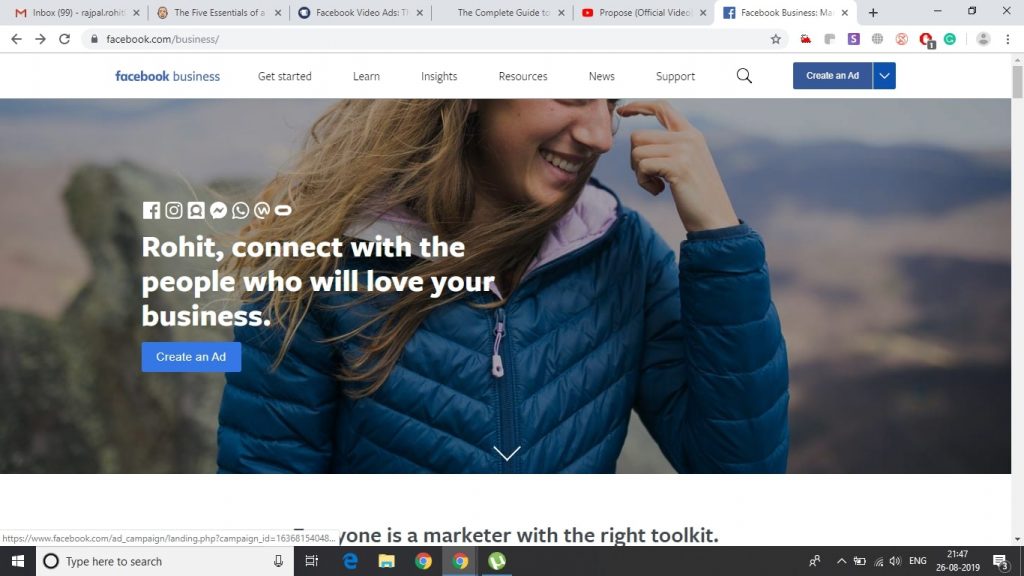 Step 3: Facebook will redirect you to your business page and will give you options to choose what you want to achieve from the ad campaign.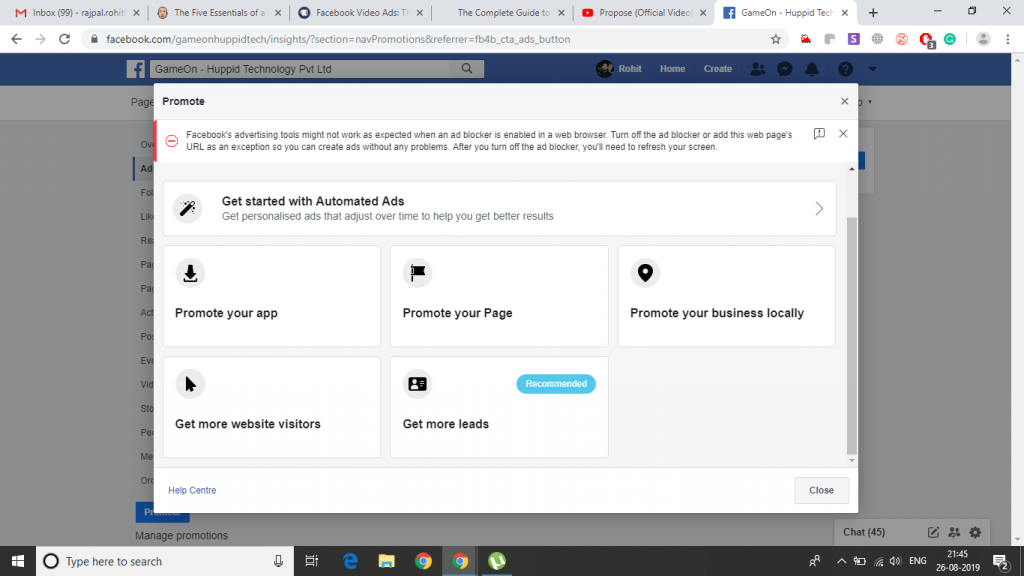 Step 4: Once you've selected your aim, change the format to video.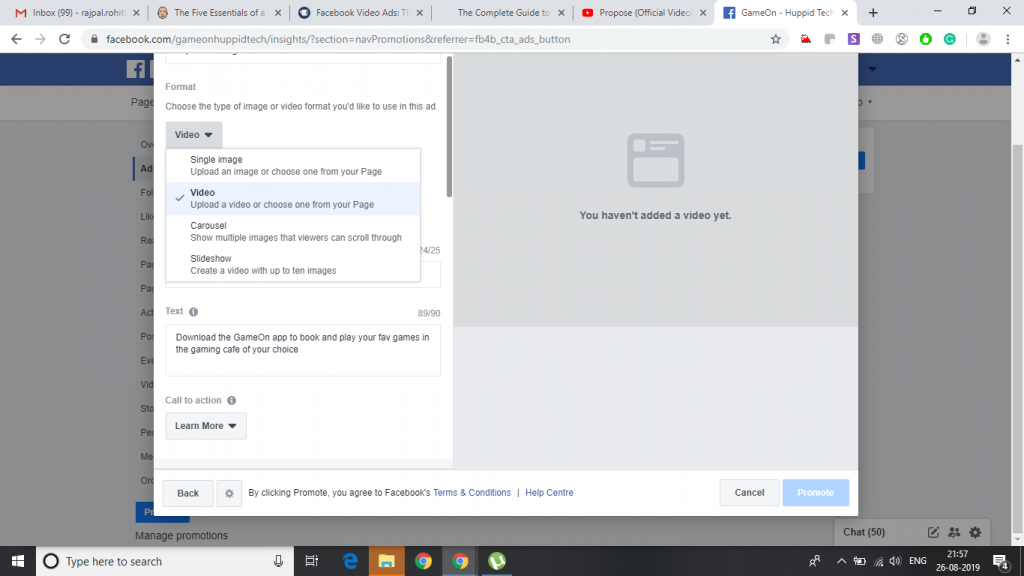 Step 5: Add a catchy headline and a text along with the video to increase engagement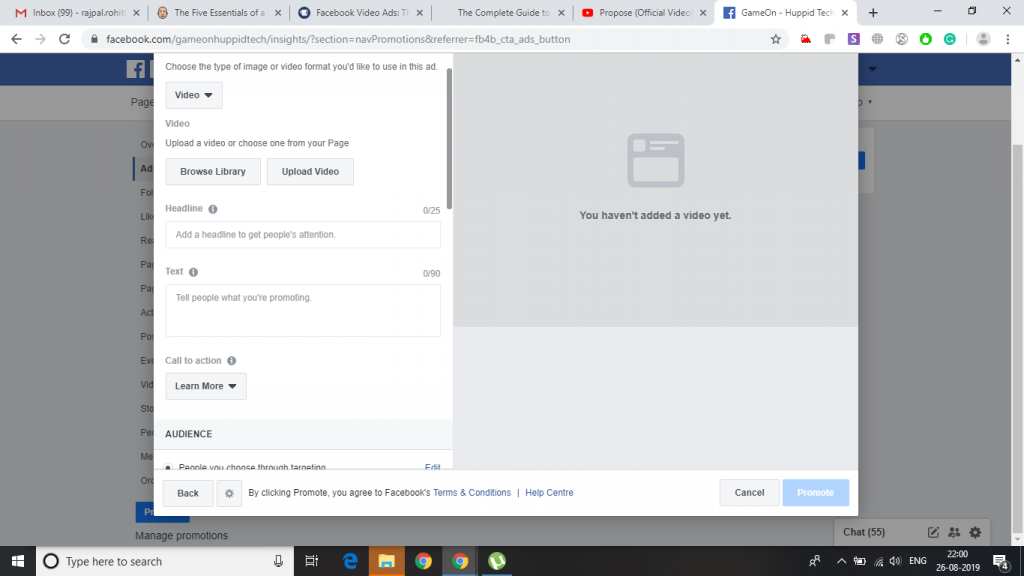 Step 6: Use the call to action button to guide viewers to the next stage of your marketing funnel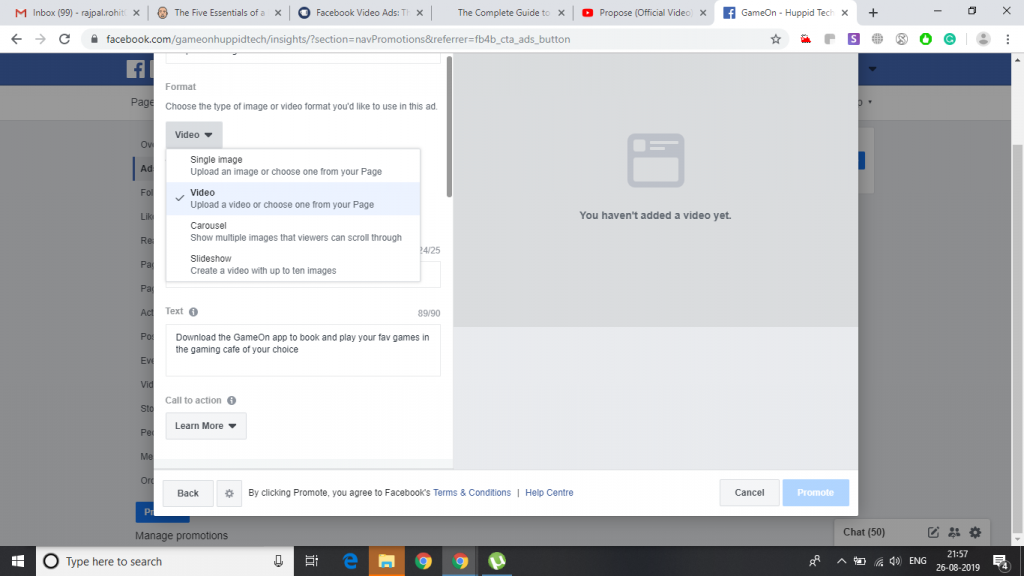 Step 7: Define your audience or select a predefined audience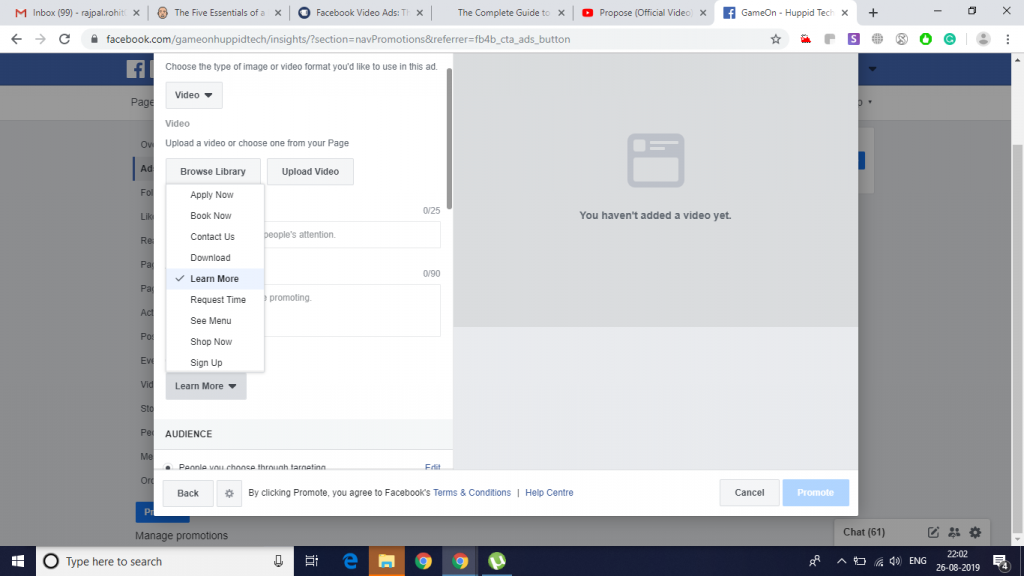 Step 8: Choose your daily budget and the ad schedule, make the payment and it's done.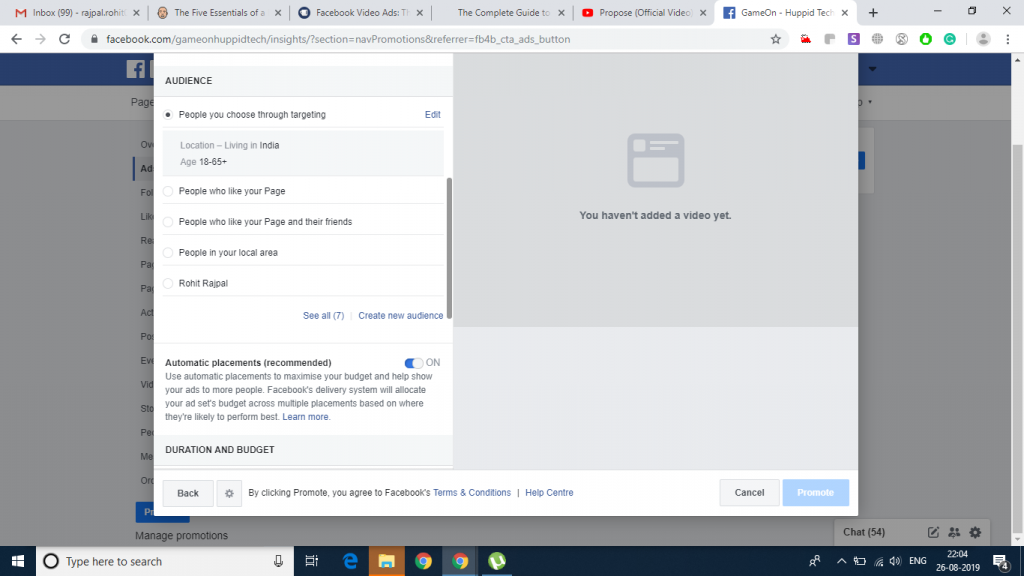 Make sure you watch a preview of your ad to get an idea of what it'll look like to your target audience.
Wrapping It Up
Creating a video is much more difficult when compared to running an ad campaign on Facebook. However, if you know who your audience is, it will make it easier for you to create tailored video content for them.
Creating a custom audience list will help you set up ad campaigns quickly. A text tagline or a call to action button will help you take your viewers one step closer to converting.
Make sure your video ad is short, engaging, and delivers your message to your target audience. Also, ensure that people can understand your video ad without the sound. Once you've created the video and custom audience list, follow the above steps to run the video ad campaign and grow your business.
Latest posts by Qhubekani Nyathi
(see all)