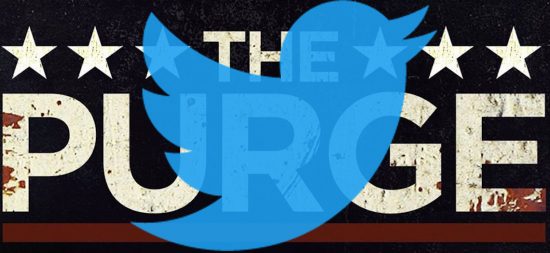 Source: Tubefilter
Social media marketing is the rage these days.
Other platforms aside, Twitter, in particular, has wowed marketers.
With over 300 million active monthly users 30% of whom earn an above average income of $75,000 or more, to say Twitter has a lot of business potential is an understatement.
It makes business sense to pursue these 'affluent millennials' as Twitter itself calls them. Not only do they constitute 80% of users, but they're also expected to overtake Baby Boomers in population in the U.S. in 2019.
No wonder most companies have jumped onto the gravy train.
Sadly, the Twitter gold rush has attracted black hat tactics as brands jostle for competitive advantage. This forced the platform to take radical action to rid itself of the rot and increase trust.
The operation was dubbed 'The Twitter Purge'.
What Is Twitter Purge?
So then, what the heck is Twitter Purge?
The Twitter purge was a global crackdown on fake accounts by Twitter authorities in order to clean up the platform and free it from countless spammy accounts that hound it.
It involved the removal of the bogus accounts from users' follower metrics.
Top 5 High Profile Follower Losses
Here are five widely popular people who whose follower numbers were trimmed.
David Copperfield lost 2,2 million followers, a 67.27% drop.
Steve Guttenberg lost 57k followers, a 70,69% loss.
Tyrese lost 270k followers which translates to a 7.94% fall.
Lindsay Lohan lost 430k followers, which is 4,61% dip.
Oprah Winfrey lost 1.4 million followers, a 3,28% decline.
A total of 70 million accounts were slashed in May and June 2018. You can get all the key Twitter purge numbers here. It wasn't only celebs or politicians who were affected. Companies were not spared too. Devumi, a company that sold fake followers was at the heart of the scandal of a thriving social media black market exposed by The New York Times.
Maybe you're asking yourself: what has that got to do with me or my brand?
Everything.
Why Brands Should Pay Attention To The Purge
Why do people and companies get involved in dark social media deals and activities in the first place?
Several reasons spring up.
To boost their influencer status — numbers play a big role for one to be regarded as an influencer.
To portray a semblance of intense engagement and a thriving community.
To avoid hard work — building a real audience one person or post at a time is painstaking work.
In a word, the clampdown is a cry for one thing:
Authenticity.
Your brand's social media strategy should be genuine. Twitter is making a statement that if your involvement on the platform is shady they won't hesitate to come down hard on you, just like they did with Devumi.
In other words, the purge was a warning shot: do social media ethically or else we'll penalize you heavily. A penalty and the negative publicity that comes with it leave a dark stain on your brand. Eventually, you'll lose customer trust and hurt your earnings.
How To Avoid The Purge And Stay Pure
How can your brand stay on the straight and narrow path and not incur the unbridled wrath of Twitter?
Four ways.
Balance automation with authenticity– while automation is great, you can't run everything on autopilot. If you try to, you'll soon be tempted to get into the social media underworld. No matter how awesome your social media management tools, at some point, you've got to manually jump into the conversation. No machine can match dynamic human to human fellowship, no, not one.
Hire someone to do the heavy lifting– real social media participation takes time. If you're juggling too many roles and don't have the bandwidth to get involved, invest in your social media marketing by hiring someone who understands the basics of social media marketing to do it for you.
Refuse to play the numbers game– to keep it real on Twitter, resist the lure of big numbers. Focus too much on figures and you'll end up cheating to boost them. Commit to growing your following truthfully one person at a time, one chat at a time. There's no other way.
Identify and dispose of faux followers– know the tell-tale signs of fake accounts and followers and promptly discard them. Lookout for handles with jumbled letters and numbers, a bazillion tweets per day, retweets all the time and no original content, no profile photo, no interaction with people etc.
Above all, Twitter should find a way to stringently screen people when they register accounts. That's where it all begins. Once people build fake accounts, the game is on.
Stefan Debois, CEO of Survey Anyplace nails the heart of the problem:
"As long as Twitter allows people to create accounts without true identity verification, this type of purge actions are nothing more than a Band-Aid Solution."
Integrity Wins- Eventually
Things are not what they seem these days on social media.
Who knows, maybe you liked a tweet from a bot the other day. 🙂
Never mind, don't be sucked into the rot.
Stay the course.
Be true. Be you. Be unforgettable.
Ultimately, results will come. That's how things work in the real world.
Latest posts by Qhubekani Nyathi
(see all)