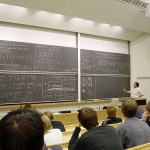 Most Social Media professionals studied subjects like marketing, communications and computer science while in college. Practicing social media professionally requires more skills than any component subject covers.
As demand has grown for trained social media managers and analysts, Universities and Colleges around the country have adapted courses and programs to meet the need. As a major, social media still has a lot of room to evolve, but several institutions are already moving closer to the inevitable; a specialized Collegiate degree in social media. Here are some of the best programs currently available for students wishing to land a job in the social media industry after graduation.
Georgetown University: Certificate in Social Media for Government
Georgetown University is one of the world's leading academic institutions, based in Washington, D.C., and offers a Certificate in Social Media for Government. The certificate is intended for professionals who work for government agencies and public affairs. The distinction of Georgetown's program as "for Government" is an important one.
Government agencies are subject to different standards and compliance policies, have a different set of goals than the private sector, and employ an entirely different approach than businesses. Any student wanting to go into public relations or media for a Governmental organization will stand head and shoulders above other potential candidates with this degree. This 56-contact hour program has eight courses tailored specifically to  emerging media. Students will get the chance to develop a portfolio showcasing their newly acquired expertise.
This program requires applicants to have a Bachelor's Degree, and prior experience in Government communications or strategic planning; however exceptions can be made in writing to the program director.
Birmingham City University:  Master's Degree in Social Media
For prospective students in the United Kingdom, Birmingham City University now offers a Master's Degree in Social Media. The course explores how using social sites such as Facebook and Twitter can be used for communication and marketing purposes, and has appealed to students looking to enter professions such as journalism and PR.
Their website promises that their social media program will go above and beyond other programs, considering the direction that the industry is headed in, and also contributing new research to the field. Looking ahead could be the directive that sets a degree from Birmingham City apart from all the other offerings.
Excelsior College: MBA in Social Media Management
Excelsior College in Albany, New York began offering an MBA program in Social Media Management last February. The program promises to teach students everything from creating and marketing online brands, to developing and managing online communities. An emphasis is put on the use of best practices, and integrating measurement and analytics throughout your study. The addition of social media t the cirriculum was meant to supplement Excelsior's current MBA options, and offer students the opportunity to enter an industry that is growing, even in these tough economic times.
Southern New Hampshire University: MBA in Social Media Marketing
Southern New Hampshire University in Manchester, New Hampshire offers an MBA in Social Media Marketing. It emphasizes social media courses relating to real world business process and issues. The staff that teaches Social Media at SNHU has experience working on digital marketing campaigns both large and small, and believes that success with social media takes a blend of theory and practice. The cirriculum is made up of a business core, with classes ranging from Business Law to Managerial Accounting. The specialized classes that make this program stand apart include Social Media Marketing Strategy and Social Media Marketing Campaigns; essentially learning theory, and how it can be applied.
Rutgers Business School: Mini-MBA in Social Media Marketing
The Business School at Rutgers, the State University of New Jersey –Newark offers a mini-MBA in Social Media Marketing. With technology skills being one of the most important things that a degree-holder can have when it comes to finding a job, the school says they are constantly looking for ways to integrate new technologies into their programs to deliver a unique and useful education experience.
Recently the school updated the program to utilize the best Apple iPad 2 collaboration apps into the curriculum. They program also offers useful courses like Search Engine Optimization.
New England College: MBA in Digital and Social Media
The New England College in Henniker, New Hampshire started offering an MBA program in Digital and Social Media earlier this year. This is an online, 40-credit program that is directed at practicing professionals and designed to provide technical skills to assess a variety of digital disciplines as well as leadership skills.
Traditional business plans are now considered incomplete without incorporating the power of digital and social media; this program aims to address this need. Students can expect to gain proficiency in working with digital assets as well as gaining the ability to apply practical solutions. The Dean of Admissions stated, "Practitioners who aspire to leadership positions in marketing, communication and public relations in any field will benefit from the advanced knowledge" the program offers.
More Career Opportunities in Digital Marketing
With the growing necessity of social media in business and its popularity with the general public, it's expected that we will see more courses and degrees specific to social media in the future. What do you think would be some essential subjects and lessons to learn in a social media course?
Latest posts by Lisa Clark
(see all)