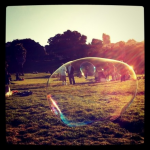 Instagram is possibly the most popular social network not available for computer. It started as an iPhone app that allows users to share photos via the Instagram platform as well as through their social media (Facebook and Twitter). Users can use cool, fun and funky filters to add a level of ambiance to their snapshots. Instagram was developed that way to mimic the way your brain captures memories; and since you can't borrow memories from your desktop computer, Instagram was developed to be exclusive to mobile devices.
With the recent addition of an Android enabled Instagram application the popularity of the network has skyrocketed. "Since the launch of its Android app, Instagram's user base grew from 30 to 40 million. That's over 1,000,000 new users a day", says TechCrunch's Matt Burns. Marketers are incorporating Instagram into business, and more and more people are wanting to know "How can I use Instagram on a Computer?"
Run the Instagram Program on PC
Updated 8/15/2012: A recently developed application called the Blue Stacks App Player will let you use Instagram or any other Android application on a PC. They just finished a version for the Mac.
You can use these other great websites in conjunction with Instagram to get a better experience, or in place of Instagram to view other people's profiles and photos without joining Instagram yourself:
Followgram
If you want more followers on Instagram, Followgram is the way to go. With this program, you can create a button that lets people follow you right from the Web. You can place this on your website, blog or other online profiles. So anyone who meets you from some other network can then also follow you on Instagram. This makes it much easier to find people and to help them find you.
Pros:
Vanity URL web address
Share to non-Instagram users online
Get more followers
Instagrid
This service allows you to access all of your Instagram photos online, in a gallery-type fashion. You can view yoru collection as a grid (like a portfolio) or like a blog. You can also create a perma-link for your gallery (instagrid.me/username) and share it with others.
Pros:
Create a gallery based on a hastag
Share with people not using Instagram
Create an online space with all of your Instagram photos
Statigram
This one is my favorite. It allows you to do the most with your computer and your Instagram photos. You can comment, like and send messages to Instagram contacts. The only thing you cannot do is upload photos from your PC. Otherwise, you can use your web browser to manage nearly everything in your Instagram account.
Features:
Viewer – view your feed, pictures, likes, followers and Instagram popular posts
Statistics
Browse, like and comment on photos
Snapshots
Share your pics via a public web address
WebStaGram
Webstagram is an option for web viewing of your Instagram photos. If you want to see your photos, share your photos, like and comment, follow and unfollow other users and more, you can do it all from Webstagram. It's very similar to Staigram.
This one allows you to:
View photos of the people you follow
Like and Comment on photos
Follow and Unfollow other users
See your followers and following
Browse popular photos / tags / users
Get your RSS feeds
While I really like Webstagram, too, I find that more people seem to be using Statigram.
All of these programs are management tools for your Instagram app. Ultimately, you are still required to have the app on your Andriod mobile or iPhone device in order to take photos using Instagram and share them via these sites.
So how do you use Instagram on your computer?
Instagrille
https://www.pokki.com/app/Instagrille
The closest you can get right now to Instagram on your computer is Instagrille. This is a crisp, clean, well-designed desktop app from Pokki. I feel confident Instagram itself could not have created a better version of this desktop app for Instagram. Instagrille was developed as part of the SweetLabs Pokki app challenge. It won third place a $7,000 prize in the contest.
You must have an Instagram account already to use it as it will ask you to log in with your account after you sign up and install the app. This app basically lets you do everything your Instagram account does, except upload photos from your desktop.
Instagrille is currently compatible with Windows XP, Vista, 7 and 8, with a version for Mac coming soon.
Web-Based Alternatives to Instagram Filters
What do you do if you don't have an iPhone or Android phone to download the Instagram app? If you just like the cool look of the Instagram filters, there are some other options that you can use right on your computer. This is also an option if you want to use photos that are on your computer's hard drive and get the 'Instagram look'.
While it is not possible to use Instgram from your computer, there are some web-based alternatives that still allow you that Instagram-ish feel to your photos. Check out:
Pixlr-o-matic
Picplz
Phixr
Picnik
Lo-Fi
PicYou
PhotoShop
InstantRetro
Rollip
And more!
What is your favorite web-based photo editing software or app? Do you use Instagram on your computer with any of these apps/programs mentioned above?
Latest posts by Lisa Clark
(see all)