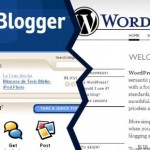 The WordPress and Blogger platforms were the catalyst for making blogging so accessible. With little to no experience, a user can create a destination that is customized, and ready for posting. If you want to spend the majority of your time on creating your blog content rather than having to deal with the technical issues, then a hosted blog service like WordPress or Blogger are your best options. They are free and they take care of all the back-end issues so that you can focus on the most important thing- writing for your blog.
Both of these sites offer pre-built content management systems (CMS) that allow you to write, edit and manage your posts and content with ease. You can compose via HTML code or WYSIWYG editor. You can insert photos and images, video and other features as well. You can change your design and layout by installing different themes. Since both platforms basically do the same things, you have to look a little deeper to determine which one is for you.
Let's take a look at the advantages and disadvantages of each.
Blogger
Blogger is a platform that many beginners use. It was started by a tiny company in San Francisco called Pyra Labs in August of 1999. This was right at the height of the dot com boom, but the project was not intended to be a big time venture. It was actually founded by three friends who commissioned as a side project to solve a basic problem, and out of the development Blogger was born.
It was small at first, but took off and a couple of years later. I used Blogger way back then, and can say that it has definitely improved. In 2002, Google decided to buy them out. The partnership was exactly what the Blogger team needed, and they were the blogging platform that Google needed.
It's user-friendly, free, and you can have a blog up and running in minutes. If you intend your blogging to be just a hobby, this may be the platform for you.
Some of the main advantages include:
It's fast. Blogger may be the fastest blogging tool out there and blogs load nearly as quickly as the Google site does due to Google's expansive server network.
As a Google product, Blogger is backed by their infrastructure and easy to use. It's a great product for beginners.
With Blogger you can easily customize your template with the help of style sheet.
Free Google hosting – you don't need to buy any hosting service as all you need is to buy a domain for your blog.
With Google hosting your blog will be almost impossible to hack.
While it hasn't been proven, your site may rank higher on Google, just because it is owned by Google.
Google never goes down. This means your site is unlikely to ever go down.
Disadvantages of Blogger include:
It is owned by Google, which means if Google does not like the content, they can take your site down. Some people who dislike Google will boycott Blogger.
With Blogger being a free platform, many spam blogs are likely to be set up. If your blog is flagged as spam, even if it isn't you might lose all your hard work as well as your online presence. If blogging is a hobby, maybe this isn't a big issue; but if you want to earn money with your blog, this is a big risk.
WordPress
WordPress has come a long way in the past decade to become one of the most popular blogging platforms to use. "WordPress started in 2003 with a single bit of code to enhance the typography of everyday writing and with fewer users than you can count on your fingers and toes. Since then it has grown to be the largest self-hosted blogging tool in the world, used on millions of sites and seen by tens of millions of people every day."
It's loved for its ease of use, customizability and included templates. You can also sign up for a free account at WordPress.com, although there are also paid upgrade options. Since it's open source, there are tons of hobbyists and developers out there who have created themes and plugins for WordPress blogs to make them more functional, interactive and visually attractive.
Advantages of WordPress include:
SEO-friendly. This is the biggest reason that so many publishers choose WordPress. By using different plugins, you can optimize your ability to get traffic and to create search-friendly blogs. You can easily drive traffic from WordPress with its SEO Plugins.  The blogs are optimized for Google, Yahoo! and Bing right out of the box. WordPress entries also include a number of meta tags that search engines use to determine how to index your pages.
User friendly. There is little to no training needed to use WordPress.
WordPress offers lots of flexibility with free-hosted blogging solutions with several paid upgrades available. Users can choose custom domains, themes and an advanced analytics package.
Themes are easily installed and the WordPress theme engine allows you to quickly and easily change the look and feel of your blog. There are many free as well as paid options available.
Disadvantages of WordPress:
Some themes may be duplicated on other sites, which can negatively affect your brand.
WordPress sites are more often targeted by hackers.
WordPress is typically not as fast as Google's Blogger without the help of plugins.
Best for You
Let's just say that one isn't any better than the other. Both are equally capable of blogging. The real question lies in which is best for you and your needs. When it comes to certain features, it's a matter of preference. For example, I like the look of WordPress' dashboard better than Blogger. I find it more user-friendly and with more editing options. However, some users find the WordPress layout hard to get used to.
I always suggest that bloggers make a dummy account on each platform and just spend some time playing around before making a choice. See which one you feel most comfortable with. Pop into the forums and check out the communities. Make a list of what you want to do with your blog and check the features of each platform to see which one meets your needs the most. Since both platforms are acceptable for blogging, you need to do some personal research to really be sure of which one is best for your needs.
Do you already blog on Blogger or WordPress? Which one do you like the best and why?
Latest posts by Lisa Clark
(see all)