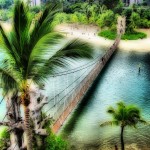 Do you love the look that photo filters give Instagram photos, but don't own a Smartphone that works with Instagram? Or maybe you do but you want to be able to get the same look on photos you didn't take with your phone, such as professional photos or those you have saved on your computer's hard drive. The good news is there are many great applications that integrate photo filters and effects, and you don't have to be very computer savvy to figure it out either.
All of these photo filtering applications are freeware, or offer a highly accessible freemium version. The technical skills required to run Photoshop aren't required either; photo filters are usually applied to the entire image and the settings are then adjusted accordingly. Since there is only a minimal investment in time or money to get started, trying out all of these photo filter apps and then choosing your favorite is entirely possible!
PicYou
PicYou, a more recently launched service from others on the list, lets you sign up with your Twitter or Facebook account and apply filters to your images. You can choose from eight neat vintage, sepia and grunge-like filters. Another thing that I like about this one is that you can add a Polaroid-type frame to the images if you want (like Instagram) or you can add the filters to the image as it is. You have total control over which parts of the image is cropped in the editing phase as well. PicYou is also a bit like a social network itself where you can add people and like images and leave comments (just like Instagram).
InstantRetro
InstantRetro does not require a sign up to start using it. All you have to do is upload your images to the site and begin your editing. However, it's worth the extra couple of minutes to connect your accounts if you want to share your photos with your Facebook friends easily after you edit them. This one works slightly differently as it does not have specific filters but instead allows you to change and adjust certain settings to give the photo a retro or vintage look. You can save it to the site or make it private so only people with the link can see it.
Pixlr-o-matic
Pixlr-o-matic is closer to Instagram than most of the other services available. It's not a real photo editor so you cannot use it for cropping or resizing but it lets you add retro-style filters, frames and textures to your existing photos.
All you have to do is upload a picture from your computer or take one with your webcam and then you can use the 26 filters, 30 textures, and 31 frames to create just what you want. You can also use their stock photos if you just want to play around and see what it's all about.
Picplz
Picplz is an app for iOS, Android, and your PC that is very much like Instagram with one exception- it has a browser app so you can use it on your computer. It only has 12 filters and it doesn't have any frames but it's a nice alternative, especially if you just want a quick way to alter the photo and share it online. It's very simple to use and you can sign in with Facebook or Twitter, upload a photo from your computer, make your edits and then with one click, post it to your FB or Twitter accounts.
There are no photo editing options on this one either but you can add a caption after you choose your filter.
Phixr
Phixr is a photo editor that has many options as well as Instagram-inspired filtering. With this program you can crop photos, rotate them, resize them, and even create photo collages with different photos. And of course, you can add filters. You don't need an account to use their service and it's pretty easy to figure out what you are doing.
You can upload photos from your computer or from another service (such as Facebook) and start editing with just a few clicks.
Picnik
Picnik is a full-featured, in-browser photo editor that has many different features. The basic services are free but there is also a premium version for $25 annually. It has an easy to use interface and since it's a photo editor, you can do all the basis tasks such as rotating, resizing, cropping and adjusting colors and contrast. It has many fun filters and frames- including 30 free filters and 7 premium filters.
You need an account to use this service but it's quick and easy to set up and you can upload multiple photos at once (5 for free users and 100 for premium) so you save time. You also have the option to import photos from other sites (Photobucket, Picasa, and Flickr.)
Rollip
Rollip is another free site that does not require signup. I don't personally think it's as intuitive as some of the other options but it's still pretty good and gives you access to 40 filters. It works backwards from the other sites in that you need to pick the filter first and then you upload your image to apply the filter. You can save to your computer or share to Facebook.
Tiltshift Maker
Here's something else you can only get from Instagram and none of the other sites I've listed can offer- the tilt effect. Tiltshift Maker gives you can easy way to create the unique tilted effect to your photos. After you upload the image, you can adjust the settings, widen the scope and adjust the blur to create the same tilt effect as Instagram. You can also use this one after you have used another one to change the colors. It's quick and easy and lot of fun to play around with.
Google +
Since you're likely adding effects to your photos to share on social networking sites anyway, why not take advantage of the built-in photo editor on Google Plus? While you're viewing individual photos in your album, select the "Edit Photo" option at the top of the photo viewer. Google's native photo editor lets you crop, rotate, sharpen, resize, and adjust colors and exposure. It also offers features to add text, decorations, and simple effects, as well as a very useful "Auto Fix"  button that will make almost any photo look instantly better.
So there you have it; 9 alternatives to Instagram when you want to make a memory out of your latest photos, add artistic merit to your latest snapshot, or just have some fun with technology. I suggest trying out a wide range of programs and narrowing down this list to the programs that work the best for you. What alternatives to Instagram do you use that we didn't mention here? Out of the ones we did mention, which ones are your favorites?
 Cover photo taken by Kevin Green in Singapore with Instagram. Check out Kevin's Instagram creations.
Latest posts by Lisa Clark
(see all)