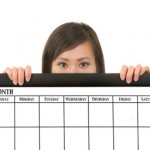 The Social Media Editorial Calendar is your blueprint to a successful content marketing/ social media marketing campaign. Do you ever feel like you are spinning your wheels and going nowhere online? You've been told that you need to be on Facebook or that your business needs a Twitter so you set up your accounts, eagerly awaiting the masses… only the masses never came.
The number one reason social media campaigns fail is lack of strategy. You should have the involvement of your community planned as strategically as possible.
When you go at social media haphazardly, there will be a great deal of wasted time and effort. With a solid plan outlining the steps to reach your goals, you are able to find success with social media marketing and track and gauge the results.
That sounds well and fine but how do you go about actually creating a plan? This is where most people stumble with social media. On the one hand, it's about interaction and relationships. You cannot schedule, plot and plan for this because it is all dependent upon other people who you engage with.
But then who has countless hours every day to sit around on social media chatting with whoever might stop by? And even if you do have the time, how do you ensure your efforts are going to see a beneficial return for your business?
This is where a social media editorial guide can help.
With some planning and organization, you can build your social media plan around your purpose, meaning every post you make has a purpose, increasing your ROI for social media time.
Define Your Goals
Your first step is to determine and define your goals with social media. Which sites will you be posting to? Keep in mind that you do not need to post to every social media site on the Internet. A much better strategy is to do some market research and focus on the top two or three sites that your target audience is on, then focus your efforts on building a presence on those sites.
You also need to define what your purpose is for using social media. There will likely be more than one main reason. Here are some common goals businesses might have for using social media:
To build brand awareness
To connect with the customers more directly
To promote sales, coupons, new deals
Create a Content Strategy
Once you know what your goals are, it's time to create a content strategy to help you achieve those goals. Your content includes the posts you make, blogs or articles that are shared on your social media and any time you chat with friends or followers via your social networks. This content could also include multimedia such as videos or vlogs.
Your content strategy will include what you post, when you post it and the voice that you want your brand to have. If more than one person is posting on the account, you will want to maintain a consistent voice and you might also want to sign the posts from each user so that readers have an authentic experience and always know who they are talking with.
Here is a simple checklist to your content strategy:
What am I posting?
Where am I posting it?
What is the ideal time to post?
Who is my audience?
What is the goal or outcome I want to achieve from this post?
How will I monitor and track the results of this content?
How will you craft your posts/content?
You may add some points of your own to your content strategy checklist. You may tweak it from time to time but it's important that you have it to refer to when creating and posting your content.
Build Your Calendar
Now that you know your goals and you have your plan (strategy), it's time to create a posting calendar that works for you. The first step is to know how often you will be posting. Some people can manage daily posts and for others, this is too much to keep up. Find a schedule that works for your needs and your time restraints and then build a calendar around it.
Editorial calendars help bridge your content and themes together. For example, you may start with 50 pieces of content that are spread between your blogs, article marketing and social media postings- all with a common theme. Then as months go on, you can add more and more pieces of content to the mix.
Benefits to the calendar include:
Accountability
Planning
Creativity
Spotting trends
Commitment
Social Forecasting
Let's say that you have an automotive blog, and next week you have a post scheduled that explains a car's regular maintenance schedule. Through the rest of the week you may want to share a post from someone else that teaches your readers how to change the oil in a vehicle, and one of your older articles that explains how to tell if your tires are worn. You can also host discussions pertaining to maintenance, share images showing the effects of poor maintenance, and create a poll asking your readers how often they perform routine maintenance duties.
You can divide your schedule up into segments  that follow the lead of your own blog, or try and create a more flowing schedule that segues into the next topic. After you share your article regarding tire wear, you can move on to your next theme starting with a new blog post regarding tire alignment. Whether you choose to segment your themes or be more fluid, standing on a subject for longer than a tweet will lend credibility to your brand and will keep your own content fresh for a little while longer.
Keep in mind that your social media editorial guide is just a guide. This doesn't mean you cannot veer off from time to time, be spontaneous, do something different or even change the calendar. When breaking news takes over your entire niche, it would probably hurt your blog to ignore the relevant topic just so you can adhere to a schedule. The guide is only meant to give you a basis to work from so you don't begin your social media efforts with a blank canvas and no ideas. It's intended to guide you, and you will find your social media efforts become easier and more beneficial the longer you do it.
Do you already use an editorial guide for your social media accounts? If so, how is it working out for you? If not, do you see the value in planning your strategy? Let us know your thoughts in the comments below.
Latest posts by Lisa Clark
(see all)