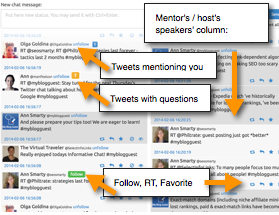 **To participate in any Twitter chat, use the free app called TwChat. It makes following any Twitter chat much easier!
Twitter chats focused on social media marketing offer a great way to network and exchange ideas as well as to collaborate with a wide variety of social media professionals. With hundreds of different industry Twitter Chats focused on social media marketing, the hardest part is in choosing which to join.
No one has the time to attend them all every week, so do some research before committing to becoming a regular at one of these chats. Ask yourself:
Which ones are worth your time?
Which ones are targeted to your specific needs?
Are you more interested in entertainment value or educational value?
Do you know the hosts or people will be guest-hosting on these chats?
What to Expect
Most Twitter chats last from one to two hours, and follow a question and answer format where the host asks questions, the participants tweet their answers, and everyone discusses their ideas. Since the tweets are simultaneously being sent to their Twitter feed, participants will often attract their followers to join in. Chats will often feature a guest host and a theme. Since users will often find themselves tweeting responses in rapid-fire succession, unfollows can and will occur. To limit this consequence, some participants will use a different Twitter account that is made just for Tweet chats.
Keep in mind that even though they are considered chats, Twitter is not an IRC chat room. Be mindful of your other followers and craft your replies meticulously. Each tweet is a hybrid chat room response and industry related tweet.
Here is a list of Twitter chats focused on Social Media and Marketing that have shown themselves to be consistent, well maintained and helpful.
#MyBlogGuest
#MyBlogGuest is the weekly Twitter chat held each Thursday 11 am EDT. Every week there are very helpful blogging and social media lessons happening in real time with the MBG team contributing.
#VCBuzz
#VCBuzz is a weekly Twitter chat interview: Every week a content and social media marketing expert is invited to talk about their best tips, tricks and tools.
#MMCHAT
#MMCHAT features weekly special guests who discuss a variety of relevant social media topics and also answers questions from participants. The guests are typically leading experts from successful firms in the marketing and social media industries. This chat is moderated by Jeff Ashcroft and begins every Monday at 9 p.m. Eastern. You can learn a great deal from this chat. It's a real classic in social media and marketing.
#BLOGCHAT
#BLOGCHAT is focused on helping companies improve corporate and personal blogs with themes from building a team of bloggers to SEO and is a favorite among Social Media Marketing Twitter chats. SEO and social media expert Mack Collier is a source of outstanding industry information and hosts the chat on Sunday nights at 9 p.m. Eastern. #BLOGCHAT was established in 2009, which each session beginning with a general topic the discussion is centered around. It encourages collaborative conversation with the rules somewhat free-form and less strict than others. Collier also frequently has guests that co-host which is very interesting.
#HCSM
If you're in the health care industry, #HCSM is a Twitter chat that is not-to-be-missed. It brings together health care professionals who discuss the benefit of social media for health care communication strategies. Participants share tips, ask questions and generate conversation about the specific uses of social media in the industry, and #HCSM has had a major impact on the Twittersphere this year.
#SMMANNERS
#SMMANNERS focus is "bringing back civility and charm to online communications," and seems to be severely needed. Their topics range from the appropriate way to request RTs and recommendations on LinkedIn to building business relationships. The weekly chat is held on Tuesday evenings at 10 pm. Eastern. It's moderated by Dabney Porte. If you think social media etiquette has gone by the wayside, this is the chat to check out (and refer your friends to)
#LINKEDINCHAT
#LINKEDINCHAT is focused around the popular LinkedIn; discussing ways to use the platform, associated applications and other social media platforms in is order to improve results on LinkedIn. This chat happens every Tuesday at 8 p.m. Eastern and is moderated by Viveka vonRosen. If you've ever wanted to know how to get more about of LinkedIn, this chat is the place to be. Ask questions or just follow along and learn more about how to make the most of this platform.
#SMBIZ
#SMBIZ is a weekly chat focused on small business and social media marketing under #Smbizhashtag. Their website includes recaps of each chat that also answers questions that participants might have. It is hosted by @sternalpr and @sternalmrktg out of Ft. Lauderdale, and held on Tuesday at 8 p.m. Eastern. The focus is on how small business and entrepreneurs can use social media to market their businesses.
#SMCHAT
#SMCHAT takes place every Wednesday afternoon at 1 p.m. Eastern, covering a wide variety of Social Media topics based on marketing and other professional uses. Participants can also suggest topics for the chats on their blog. Moderated by Chris Jones, some of their past topics have included mobility, customer service, marketing, key social media trends and social change. One thing that I like the most about this chat is the diversity of the topics. You will learn something new each week.
#SOCIALCHAT
#SOCIALCHAT includes a featured weekly guest that is "put on the hot seat" with participants driving the conversation through questions and engagement with the guest. This chat is hosted every Monday at 9 p.m. Eastern; moderated by Alan Knecht and Michelle Stinson Ross. Check in each week and see who the new guests are and make sure you have your questions ready to ask the experts.
#SMMEASURE
#SMMEASURE is a Twitter chat focused on social media measurement and analytics. Started in July of 2010, it has been an astounding success with many taking part in the chat on Thursdays at noon, Eastern. It is hosted by @marketwire and @sysomos. Here's a chat that takes place midday before you settle down for your evening activities. While some people are at work, many entrepreneurs and self-employed find it easier to make this chat in the daytime hours. You will meet and network with some fantastic people and have a great platform for asking questions about social media measurement.
#PINCHAT
#pinchat takes place Wednesdays at 9pm ET from host Kelly Lieberman. This chat discuses best practices, showcasing new uses, highlighting brand usage, and sharing a passion for Pinterest. As a Pinterest addict myself, I find this one really interesting. Follow Kelly @Tribe2point0 so you don't miss the weekly chats. While the basics are covered, I like that these chats go beyond the surface knowledge of Pinterest and I often find new ideas or approaches to Twitter for personal and business use from the #Pinchat.
If none of these chats quite meet your needs, you can always start your own. Are there any other online gatherings that provide great value for you? Let us know in the comments below.
Latest posts by Lisa Clark
(see all)